Website News Citizen Phil and Youtube channel Showbiz Fanaticz uploaded a video on June 26 falsely claiming the Supreme Court (SC) issued an order to close "overall" media giant ABS-CBN Corporation. The high court has not released any decision ordering a stop to the network's operations.
With the headline "BRAKING [sic] NEWS: SUPREME COURT INI-UTOS NA I-OVER ALL SHUTDOWN NA ANG ABSCBN?| JOSE CALIDA BUMWELTA NA (Breaking news: Supreme Court orders for an overall shutdown of ABS-CBN? Jose Calida hits back)!," the misleading video muddled a statement from Solicitor General Jose Calida quoted in a June 25 Philippine News Agency article.
After the Supreme Court declared moot and dismissed the quo warranto petition filed in February by Calida against ABS-CBN Corp.,the solicitor general said in the article that the network "should remain off-air" unless the high court grants an injunction against the National Telecommunications Commission's (NTC) cease and desist order on May 5 for ABS-CBN.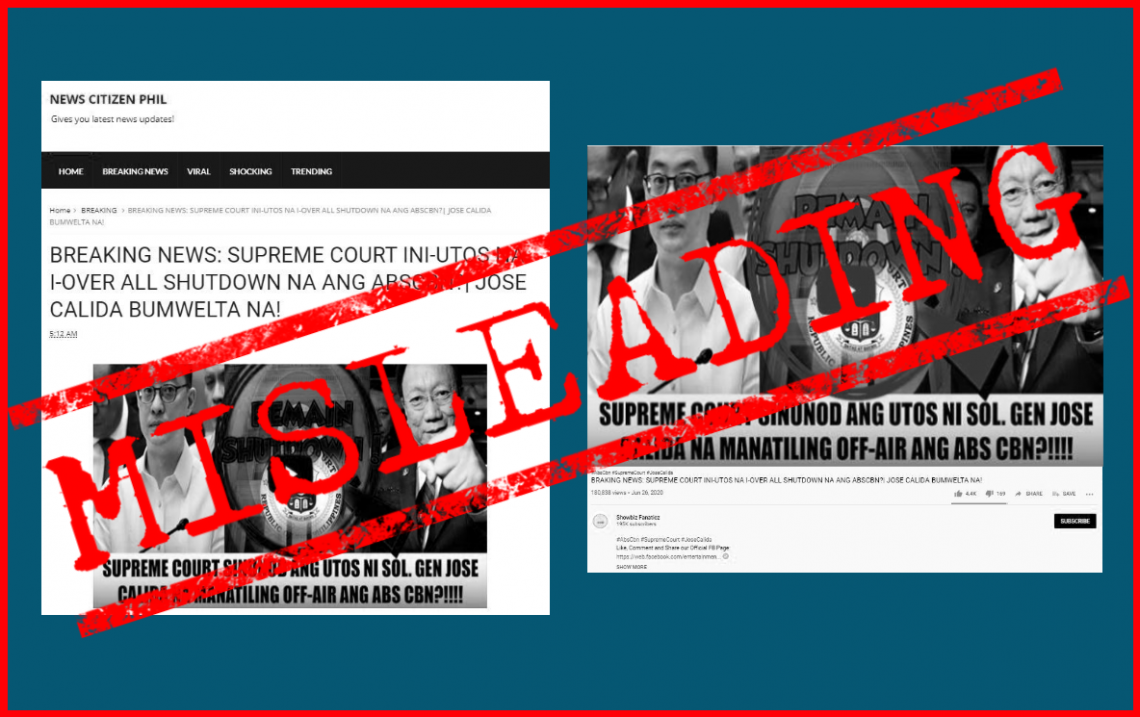 ABS-CBN halted its broadcast operations following the NTC order after its franchise expired last May 4. The order covers ABS-CBN's regional affiliates, including five AM and 18 FM radio stations, and 42 television stations. The cease and desist order came after NTC Commissioners sought the legal opinion of the Office of the Solicitor General.
The network filed a petition for a temporary restraining order against the NTC's directive, to allow them to continue broadcasting while their franchise renewal is still pending in Congress. ABS-CBN is still awaiting the SC's decision.
The misleading video now has almost 181,000 views. Its publication on News Citizen Phil could have reached 1.3 million online users, according to social media monitoring tool CrowdTangle.
Its top three online traffic generators are Facebook groups ATTY. PERSIDA ACOSTA – PAO CHIEF FOR SENATOR MOVEMENT – SUPPORTERS GROUP!, SARA DUTERTE FOR PRESIDENT 2022 ELECTIONS and Mayor Inday Sara Duterte International Movement.
YouTube channel Showbiz Fanaticz, where the video is uploaded, has over 195,000 subscribers since it was created on Nov. 9, 2017. This is not the first time VERA Files Fact Check has flagged a story from Showbiz Fanaticz.
(Editor's Note: VERA Files has partnered with Facebook to fight the spread of disinformation. Find out more about this partnership and our methodology.)