A YouTube video claimed that former Government Service and Insurance System (GSIS) president and general manager Rolando Macasaet replaced Michael Regino as president and CEO of the Social Security System due to the latter's failure to provide a P1,000 pension increase to SSS beneficiaries. 
The claim, which appeared after the Jan. 10 SSS leadership turnover ceremony, is misleading.  The delay in pension increase is due to lack of funds. It was not the reason Regino was replaced. 
Macasaet has commended Regino – a former classmate at the Ateneo de Zamboanga University –  for instituting reforms and programs to improve the SSS. News reports did not mention delayed pension rollout as a reason to replace Regino.
Under Republic Act (RA) No. 11916, pension for indigent senior citizens increased from P500 to P1,000, and not an additional  P1,000 as claimed.  It has not been implemented due to lack of funding.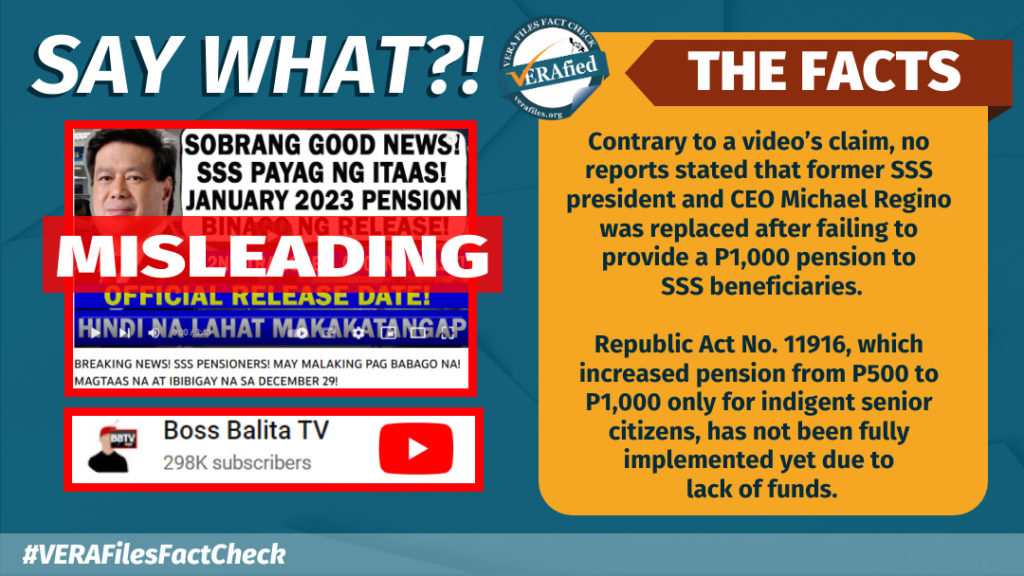 On Jan. 13, Senior Citizens Party-List Rep. Rodolfo Ordanes renewed his call for the full funding of RA No. 11916 – which lapsed into law on July 30, 2022. Ordanes stated that the current budget for the law would only cover P500 per indigent senior. 
National Commission of Senior Citizens (NCSC) chief Franklin Quijano explained that a budget of P50 billion – double the original P25 billion – would be needed to provide P1,000 each to 4.1 million senior citizens in the country.
The misleading YouTube video got a total of 123,000 views and 719 comments. VERA Files Fact Check has previously debunked claims from YouTube channel Boss Balita TV (created on July 15, 2021), which uploaded the video.
Have you seen any dubious claims, photos, memes, or online posts that you want us to verify? Fill out this reader request form or send it to 'VERA, the truth bot' on Viber.
(Editor's Note: VERA Files has partnered with Facebook to fight the spread of disinformation. Find out more about this partnership and our methodology.)