A day after a grand "Uniteam" rally in Mandaluyong City, a video circulated on Facebook (FB) falsely claiming that Epifanio Delos Santos Avenue (EDSA) had filled with supporters during a motorcade of presidential candidate Ferdinand "Bongbong" Marcos Jr. and his running mate Sara Duterte-Carpio.
The Feb. 14 post by FB page Viral Philippines bore the caption: "Grabe parang langgam pulang pula ang buong EDSA (Wow, like a swarm of ants, the entire EDSA is very red) #BBMSARA2022."
The clip does show a Bongbong-Sara motorcade, but it was neither recent nor taken at EDSA.
Comparing visible features and landmarks in the video with those seen on Google Maps, VERA Files Fact Check has confirmed that the footage was of Quezon Avenue in Quezon City.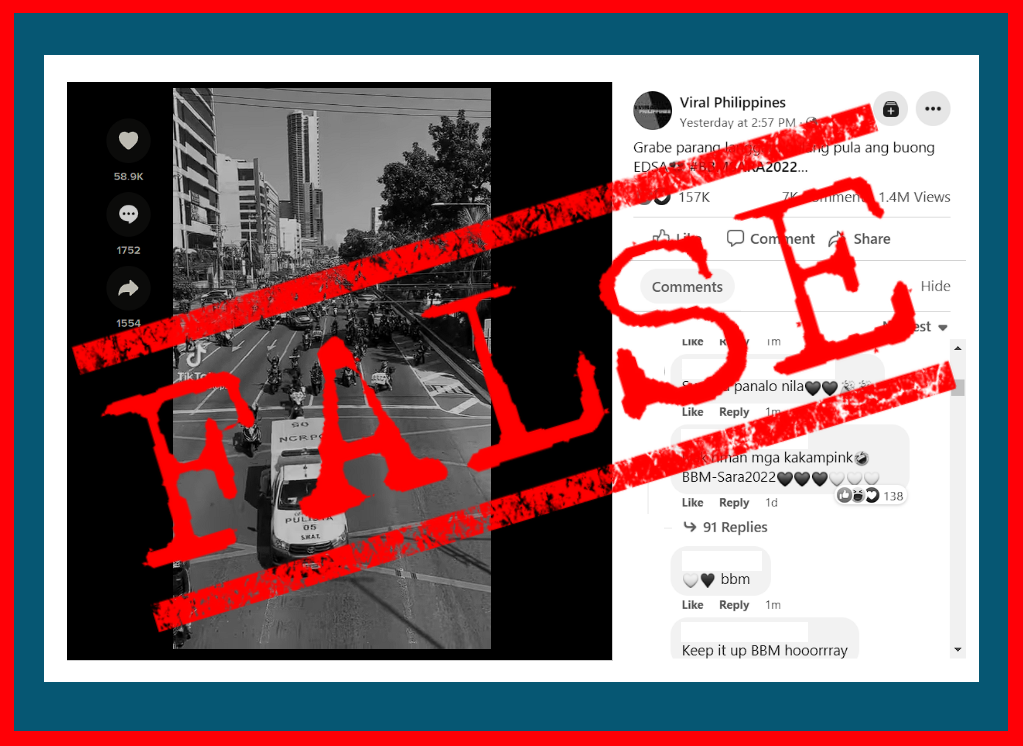 One portion of the video captured the signage of an establishment known as the Great Eastern Hotel, where a store that sells soy-based food nearby is likewise situated. Also visible is an island with trees in the middle of the throughway and a tall building on the far left side.
These correspond with establishments seen at Quezon Avenue on Google Maps.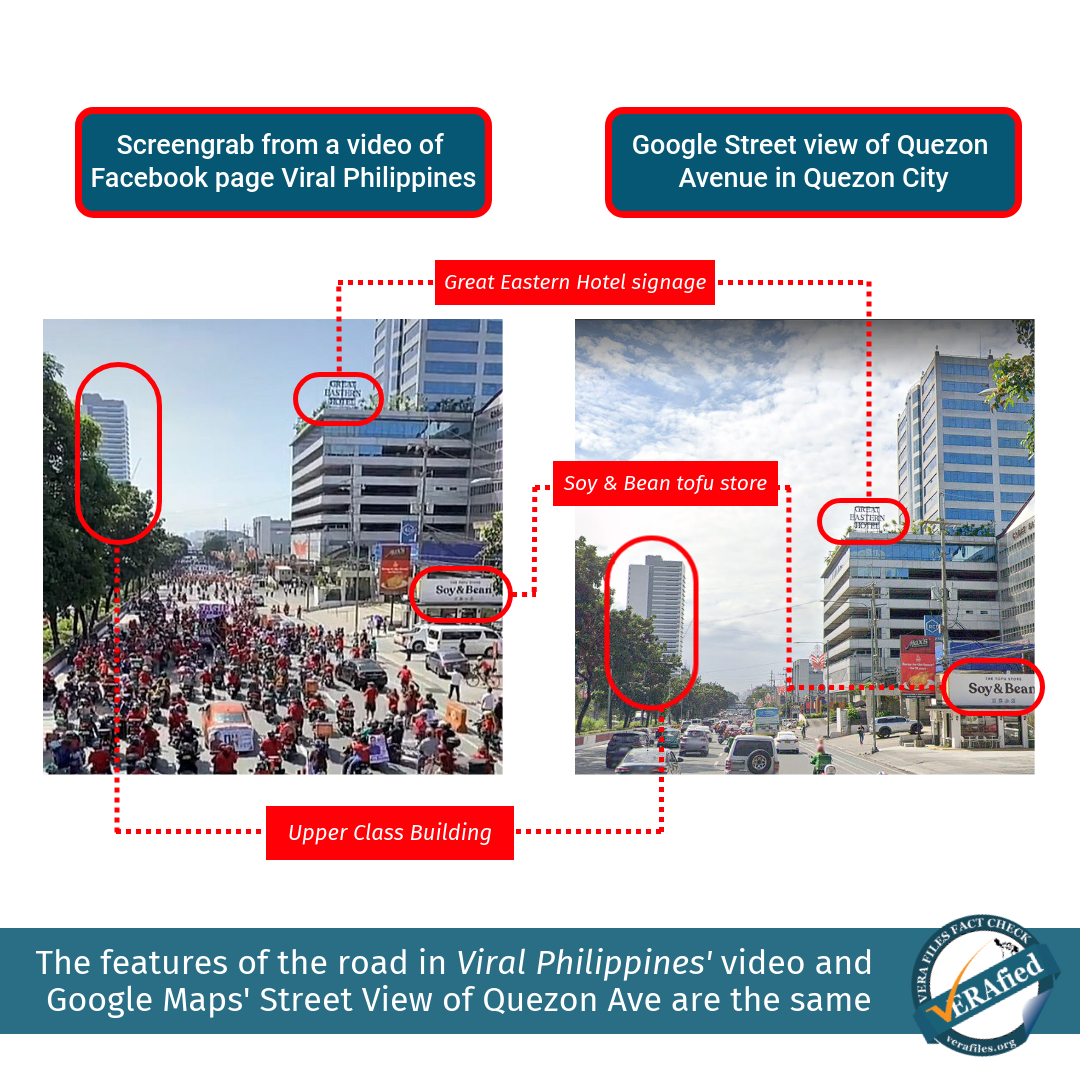 Panning through Google Maps' Street View near the Great Eastern Hotel confirms that a nearby footbridge served as the vantage pointof the video of the Marcos-Duterte caravan passing through Quezon Avenue.
In another shot are a towering gray building and a yellow low-rise on the left side of the footage. The taller one is the Department of Interior and Local Government's Napolcom Center Building and the Universal Tower Building, respectively, situated along Quezon Ave.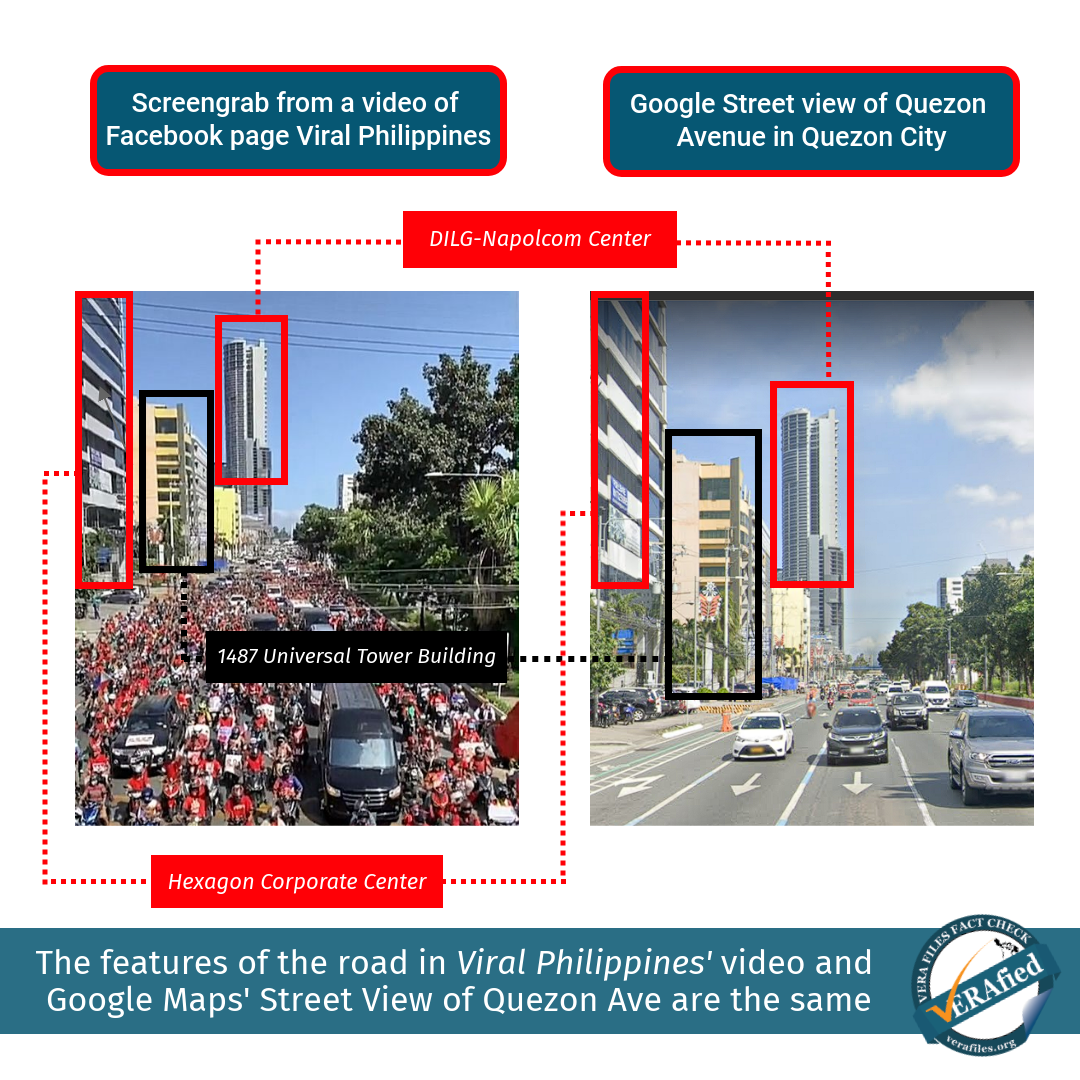 The video, originally posted by TikTok user @mienilstop26 on Dec. 8, 2021, did not indicate the clip was taken at EDSA, only that it was the "Quezon City caravan" of Marcos and Duterte.
On that day, a Marcos-Duterte motorcade started from Commonwealth Avenue and culminated at Welcome Rotonda. The event caused heavy traffic congestion, which had the Marcos camp apologizing later.
Viral Philippines was originally named Miggy World upon its creation on Nov. 15, 2016. Its false video currently has over 3.2 million views.
Have you seen any dubious claims, photos, memes, or online posts that you want us to verify? Fill out this reader request form or send it to 'VERA, the truth bot' on Viber.
(Editor's Note: VERA Files has partnered with Facebook to fight the spread of disinformation. Find out more about this partnership and our methodology.)