As scientists all over the world race to develop treatments for COVID-19, a false post claiming to show a photo of a "vaccine" that can supposedly cure the illness in three hours is circulating on social media.
The untrue post was uploaded by at least three netizens on Facebook (FB) on March 23, showing an image of a small plastic bottle, two sealed packets labeled "STGi-flex COVID-19 IgM/IgG."
Below the photo was a graphic that read, "Great news! Carona virus (sic) vaccine ready. Able to cure patient within 3 hours after injection. Hats off to US Scientists." It also claimed that US President Donald Trump announced that "Roche Medical Company" will release the vaccine "on Sunday."
This is false on two accounts.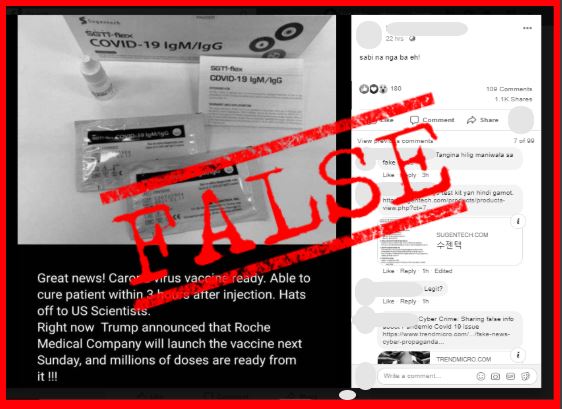 First, a reverse image search reveals the "vaccine" featured in the photo is actually a COVID-19 testing kit developed by the South Korean medical technology company Sugentech, Inc.
The earliest traceable copy online of the image can be found in a March 20 report by South Korean business news media Maeil Business Newspaper, which says the country is exporting the test kits to several countries, including the Philippines. It credited Sugentech for the photo.
Sugentech announced on March 6 that it has developed the "SGTi-flex COVID-19 IgM&IgG;" to detect antibodies — immunoglobulin M (IgM) and immunoglobulin G (IgG) — in a person's blood triggered by a COVID-19 infection.
Secondly, the claim about "Roche Medical Company" supposedly releasing a COVID-19 vaccine "on Sunday" was debunked by VERA Files Fact Check this week. Roche Diagnostics, whose chief executive officer spoke during Trump's March 13 public address, only announced that its COVID-19 test kits have been approved for emergency use by U.S. authorities. (See VERA FILES FACT CHECK: FB post on Trump announcing launch of 'COVID-19 vaccine' NOT TRUE)
The false posts surfaced a week after Washington-based research facility Kaiser Permanente announced on March 16 that it has conducted the first trial on humans of a newly-developed COVID-19 vaccine in the United States. According to the World Health Organization's Health Emergencies Programme technical lead Dr. Maria Van Verkhove, there are now at least 20 vaccines undergoing development around the world.
The netizens' fallacious posts have been shared over 1,800 times.
(Editor's Note: VERA Files has partnered with Facebook to fight the spread of disinformation. Find out more about this partnership and our methodology.)