Information about cures for cancers, and dengue reach online audiences in the millions. This year, the country faced a dengue epidemic and polio outbreak, while coronary heart disease and cancer continue to take Filipinos' lives more than any other illnesses. But the public had to deal with yet another virus: the proliferation of health mis- and disinformation on social media.
Out of 173 claims verified by VERA Files Fact Check from January to December 17 this year, 11 were health-related. Three of the most viral pieces of verified mis- and disinformation had to do with inaccurate, exaggerated, and, at times, downright false claims about alternative or herbal cures for cancer and dengue.
Social media monitoring tool CrowdTangle recorded that a story claiming cannabis is a cancer cure had the fifth-largest potential reach among the items fact-checked this year, possibly reaching about 23.3 million people. The story originated in September from a Facebook (FB) page managed by two Americans.
A month prior, when the Department of Health announced a national dengue epidemic in August, a recipe for a "cure" made from papaya leaf juice that could supposedly make the disease "go away in two days" circulated online. The FB post was shared over 183,000 times and could have reached over 9 million people.
The post was inaccurate. Though initial studies have shown that the juice has the potential to increase platelet levels, which decrease or become dysfunctional in dengue patients, high evidence of its effectivity is yet to be proven in large-scale clinical trials.
Apart from the cannabis story and the papaya juice "cure," a local FB page in July misleadingly claimed talbos ng kamote or sweet potato leaves can "kill" prostate cancer. It was shared 84,000 times.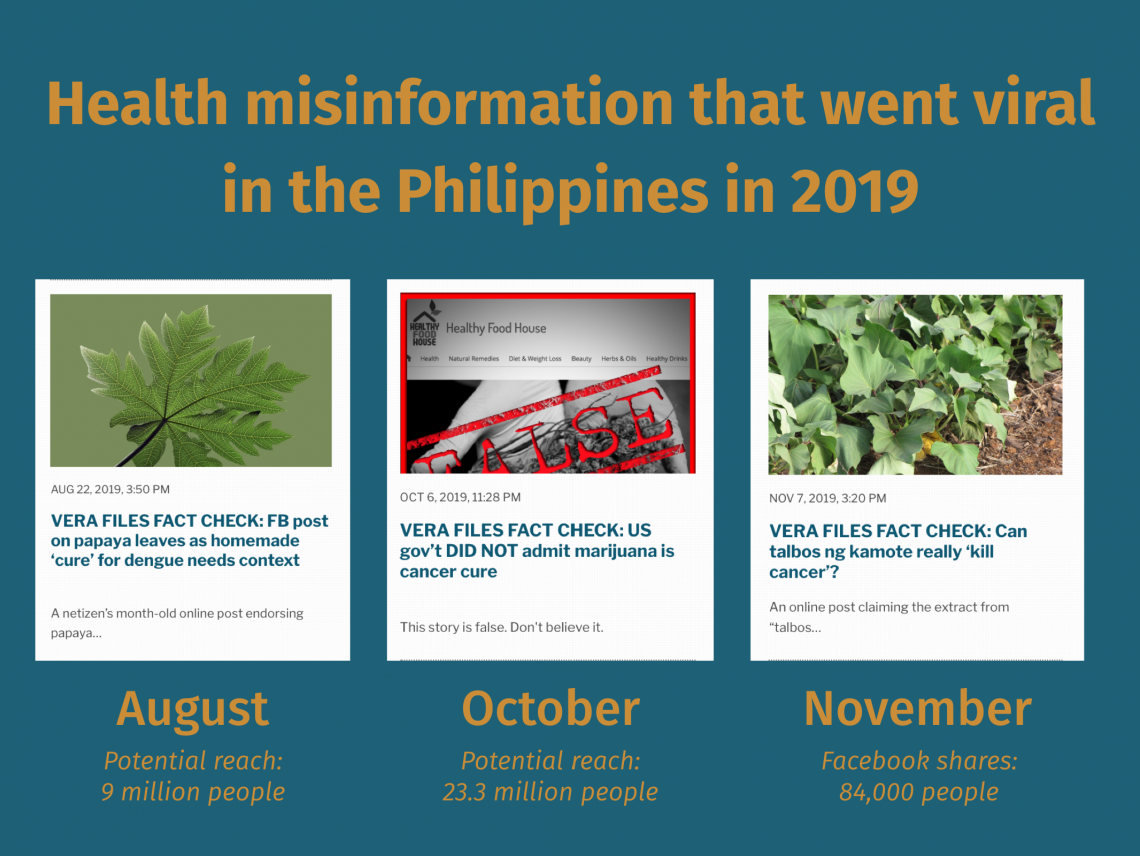 While disinformation largely centered on the political this year, three of the most viral pieces of mis- and disinformation verified had to do with alternative or herbal cures.

These three social media posts all banked on three things: the popularity of health information online, the claim of a "cure," and a misleading nature where the posts, which make multiple claims, enmesh fact with falsehoods.
There is a big market for health information online.

"The world today has more internet users than people with access to essential health services… (and) over 80 percent of people that use the internet say they use it to search for health-related topics," according to Meedan, a nonprofit company that develops digital journalism tools, in a primer on health misinformation fact-checking it released earlier this December.
"As the ease of online connectivity increases, we expect more and more individuals to use online content as a primary source of sometimes critical health information," the primer further read.
This is a challenge being faced by many doctors in the country, including one Pangasinan-based doctor who spoke about the role of social media in cancer advocacy last June in a webinar by the University of the Philippines Manila.
"Cancer is a life-changing diagnosis and there are many cancer-related medical terms that patients might not understand," said Dr. Meredith Garcia-Trinidad, an internist and medical oncologist at Dagupan Doctors Villaflor Memorial Hospital.
"'[Based on] personal experience, after patients come to the clinic, they will really often Google because it's very hard when you disclose to your patient about their diagnosis and then you have to move to the treatment options. Sometimes, they get overwhelmed (with the information), so the tendency really is to search at home," she said.
Last year alone, there were over 141,000 new cases of cancer recorded in the country, according to the World Health Organization's International Agency for Research on Cancer.
However, while social media is helpful in empowering patients to seek knowledge about their illnesses and build online communities with fellow patients, she said a big issue is misinformation.
"Cancer is a big target of medical misinformation, particularly by those who are making money off alternative therapies," said Garcia-Trinidad.
She said that just by looking up the terms "kill cancer" on Google, several articles will come up about different alternative and herbal treatments that make claims about their ability to "kill" the disease.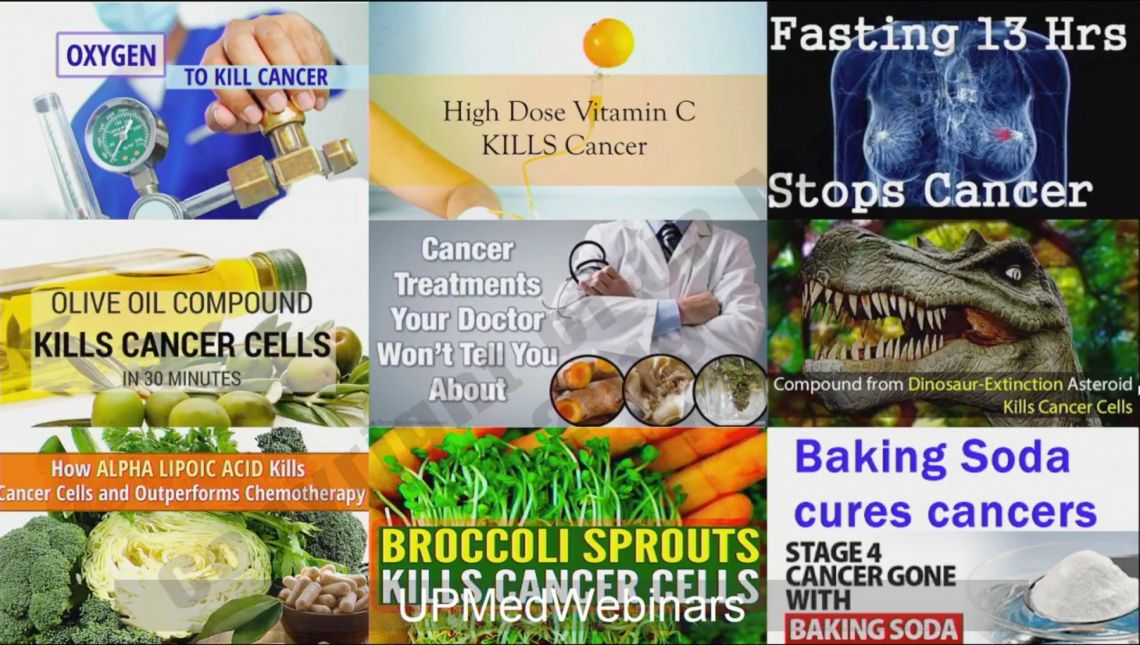 'Everything on Google kills cancer.' Many health disinformation
advertising cancer cures circulate on the Web, says Dr. Meredith
Garcia-Trinidad. Screengrab from
UP Med Webinars.

True enough, five out of the 11 health-related posts VERA Files Fact Check looked into this year were cancer-related. Claims ranged from cancer cures to foods and lifestyle practices that can allegedly cause cancer, which include the claims that sweet potato leaves and cannabis can kill the disease.
The sweet potato leaves post, which turned out to be misleading because the findings only came from studies conducted on mice and not humans, had over 84,000 shares. A look at the "Most Relevant" comments in the comments section shows several anecdotes from netizens who agreed with the online post, saying the plant supposedly had a "good effect" on them during their cancer treatment. Others, however, were more conspiratorial, such as one FB user commenting: "Camote leave (sic) is of the common ingredient of most cancer medicine, they don't tell you."
The cannabis story, which VERA Files Fact Check has tagged as "False" was shared over 35,000 times, with a reach of over 23.3 million netizens. One reader's comment read: "The ONLY reason cannabis was made illegal in the first place was because the industries that were in competition with its' (sic) potential wanted it removed from the competative (sic) mix… i.e. pharmaecueticals, alchohol, paper, timber, concrete, coal, etc. etc…"
Garcia-Trinidad also said that in 2016, the "most shared cancer-related article" on FB was a story that falsely claimed ugat ng dandelyon or dandelion root kills 98 percent of cancer cells. It was debunked by US-based fact checking organization Snopes.
With the false post having over 1.4 million interactions, she said: "It has trumped real information."
Many pieces of online health mis- and disinformation claim to inform of "cures."

Garcia-Trinidad said there are certain red flags that may help one distinguish questionable websites and social media pages from legitimate ones, specifically those that inform the public about cancer. Citing a 2003 study published in the Elsevier journal, one may assess the scientific accuracy of websites and pages based on the following criteria:
availability of online purchasing;
inclusion of patient testimonials;
description of the treatment as a "cancer cure;," and
description of the treatment as "having no side effects."
"The presence of any of these criteria was considered a 'red flag' denoting questionable scientific accuracy of the site," according to the study.
Both the cannabis story and the online post about papaya leaves endorse the plants as cures for cancer and dengue, respectively. However, there is currently no specific treatment for dengue. Some forms of cancer — such as breast, cervical, oral, and colorectal cancer — do have a "high potential" to be cured if detected early and appropriate treatment is provided. The cannabis story incorrectly cites cannabis and cannabinoids as a cure, when studies have only shown it can help with pain associated with cancer treatments.
Another element present in the abovementioned stories were patient testimonials, which came in the form of comments from netizens. Garcia-Trinidad says that these may not be enough, as there is a need for larger-scale trials proving their effectivity.
"There is a paucity of high-level evidence for many forms of alternative medicine with many of these naturopaths using testimonials, anecdotes, and even lab studies involving animals or cells and extrapolating this to mean that it works in humans even if it does not," she said.
Below are VERA Files Fact Check's findings as to the veracity of the claims made about the "cure" potential of the following plants.
| Plant | Claimed to cure or kill | Finding | Real deal |
| --- | --- | --- | --- |
| Sweet potato (kamote) leaves | Prostate cancer | Misleading | Studies that show sweet potato leaves have a "non-proliferative" effect on, or can prevent the growth of prostate cancer cells were only conducted on mice. |
| Cannabis | "cancer cells" | False | Studies have only shown that cannabis and cannabinoids have been able to improve pain measures, including the treatment of pain due to cancer. |
| Papaya | Dengue | Needs context | The effectiveness of papaya leaf extract as treatment for dengue is still being evaluated. However, initial studies show the juice indeed has the potential to raise platelet levels in dengue patients. |
Health mis- and disinformation carry multiple claims where facts are mixed with falsehoods.

Publishers of the false and misleading health-related content that VERA Files Fact Check debunked this year employed various strategies in passing off their claims as facts. These include presenting statistics out of context, using language that implied these "cures" were "hidden" from the public by authorities such as the US government and DOH, and stacking together true therapeutic uses of the plants with curative properties that have yet to be proven in large-scale clinical trials.
For the sweet potato story alone, publisher FB page Philippine Health Tips made eight claims. Apart from the claim on the plant's extract supposedly being able to kill prostate cancer cells, the story also claimed sweet potato leaves can fight off leukemia and breast, lung, colon, and stomach cancer, and has 400 percent the alkalizing power of lemons, among others. Only half the claims were true.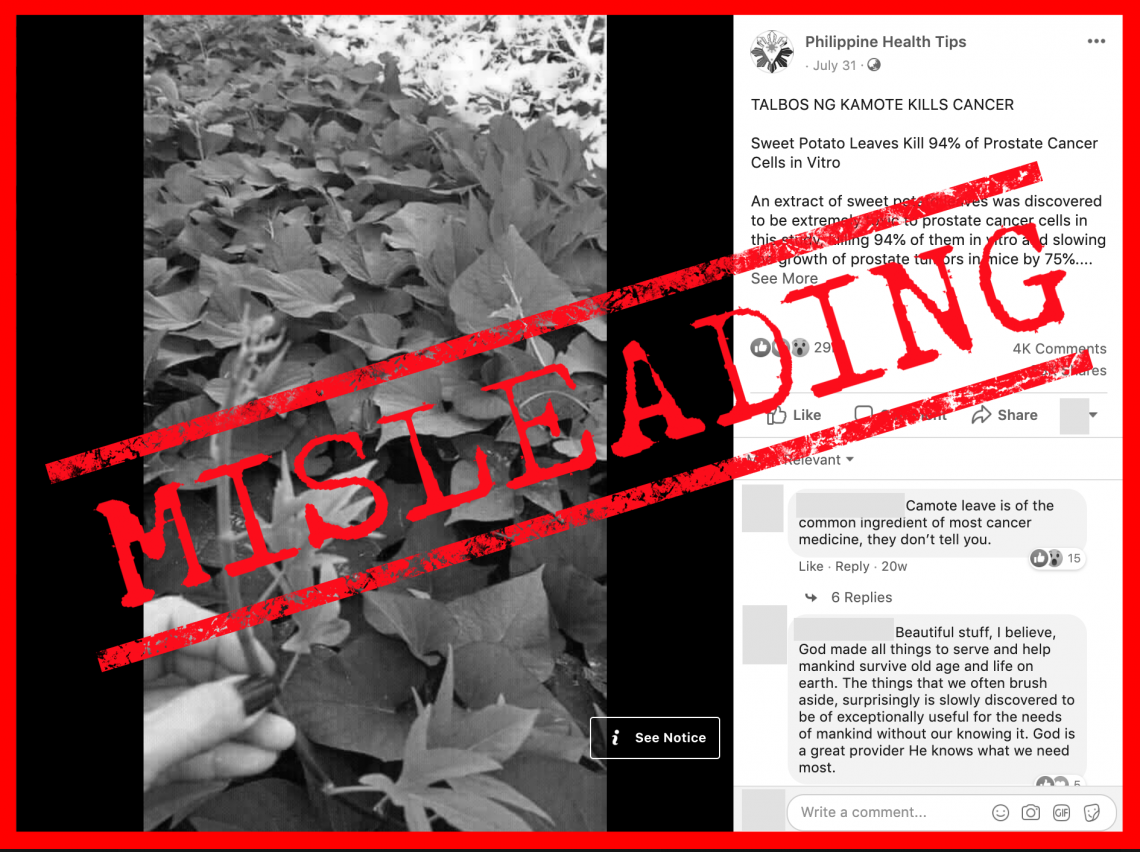 Facebook page Philippine Health Tips published an online post in July
that made eight claims about the medical capabilities of sweet potato
leaves. Only half were true, the rest bore inaccuracies.

The claim of its efficacy on breast cancer remains to be proven, although studies have shown that for the other cancers mentioned, there has been some evidence of the plant being able to help prevent them. The claim on its alkalizing power in contrast to lemons lacks proof. VERA Files Fact Check also found that it had lumped together findings from 10 different studies, none of which were properly cited by the FB page.
Another problem that Garcia-Trinidad pointed out as a very popular manner in which health misinformation is created on social media is when publishers oversimplify scientific findings, paving the way for inaccuracies.
"A scientific article that says 'A is associated with an increased risk…' will come out as fake news that it's already A 'causing' disease X. And then if there is a 'decreased risk' according to studies, it will be (inaccurately) reported as B 'prevents' disease Y," she said.
"And then they will exaggerate small findings, and conclude that this particular treatment or drug or plant actually cures the disease," Garcia-Trinidad added, which is the case in the items about the sweet potato leaves and papaya, which misleadingly twisted positive findings on the effects of said plants on cancer and papaya, into claiming that they were already "cures."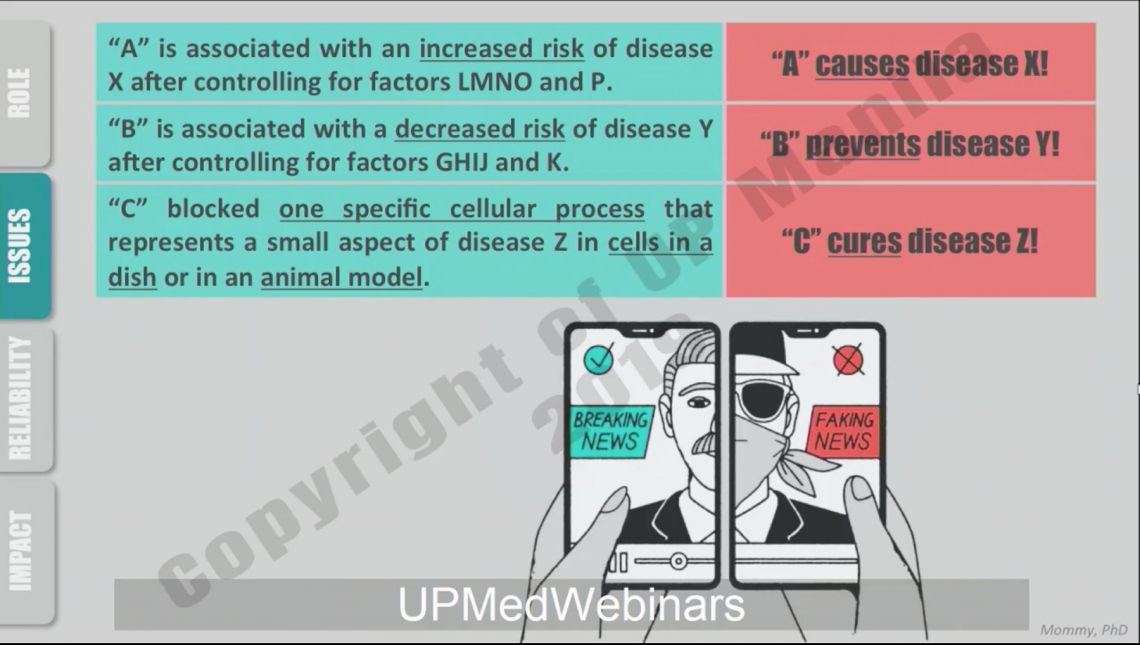 Some publishers inaccurately report the findings from scientific
studies, creating mis- and disinformation. Screenshot from UP Med
Webinars.

In order to prevent her patients from being duped by false and misleading information online, Garcia-Trinidad said she teaches her patients how to spot false news by reminding them to "read beyond the headline" and check the sources of the material they are reading.
To know more about how you can detect false and misleading information and verify them, read VERA Files's guide on fact checking and fighting disinformation. (See: VERAfied: A DIY guide to fact checking and fighting fake news).
Sources
Department of Health, DOH declares national dengue epidemic, Aug. 6, 2019.
Department of Health, Polio case confirmed in the Philippines: DOH to mount mass immunization campaign, Sept. 19, 2019.
International Agency for Research on Cancer, Philippines, May 2019.
Philippine Statistics Authority, Registered deaths in the Philippines, 2017, June 10, 2019
Big market for health misinformation online

Geynes, N. and Marrelli, M., Health Equity through Health Fact- Checking: A Primer, December 2019
UP Med Webinars Facebook page, Role of Social Media in Cancer Advocacy, June 6, 2019
Snopes, Dandelion Root Kills 98% of Cancer Cells in 48 Hours?, Sept. 29, 2016
Many pieces of health misinfo claim to introduce "cures"

(Guided
by the code of principles of the International Fact-Checking Network at
Poynter, VERA Files tracks the false claims, flip-flops, misleading
statements of public officials and figures, and debunks them with
factual evidence.
Find out more about this initiative and our methodology.)