Ilocos Norte Rep. Ferdinand Alexander "Sandro" Marcos said recently that farmers can earn more by planting dragon fruit alternately with rice.
"'Yung Taiwan malaki ang demanda ng dragon fruit (Taiwan has a high demand for dragon fruit). Eh [but] they can only plant dragon fruit three or four times, three or four months of the year," the president's son told reporters in his home province on Nov. 4. 
Marcos said local farmers can fill this demand and earn "three or four times" more than their current income. He said farmers can start growing dragon fruits, which may be sold to Taiwan through a government-to-government or government-to-business setup, after the planting season for rice. 
But is dragon fruit a viable alternate crop to rice? Can the fruit be exported to Taiwan? Here are five things you need to know: 
1. What is dragon fruit?
Dragon fruit is from a type of cactus that is native to the tropical regions of Central and South America. It is now grown in six continents and in Asian countries like Vietnam and the Philippines. The fruit is known as "saniata," which means light and wealth in the Philippines where the species commonly cultivated are hylocereus undatus (red skin with white flesh), hylocereus costaricensis (red skin with red pulp) and hylocereus megalanthus (yellow skin with white pulp).
The fruit was introduced in the country in the 1900s through trade with Spain, but commercial farming began only in 1992 in Cavite.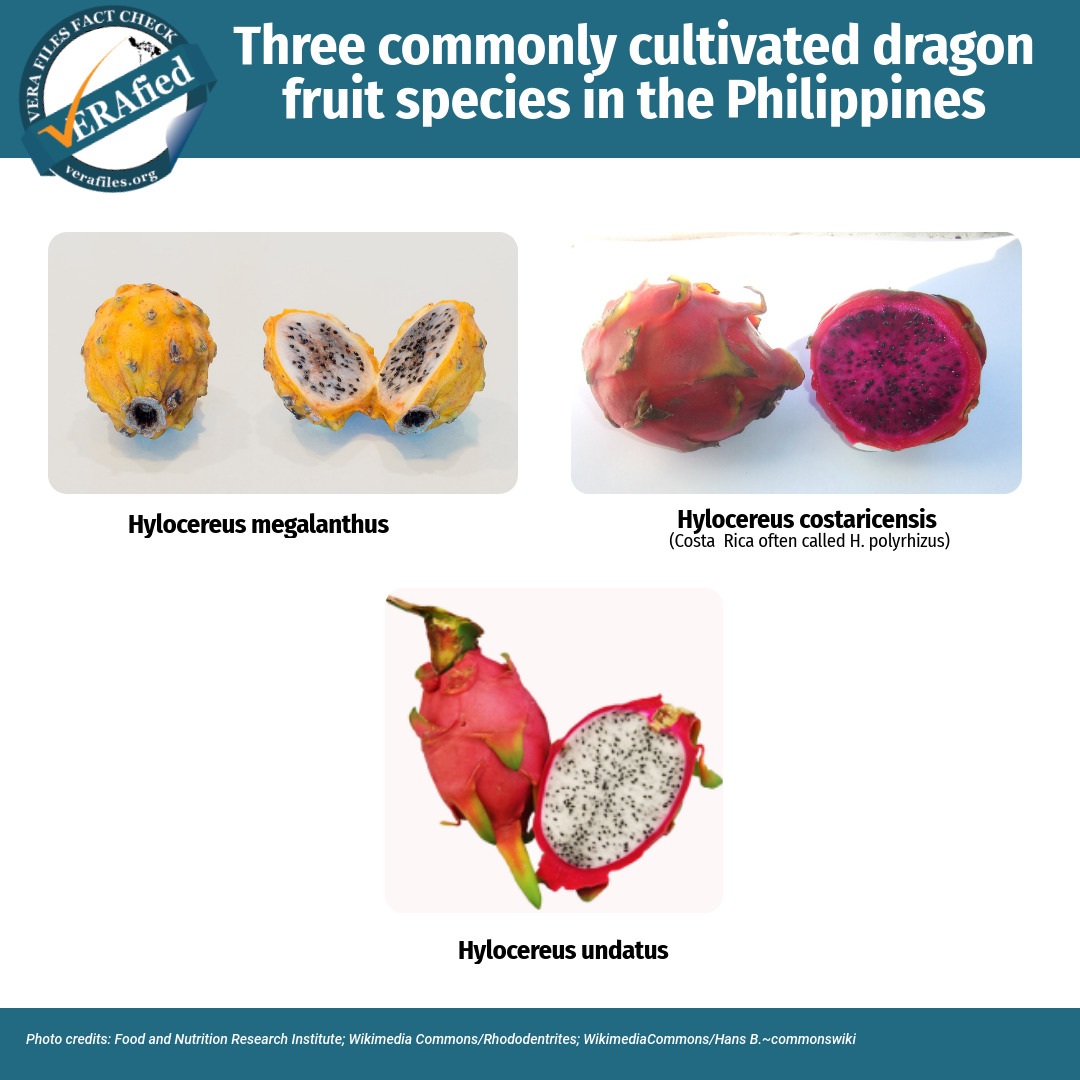 2. Is dragon fruit a viable alternate crop to rice?
Teddy Tepora, an associate professor at Cavite State University, told VERA Files Fact Check that rice and dragon fruit cannot be alternately planted in the same farmland due to the difference in their growing environments. He said rice requires irrigation "which is not applicable for dragon fruit [because it is a] cactus." 
As a perennial crop, dragon fruit does not  have to be replanted after each harvest. Like other perennial crops such as banana and durian, dragon fruit can remain planted in the land for as long as 20 years. 
On the other hand, rice, a major crop and daily staple in the Philippines, is a non-perennial or temporary crop that is grown seasonally with a planting cycle of less than 12 months. The grain is cultivated and harvested in the country throughout the year. 
According to a June 2021 report of the Foreign Agricultural Research of the United States Department of Agriculture, there are four quarters for rice cultivation in the Philippines: 
Quarter one – planting from October to December; harvesting from January to March. 

Quarter two – planting from January to March; harvesting from April to June. 

Quarter three – planting from April to June; harvesting from July to September. 

Quarter four – planting from July to September; harvesting October to December. 
Some types of the grain can be harvested as early as 106 days or around three months after planting, but late rice varieties take up to 136 days to mature, according to the International Rice Research Institute, the world's premier organization in rice research based in the Philippines. 
Dragon fruits planted through stem cuttings take around 12 to 18 months to start bearing fruits while those grown from seeds need three years, based on a 2020 paper by researchers from the Mindanao State University. 
In the Philippines, the natural fruiting season of dragon fruits is from April to November with peak season in July to August, but artificial lighting may now allow harvesting even during off-season. 
Dragon fruit plantations in Taiwan cover around 2,800 hectares with annual production of around 70,000 metric tons, according to a Taiwan News article. The normal harvest season there is from May to November. 
3. Can dragon fruits be exported to Taiwan?
At present, the Philippines is not exporting dragon fruit to Taiwan, which is among the leading dragon fruit producers in the world, aside from Vietnam and Malaysia.
"For dragon fruits to be exported from the Philippines to Taiwan, the DA-BPI needs to submit technical information to BAPHIQ-Taiwan to complete pest risk analysis (PRA) and necessary procedures of evaluation. After that, BAPHIQ will decide whether to grant market access to the Philippines and vice versa," Yvonne Fu from the Taipei Economic and Cultural Office in Manila said in an email to VERA Files Fact Check.
4. How is the local dragon fruit industry doing?
The local dragon fruit industry is smaller than Taiwan's. In 2021, the total volume of dragon fruit produced from about 596.82 hectares of plantations in the country was 2,090.99 metric tons. Based on data from the Philippine Statistics Authority, there were at least 298,388 dragon fruit plants in the country in 2021. 
The BPI has labeled dragon fruit as "the new money crop" because of its "very high price," which ranges from P120 to P150 per kilo in the local market. 
A dragon fruit farm requires big investment. For example, the Special Area for Agricultural Development (SAAD) of the Agriculture department said that it invested a total of P222,538 per 20 beneficiary farmers under its Dragon Fruit Production Project in Siquijor. 
5. What is hampering the boom of the dragon fruit industry in the Philippines?
In his 2019 research, Tepora said the major constraints in the dragon fruit industry include low yield, prevalence of insect pests and diseases, short shelf life of the fruits, and marketing problems. 
He called for the adoption of an aggressive marketing strategy and development of an export infrastructure, which "[gives] consideration to the quality standard set by potential importing countries."
In a separate study in 2018, researchers from the Philippine Council for Agriculture, Aquatic and Natural Resources Research said the industry needs to address issues such as inferior variety, postharvest losses during transport, and seasonality of the crop. 
Tepora said that the Philippine Dragon Fruit Industry Council has drafted a roadmap to "slowly" address these issues, citing the need to boost production and maintain quality. 
Have you seen any dubious claims, photos, memes, or online posts that you want us to verify? Fill out this reader request form.
Sources
Headline Ilocos official Facebook page, Live interview kay Congressman Sandro Marcos, Nov. 4, 2022
Food and Fertilizer Technology Center for the Asian and Pacific Region official website, Current Status of Dragon Fruit and Its Prospects in the Philippines, June 29, 2018
Food and Fertilizer Technology Center for the Asian and Pacific Region official website, Problems and Opportunities of Dragon Fruit Production in the Philippines, Oct. 19, 2019
Czech Journal of Food Sciences official website, Dragon fruit: A review of health benefits and nutrients and its sustainable development under climate changes in Vietnam, 2021 
University of Florida Institute of Food and Agricultural Sciences official website, HS1068/HS303: Pitaya (Dragonfruit) Growing in the Florida Home Landscape, Jan. 8, 2020
Philippine Statistics Authority official website, Crops Statistics of the Philippines 2016 – 2020, November 2021 
Philippine Statistics Authority official website, 2019 Updates to the 2009 Philippine Standard Industrial Classification, Accessed Nov. 29, 2022
United States Department of Agriculture official website, PHILIPPINES RICE: AREA INCREASES AND FAVORABLE WEATHER LEAD TO ESTIMATED RECORD PRODUCTION, June 14, 2021
Pinoy Rice official website, NSIC Rc116H (MESTISO 3), Accessed Nov. 29, 2022 
International Rice Research Institute official website, When to harvest – IRRI Rice Knowledge Bank, Accessed Nov. 29, 2022
International Rice Research Institute official website, IRRI at a Glance, Accessed Nov. 29, 2022
Mindanao State University official website, Effect of Commercial Plant Growth Regulator on the Growth of Dragon Fruit (Hylocereus sp.) Cuttings under Greenhouse Condition, 2020
Special Area for Agricultural Development (SAAD) of the Agriculture department, 40 Siquijor Farmers venture into dragon fruit processing, Sept. 7, 2022
Philippine Council for Agriculture, Aquatic and Natural Resources Research official website, Dragon fruit can now be produced off-season, Accessed Nov. 29, 2022
SONG NAM ITD CO., LTD official website, World's dragon fruit suppliers and demand, Accessed Nov. 29, 2022
Research and Markets official website, Dragon Fruit Market – Growth, Trends, COVID-19 Impact, and Forecasts (2022 – 2027), Accessed Nov. 29, 2022
Taiwan News official website, 台灣正值火龍果產季!農糧署:營養多汁紅白雙星連袂登場, July 13, 2021
Dragon Fruit Network official website, Dragon fruit industry in Taiwan: Challenges and response, Sept. 2, 2022
Food and Fertilizer Technology Center for the Asian and Pacific Region official website, Profile of the Dragon Fruit Industry and its Assistance Measures in Taiwan, June 29, 2018 
Yvonne Fu from the economic division of Taipei Economic and Cultural Office in the Philippines, Personal communication (email), Nov. 29, 2022
Online communication with Dr. Teddy Tepora, Dec. 7, 2022 
Bureau of Plant Industry-National Plant Quarantine Services Division official website, Import – NPQSD, Accessed Nov. 29, 2022
Philippine Statistics Authority official website, data from openstats database, Accessed Nov. 29, 2022
Bureau of Agricultural Research official website, Dragonfruit production, disease management highlight monthly in-house webinar, Accessed Nov. 29, 2022
Food and Fertilizer Technology Center for the Asian and Pacific Region official website, DRAGON FRUIT PRODUCTION AND MARKETING IN THE PHILIPPINES: ITS STATUS, CONSTRAINTS AND PROSPECTS, Accessed Nov. 29, 2022
Special Area for Agricultural Development (SAAD) of the Agriculture department, Dragon Fruit Production, an emerging industry, Sept. 6, 2018
Special Area for Agricultural Development (SAAD) of the Agriculture department, Dragon Fruit Farm: A farmer's dream comes true with DA-SAAD, Feb. 22, 2021
Bureau of Agriculture and Fisheries Standards, Fresh fruits – Dragon fruit (Pitahayas) – Classification and grading, 2013
Food and Nutrition Research Institute official website, Hylocereus undatus,  Accessed Dec. 7, 2022
Wikimedia Commons official website, Rhododentrites, Accessed Dec. 7, 2022
Wikimedia Commons official website, Hans B.~commonswiki, Accessed Dec. 7, 2022
(Guided by the code of principles of the International Fact-Checking Network at Poynter, VERA Files tracks the false claims, flip-flops, misleading statements of public officials and figures, and debunks them with factual evidence. Find out more about this initiative and our methodology.)