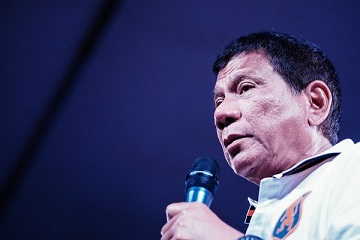 By ELLEN T. TORDESILLAS
FOR the information of Davao City Mayor Rodrigo Duterte who laughed at Persons with Disabilities while regaling his supporters in Aklan last week, there's a law that prohibits ridicule, vilification, both verbal and non-verbal, against PWDs which can make them lose their self- esteem.
Public ridicule is "making fun or contemptuous imitating or making mockery – in writing or in words, or in action" of PWDs because of their impairment.
The law is Republic Act 9422, an act amending the Magna Carta for Disabled Persons.
The law identifies two forms of vilifying PWDs: One, uttering slanderous and abusive statements against them. Two, an activity in public which incites hatred toward serious contempt for, or severe ridicule of PWDs.
Regaling his audience in Kalibo, Duterte performed: "Iyong isa doon, classmate ko pa. Eh na-stroke, paganoon-ganoon" as he mimicked the half-paralyzed movement of a stroke victim.
Showing no mercy, he said, " Gusto ko sabihin, 'Pakamatay ka na lang'."
He also related a story complete with action about a half-paralyzed man who was still fond of women. "Iyong isa doon, 87 o 88, pagdating niya siguro maingay na, gaganon siya pilit siguro may spinal problem. Tinutulak pa, ganoon.Tapos, tumatakbo iyong mga babae, tinutulak iyong mukha. Tapos ibalik ng yaya."
The crowd applauded his performance.
Many who have stroke victims relatives felt hurt by Duterte's ridicule.
One of them is Bib Macasaet, wife of Butch Macasaet, publisher of Abante tabloid. Bib and Butch have a special child who has overcome his disability and is now helping other children with special needs.
Bib's father-in-law, Malaya publisher Jake Macasaet, is recovering from a stroke.
"I take great offense at what Duterte said  because I have a son with special needs and my father-in-law just suffered a stroke November 2015 and is a wheelchair user," she said.
"You are a mentally ill person, Duterte, " Bib lambasted  Duterte.
"How dare you laugh and make fun of stroke patients who are immobile and helpless? My father-in-law is a stroke patient and I will not allow you, to say 'pakamatay ka na lang' because he can't help himself. Who do you think you are to make a mockery of disabled people? "
Bib also took on the people who were laughing at Duterte's  tasteless joke: "I take it that none of you have relatives with disabilities or stroke patients – or else you wouldn't be laughing. ‪"
Bib asked the Filipino people to wake up and stand up to Duterte:" Philippines, we just can't allow this person to go on degrading people, most especially the helpless ones. "
By the way, R.A 9422 states that any person who violates will be fined, for the first violation of not less than P50,000.00 but not exceeding  P100,000.00 or imprisonment of not less than six months but not more than two years, or both at the discretion of the court.
For any subsequent violation, a fine of not less than P100,000.00 but not exceeding Two P200,000.00 or imprisonment for not less than two years but not more than six years, or both at the discretion of the court.
But first, someone has to file a complaint.
***
Related event:
Getting it Right: Reporting on Disability in the Philippines will be launched on Wednesday, April 27, at 2:30 p.m. at Joy 1 and 2 Function Rooms, 5th Floor, Oakwood Premier, Joy – Nostalg Center, Ortigas Center, Pasig City.
Getting it Right is a project of the Fully Abled Nation, aimed to increase public awareness of the importance of PWDs' right to suffrage and right to participate in democratic processes. It is carried out in the Philippines by The Asia Foundation with assistance from The Australian Aid.
Produced by VERA Files, Getting it Right is designed as reporting guidebook but it is also helpful to non-journalists on communicating about PWDs.
Anybody with the heart
for PWD is invited.