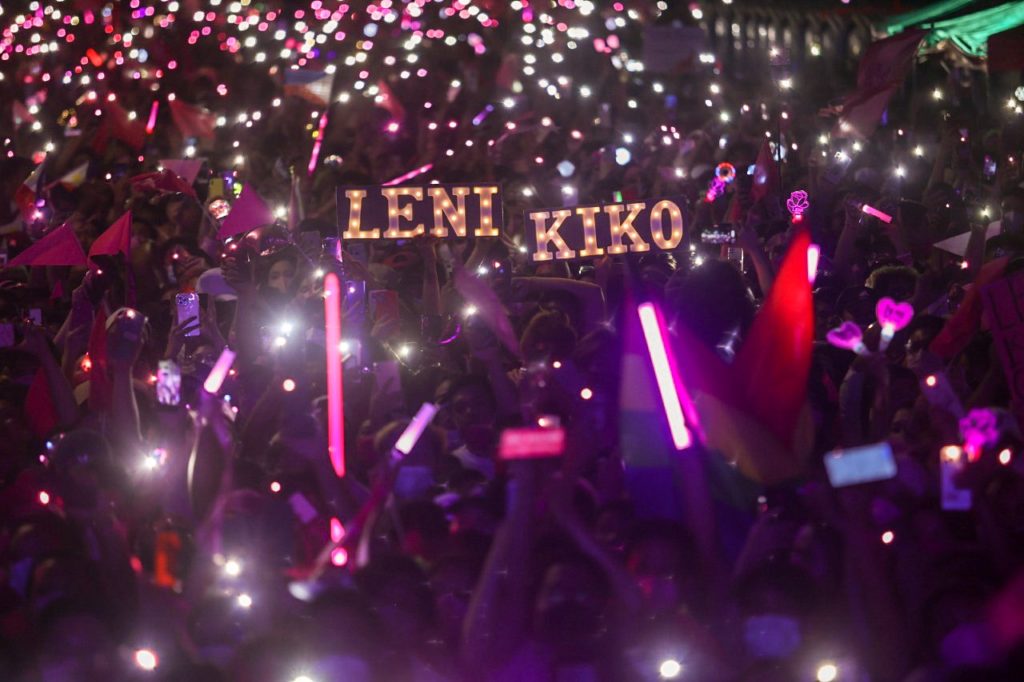 Before hundreds of thousands who came to celebrate her 57th birthday, presidential candidate and Vice President Leni Robredo declared that communist leader Jose Maria Sison was not an adviser, nor is she a member of the New People's Army as insinuated by political rivals.
It was a show of force in the grandest rally held on April 23 in Pasay City dubbed "Araw Na10 'To!". The stretch of Macapagal Avenue was a sea of pink – people clad in the signature color as well as balloons and other campaign paraphernalia that were visible as far as the eye could see before dusk settled.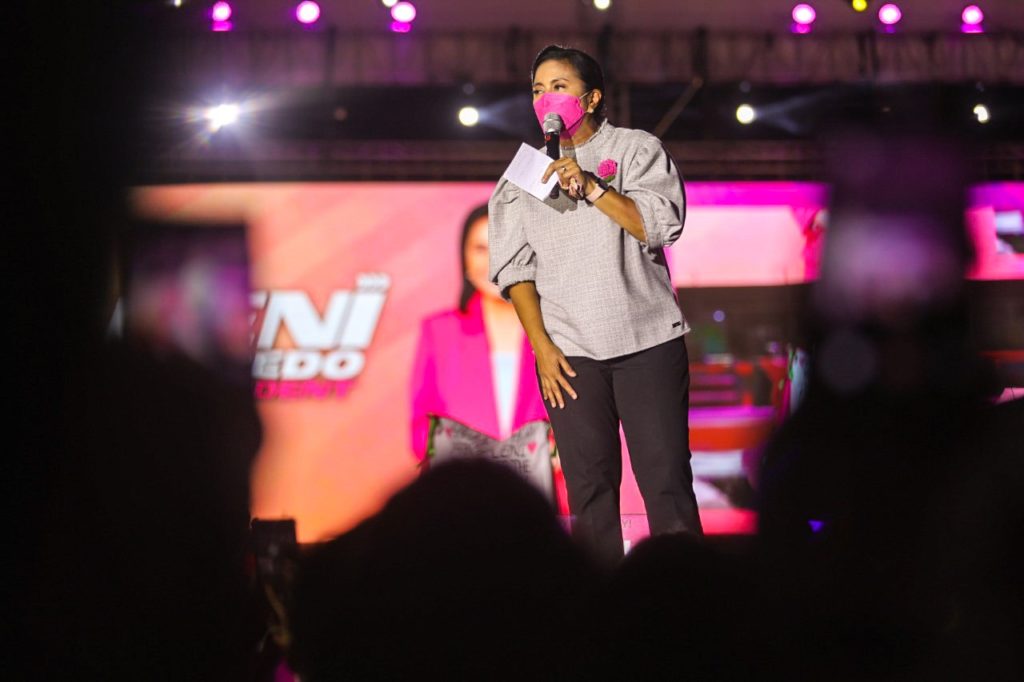 They walked, they biked, they rode. And stood waiting as patiently and orderly as possible for the arrival of the presidential candidate and celebrant, which was not until late in the evening. It was almost 9 p.m. when she and vice presidential bet Sen. Kiko Pangilinan finally showed up.
In her speech, Robredo also lamented the barrage of mis- and disinformation targeting her character and family, which she initially ignored after assuming office in 2016, and proved to be a costly mistake. (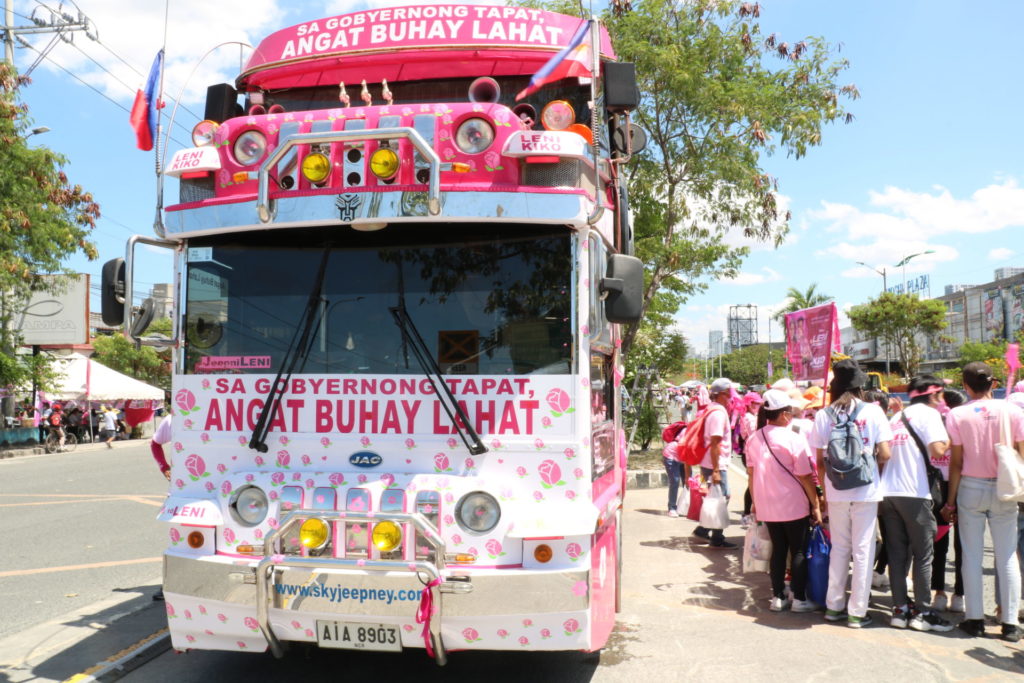 Fighting "fake news" should never stop, however exhausting it may be, the vice president said. In the last six years, she had to contend with so much falsehood spread about her. "Pero hindi ko pinapansin kasi sabi ko, istorbo lang. Pero mali pala ako. Kailangan 'pag fake news, sinasabi kaagad natin na kasinungalingan 'yan at 'yung kasinungalingan ay papalitan natin ng katotohanan (But I didn't mind these because I said it was a bother. But I was wrong. If it's fake news, we should immediately debunk the lie with the truth)."
She warned the country would be at the losing end if a candidate wins the election based on lies. Aside from compassion and more patience, the way to fight mis- and disinformation is by rectifying untruths with the truth, Robredo declared.
It was having nerves of steel that enabled her to remain unaffected despite every hateful and hurtful thing hurled at her. She's been referred to as porridge (lugaw), scatterbrained (lutang), and dumb (bobo). "Pero nakita nyo ba akong naapektuhan nito? Sa palagay niyo ba yung mga paninirang ito naka-apekto sa paggawa ko sa aking trabaho? Malamang hindi dahil kung naapektuhan nito 'yung aking pag-trabaho, siguro wala kayo ditong sumusuporta sa akin (But have you seen me get affected? Probably not. Otherwise, if I did let it get in the way of my job, you wouldn't be here supporting me)."  
She is extremely grateful that despite the proliferation of "fake news" spread about her, the people continue to believe in her.
Star-studded party
Television host and comedian Vice Ganda performed in between the speeches of Pangilinan and Robredo. Actress Maricel Soriano also made a brief appearance in support of the vice president, delivering a revised iconic line: "Wag mo kong maTerry-Terry dahil gusto ko Leni-Leni!"
The senator's wife, singer-actress Sharon Cuneta, introduced Kiko jokingly calling him her "ex-boyfriend" and favorite farmer.   
Also present was actress-philanthropist Angel Locsin, and singers Jim Paredes and Buboy Garovillo of the iconic trio Apo, who sang their hit song "Panalangin" the lyrics of which were rewritten as a call of support for the Leni-Kiko tandem.
First-time celebrity endorsers and performers include Janno Gibbs and John Arcilla, and OPM power couple Regine Velasquez and Ogie Alcasid, and Pangilinan's brother-in-law Gary Valenciano.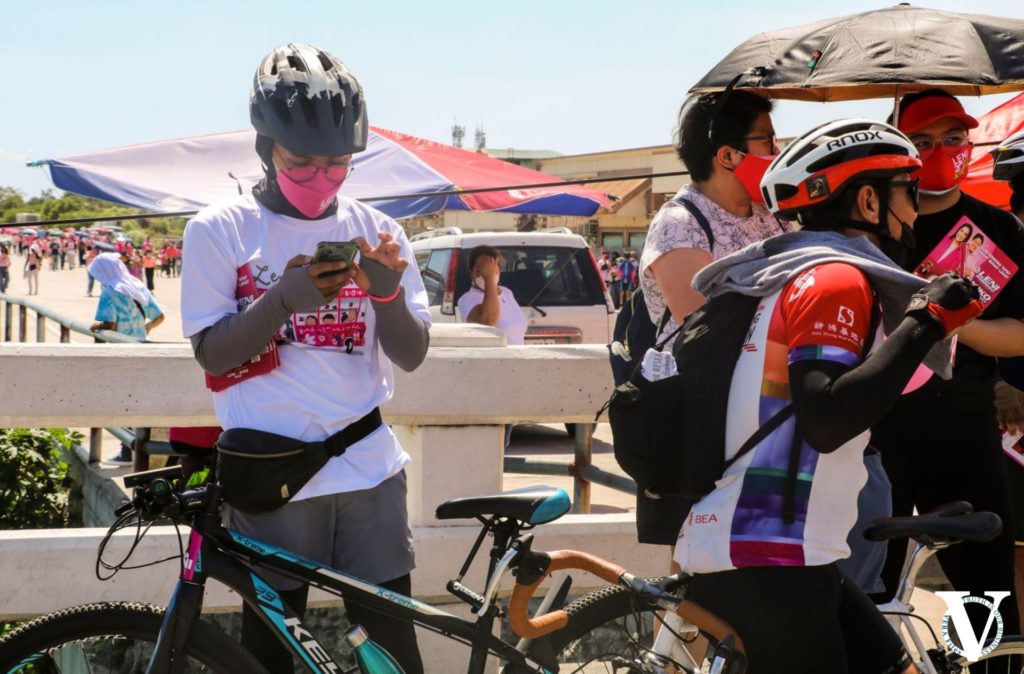 Security task force commander P/Lt. Jancy Nepumoceno said the area coverage for the rally is the 4.7 km-length of Macapagal Avenue from Buendia to EDSA, approximately the size of eight football fields, with an estimated capacity of up to 600,000.
Deployed to cover 2.2 sq. km of the actual event site were 1,621 personnel from the police, Pasay DRRMO, MMDA, BFP, traffic, and Red Cross, P/Lt. Johnny Beltran of the security task force told VERA Files.
Three stages were set up: the main one near Diokno Boulevard and two smaller ones at Seaside Drive (middle) and EDSA South. Video walls were in strategic places throughout the length of the boulevard.
Record number of attendees
By 3 p.m. the crowd had built up, mostly converging in front of the Diokno stage. The afternoon heat kept medics busy as temperatures peaked at 34 degrees while bands performed to entertain the audience. 
At 4:30, three from the Tropang Angat senatorial ticket took to the stage. Sen. Leila de Lima, unable to join rallies, was presented on video and had the crowd chanting, "Hustisya! (Justice!)" She was represented by Phillip Gordon. Also present were human rights lawyer Chel Diokno and former congressman and Ifugao advocate Teddy Baguilat.
Earlier, another senatorial hopeful, Makati Rep. and actor Monsour del Rosario, endorsed Robredo. He was formerly allied with the team of Sen. Ping Lacson and Senate President Tito Sotto, and is now backed by the 1Sambayan coalition.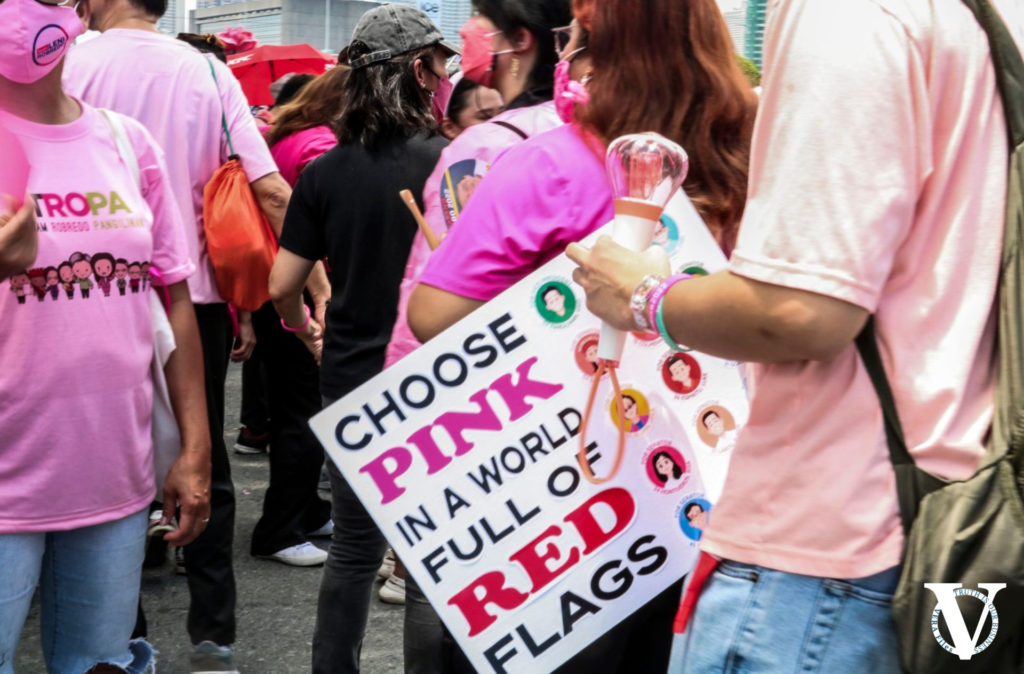 Before sundown, representatives from different sectors, among them drivers of public utility vehicles, declared their support for the tandem's "comprehensive, humane, and inclusive" approach to transportation problems. "Ang manibela at ang taumbayan ang magdadala kay Leni Robredo sa Malacañang (The steering wheel and the people will bring Leni Robredo to Malacañang)," exclaimed Mario Valbuena of Manibela party-list.
The crowd thickened before 6 p.m. and people were no longer allowed to approach the main stage. Rallyists spilled all the way to the EDSA South side. Whereas chants of Leni-Kiko during the Pasig Laban rally in March had a drowning effect, the Pasay crowd's energy was electric, as they anticipated Robredo's appearance on stage. 
Power went off, interrupting the program for an hour. The technical glitch slightly dampened the spirit of the hundreds of thousands who came to party with Robredo to amplify their support amid repeated calls for her to withdraw from the race.
A canvas resembling a kite painted with the image of Robredo from the collaborative efforts of artist Ben Cab and several others, was launched. The other images were of a child, animals and other elements symbolizing what her supporters are fighting for. Its general message is hope for a better country, a wish that binds Kakampinks. 
For the children's future
A teary-eyed Dorina Capispisan, 66, said this is only the second time in her life that she would be voting. Her entire family supports the Leni-Kiko tandem and join their sorties accessible by land travel.
"'Wag lang sasakay ng barko kasi mahal ang pamasahe n'un. Basta kaya ng bulsa namin (So long as it doesn't require traveling by boat because that's expensive. As long as we can afford it)," she told VERA Files.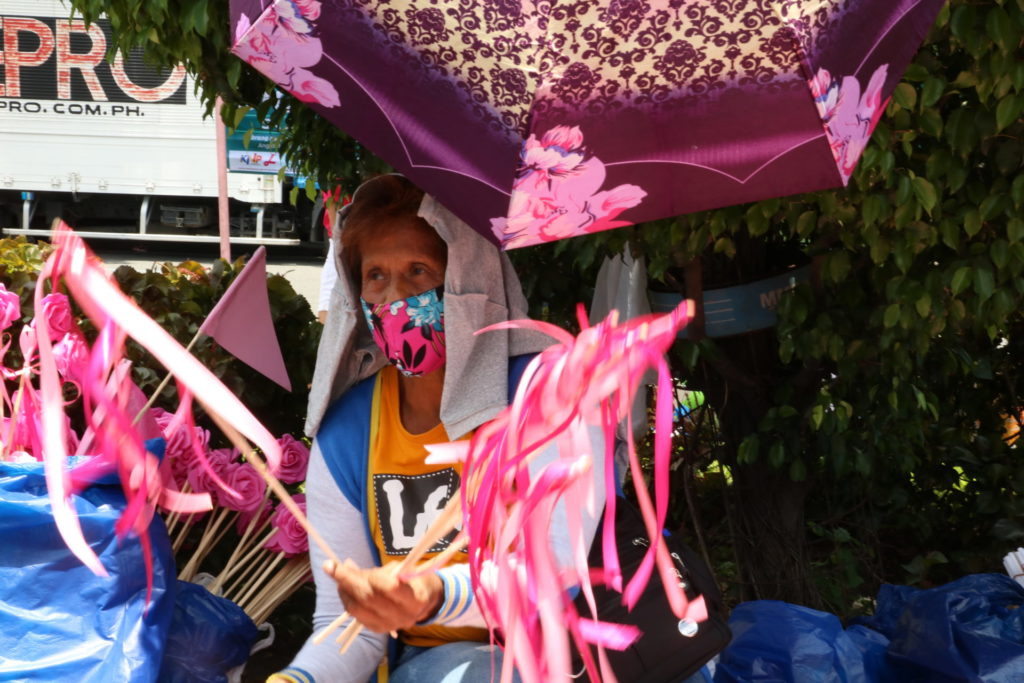 The willingness to use personal resources – even among those with limited funds – to back the Angat Buhay ticket has been a hallmark of the Vice President's campaign.
Ramon and Cecil Lacsamana came with their family, including grandchildren. The couple lived through Martial Law. They feel betrayed by young Filipinos for dismissing the atrocities during that era.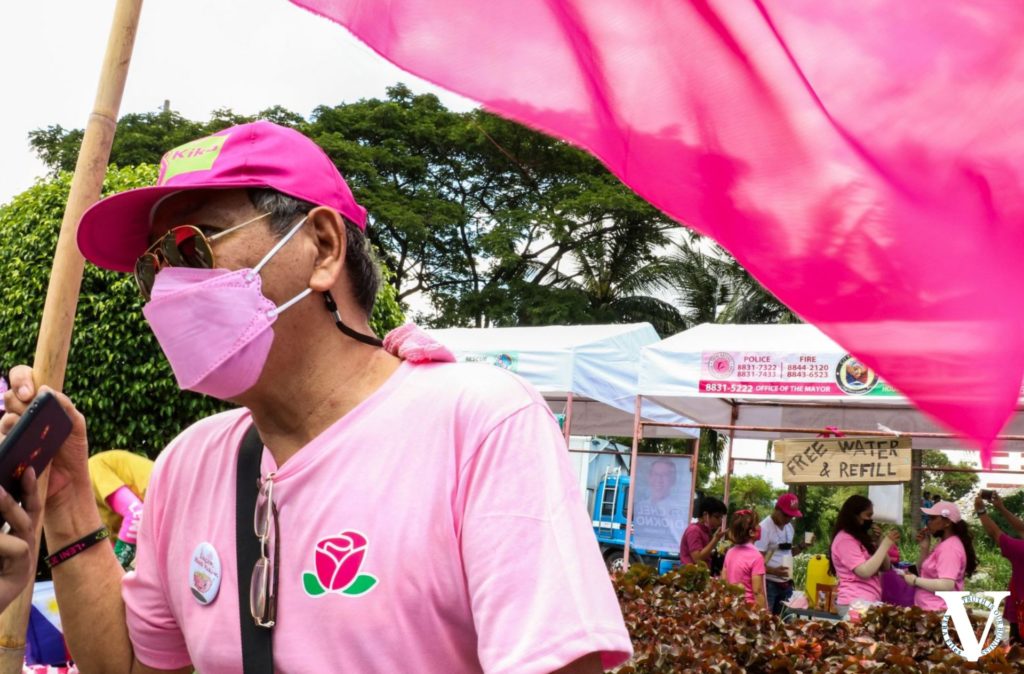 "Hindi totoo yung sinasabi nilang golden years. Lahat ng hirap naranasan namin. Napakalaking kalokohan (ang historical revisionism). Magbasa sila ng history. Nandoon, diktador (The golden years they're talking about is not true. We experienced all the hardship. It's a lot of nonsense. They should read history. It's there… dictator)," Ramon, 68, said emphatically. He added research should not be based on apps like TikTok or video sharing website YouTube, where mis- and disinformation proliferate.
His 66-year-old wife agreed and is frustrated how little the younger generation know about what happened yet choose to believe the distortions in history they see online. ()
"Ang daming kasinungalingan. Dapat malaman ng kabataan yung totoong nangyari. Hindi pa sila buhay n'un. Wag silang makinig sa TikTok, sa fake news (So many lies. The youth should learn what really happened. They weren't born then. They should not listen to TikTok, fake news)," Cecil said.
Their support for Robredo comes from the desire for change and a better future for the young. "Gusto namin ng pagbabago para sa apo ko (We want change for my grandchild)."
Ramon said a vote for Leni is a vote for the country and for Filipinos. Cecil remarked, "Siya lang ang nakikita kong hope. Siya lang ang may kakayanan na iangat Pilipinas (It is only with her that I see hope. She is the only one who can help the Philippines rise)."
The sentiment was shared by another couple, the Dela Rosas, who likewise came with their kids. "This is for their future. Para sa kanila ito kaya kami nandito (We are here because this is for them)," Claire, 38, shared.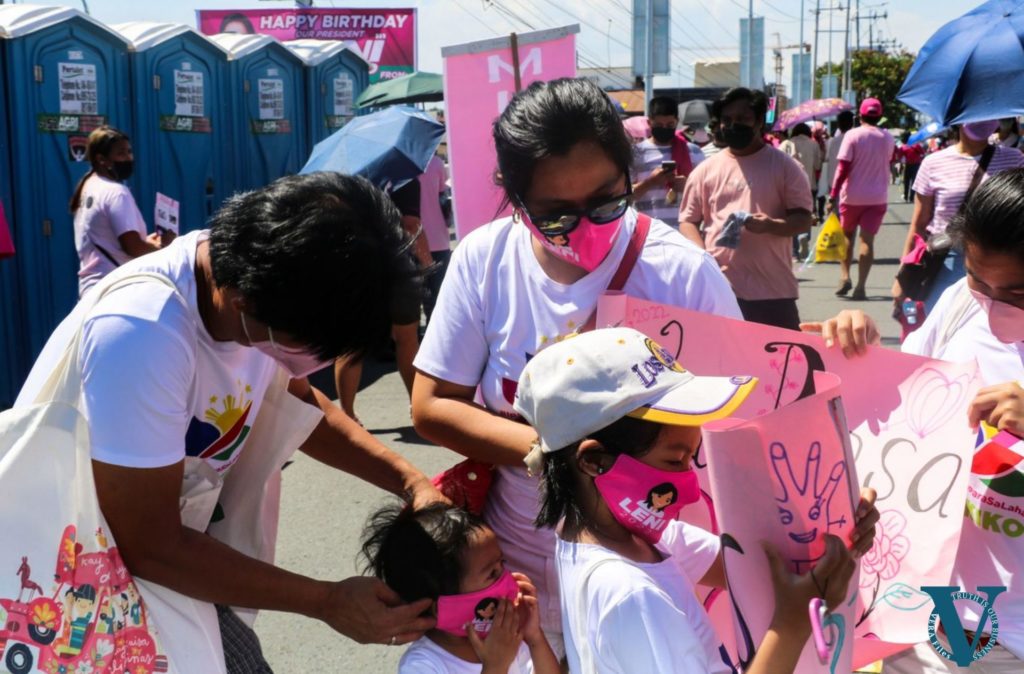 Her husband Elgin, 45, added: "Hindi na namin iniisip yung amin. Para sa mga bata na at sa susunod pa (We're no longer thinking about ourselves. This is for the children and the future generations)."
A pitch for Kiko
While crowds at Kakampink rallies also show their love for Robredo's vice presidential bet, people are rarely asked why they support the senator. An internal "survey" showed that for every 10 people voting for Robredo, only five were for Pangilinan, according to re-electionist Sen. Antonio Trillanes.
Vel Dayo, a music and Christian education teacher in high school, said that other than not being corrupt, Pangilinan has a very good track record as a senator. His decision to become a farmer himself is admirable to better understand how he can help address their concerns. "Yun yung on the ground, hindi from the top na magdidikta sa iba kasi siya mismo nakisama dun sa magsasaka para tulungan sila (That's on the ground, not from the top dictating upon others because he lived their life to understand how to help them)," he told VERA Files.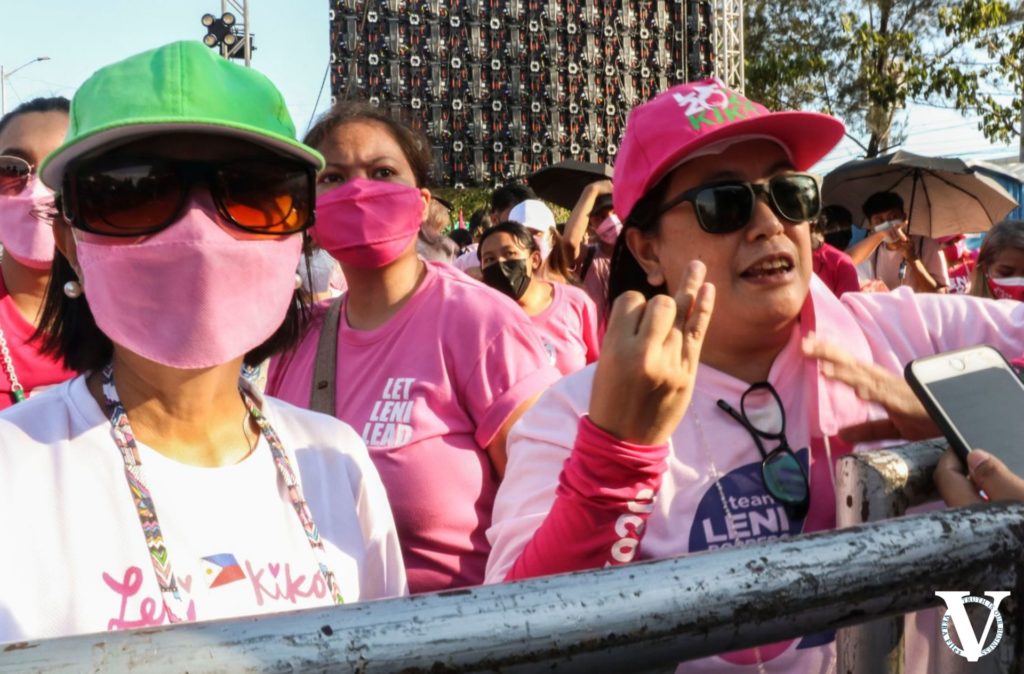 Kiko's integrity is unquestionable, unlike frontrunner Davao City Mayor Sara Duterte, he added. Marie Aguiling, 56, agrees with her. She doubts Duterte's character and integrity, citing the 2011 punching incident the mayor figured in. Kiko, on the other hand, is a true gentleman. "Gusto ko yung ganoon tao na nirerespeto yung mga Pilipino, mayaman o mahirap (I like that type of person who respects Filipinos, whether rich or poor)", she said.
Pangilinan is also Capispisan's preferred candidate and hopes both win the elections. "Si Kiko may malasakit sa mga mahihirap. Kung siya, baka maiba (You can feel Kiko's compassion for the poor. If he wins, things could be different)."
Later that evening, Pangilinan's voice boomed over the Diokno stage. In his brief moment under the spotlight, the senator pushed for full and relentless government support for fisherfolk and farmers.
"Kapag sila ay buo ang suporta mula sa gobyerno, hindi ninanakaw, dadami ang kanilang ani at huli, dadami ang suplay ng pagkain sa merkado, mawawala ang matinding gutom dahil abot-kamay na ang pagkain nating lahat (If fisherfolk and farmers receive full support from the government, if their support is not pocketed, their yields will increase, food supply in the markets will be sufficient, and we can eradicate extreme hunger because food would be accessible to all)," said Pangilinan, whose platforms address the country's food crisis amid rising market prices of commodities.
Claire dela Rosa has known Pangilinan since college and is aware he is an advocate for agriculture and farmers. Getting Kiko elected is a step towards addressing the sector that has long been neglected. "Masyadong napag-iiwanan yung agriculture ng Pilipinas and it's about time na pagtutuunan ito ng pansin (The country's agricultural sector has been left behind. It's about time focus is given to it)," she said.
The Lacsamanas claim they are likewise voting for Kiko. Cecil said the senator has done much for agriculture. "Kailangan para magmura ang pagkain natin, ma-elect si Kiko (Kiko needs to be elected to cut the prices of produce and food)," she said.
Her husband thinks Robredo and Pangilinan are on the same wavelength. "Magkasundo sila. Kailangan magkatuwang sila ng presidente para matatag at maayos at puro lang sa kabutihan ng bansa (They agree with each other. It's best that the president and vice president support one another so everything will be stable and orderly and for the good of the country)."
Colorful fireworks capped the evening's event.