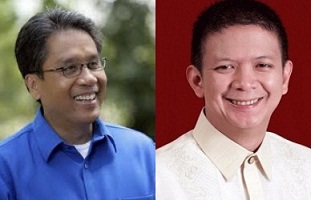 BY ELLEN T. TORDESILLAS
THESE are the political alliances shaping up for the 2016 presidential elections.
Interior Secretary Mar Roxas for president and Sen. Chiz Escudero for vice president for the Liberal Party;  Vice President Jejomar Binay and Gawad Kalinga founder and chairman Tony Meloto for the United Nationalist Alliance; and Senators Alan Cayetano and  Antonio Trillanes IV for the Nacionalista Party.
Sources said Roxas and Binay both wanted Sen. Grace Poe as running mate but the lady senator feels she is not ready yet to run for a higher position in 2016.
The Mar Roxas and Chiz Escudero  ticket is the handiwork of  President Aquino, several sources  said. Both Roxas and Escudero, gave up their long-harbored presidential ambitions  in 2010, to give way to Aquino, whose candidacy came after the death of his mother, former President Cory Aquino, in  August 2009.
Sources said Roxas is reluctant about teaming up with Escudero, who endorsed Binay for president in the 2010 elections. But he has no choice given his low popularity rating. He needs the endorsement of Aquino for  his 2016 presidential bid.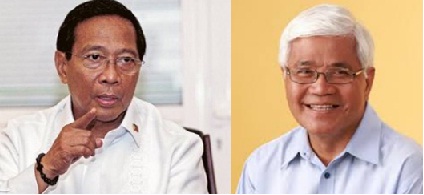 Although there are some members of the Liberal Party who do not give Roxas a good chance of winning in the 2016 elections, his supporters resort to mathematics to show otherwise.
A presidential candidate has to get 40 percent of the votes of the total registered voters to win the election. Administration political analysts say Aquino's endorsement will bring in 20 percent of the total of the voters which Presidential Spokerperson Edwin Lacierda bragged, is "lethal."
"Whoever the President will endorse, the power of the President's endorsement is lethal. It is effective and that's the reason why the—whoever the President would anoint, would certainly have an advantage, " Lacierda said last January.
The source said  Roxas believes, his campaign organization will be able to get the remaining 20 percent  of the votes needed to win the presidency.

Sources said Escudero, who has not returned to NPC, after he left the Eduardo Cojuangco, Jr.-controlled party in 2010, has no qualms about  being the running mate of Roxas even if he endorsed Binay in 2010.
It is often said that there are no permanent friends in politics. A Roxas-Escudero team will show that there are no permanent enemies either in politics.
With Sen. Jinggoy Estrada deep in the PDAF/Janet Napoles mess, Binay is in search for a running mate. He told Philippine Star's Marichu Villanueva that he wants an economist for a running mate in 2016. Meloto fits the bill.
The intriguing thing about this Binay-Meloto team up is that it is brokered by a presidential relative.
Earlier Binay had  earlier considered  Darlene Marie Berberabe, the young and pretty president and chief  executive officer of Pag-ibig Fund,  for running mate but that team-up didn't  materialize.
Binay is confident that with his formidable national machinery, he can afford a non-politician running mate.
At the Nacionalista  Party, party members  think the possibility of  Sen. Ferdinand "Bongbong" Marcos, Jr. getting embroiled in the Janet Napoles pork barrel  cases, won't make him a  viable standard bearer.
They are working on a  Cayetano-Trillanes ticket.