Why are the non-fans of President Duterte protesting the appointment of dancer – singer Mocha Uson as assistant communications secretary?
They deserve each other perfectly.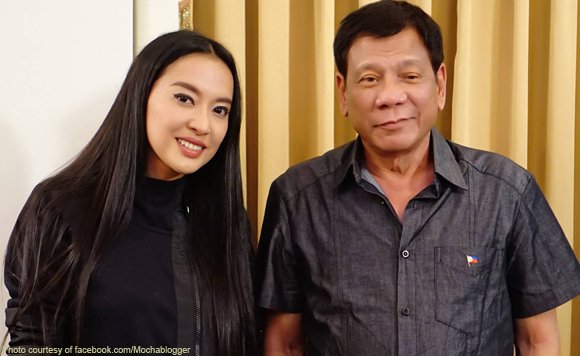 President Duterte and dancer-singer Mocha Uson. Photo from politics.com.ph
Why are they questioning the appointment citing lack of qualification of Uson for the job that pays between P87, 000 and P106, 000 a month?
Uson's qualification is unassailable: she and her group of sexy dancers campaigned for Duterte.
"Utang na loob ko iyan sa kanila, because they offered their services free at a time na wala akong pera, because they believe in me. Now it's my time to believe in them," Duterte said.
Duterte haters should encourage him to appoint more people like Uson to join the company of Chief Presidential Counsel Salvador Panelo, Solicitor General Jose Calida and National Food Authority Administrator Jason Aquino. Haven't they heard of Napoleon Bonaparte's dictum: Never interrupt your enemy while he is in the process of destroying himself?
As assistant to Communications Secretary Martin Andanar, Uson is now one of the President's spokespersons, in charge of social media.
Spokespersons are an extension of the President. What they are says a lot about the official they are speaking for. That's why they are also called "alter egos" aside from being a mouthpiece.
In the more than 20 years that Ferdinand Marcos was in power, he had several spokespersons, who all demonstrated intelligence and competence. Two of them were intellectuals Adrian Cristobal and Francisco "Kit" Tatad.
During Cory Aquino's time, the eloquent Teodoro Locsin, Jr. made statements and speeches that captured the integrity and character of the widow of the late Benigno Aquino, Jr.
The spokespersons of President Ramos, one of them the late Annabelle Abaya, didn't have much to add to the messages they were sharing with the public because the former president had definite views on issues. The stature of Rod Reyes as press secretary helped in the constructive relationship that Ramos had with media.
The controversial President Estrada had several spokespersons who all, in one way or another, reflected his folksy charm. One of them was the amiable Mike Toledo.
Former President Aquino's spokespersons – Edwin Lacierda and Abigail Valte- reflected the culture of exclusivity that was the distinct attribute of the previous administration.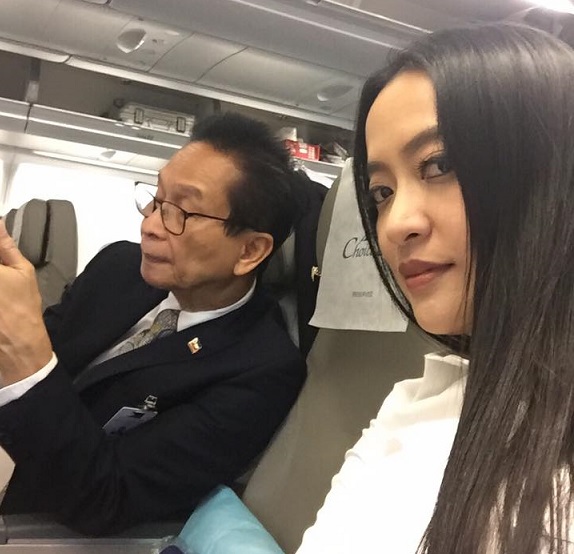 Aboard the presidential plane: Communications Assistant Secretary Mocha Uson and Chief Presidential Legal Counsel Salvador Panelo accompany the President to his trips to Cambodia, Hong Kong and Beijing. Photo from Mocha Uson's FB page

Duterte's defense of Uson shows they are two peas in a pod. He thinks Uson is "bright and articulate" and can even be president of this country.
In defending Uson's past as sexy dancer,Duterte said, "And if it just a matter of dancing, she was not dancing naked. She was – during the campaign – a little bit sexier than the other. But that does not prevent anybody to deprive her of the honors that she deserves. It's a matter of intellect…Iyang pagsasayaw niya, hanapbuhay iyan eh. That's hanapbuhay. There's no law which says that if you expose half of your body, with a shorts and a bra, you are disqualified from being the president of the Philippines. There's no really no law."
The President invited those who are sceptical about Uson's competence to listen to her. "You can listen to her, you can debate with her. Tingnan mo iyong Facebook and she can have a very structured mind.""
Uson's FB blog has almost 5 million followers. Impressive , no doubt.
But that should not be surprising. More than 16 million voted for Duterte.
Except for a few who are following Uson for journalistic purposes, it can be gleaned from the comments in her blog that her followers are Duterte fanatics. She is preaching to the choir and they are reinforcing each other.
Duterte and Uson are making us re-evaluate and re-affirm our sense of values because their statements challenge our traditional values and accepted standards in life. There are many things that we consider wrong that they are pushing as right. They pass on unsubstantiated claims as "tamang balita (correct news) and dismisses truth as "fake news."
Malacanang said Uson will be in charge of countering fake news.
Expect the fake news factory to be very busy in the coming days.