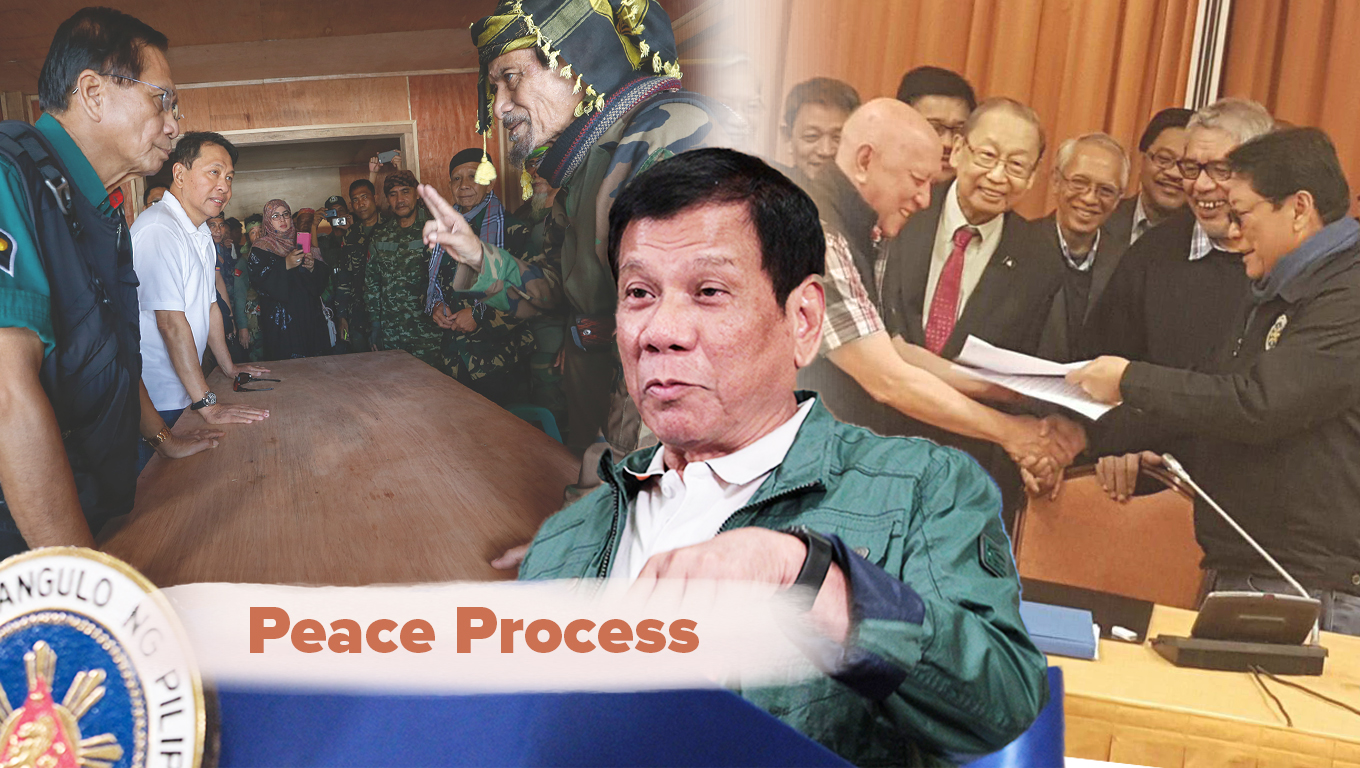 In his first State of the Nation Address (SONA), President Rodrigo Duterte said his administration will "strive to have a permanent and lasting peace" before his term ends and expressed willingness to negotiate with the Communist Party of the Philippines/New Peoples Army/National Democratic Front (CPP/NPA/NDF) and with the Bangsamoro.
The first president from Mindanao, Duterte has repeatedly said correcting historical injustice in Mindanao is prerequisite to achieving lasting peace in the region. In his first SONA, he pushed for the passage of the Bangsamoro Basic Law.
The president also announced a unilateral ceasefire with the communist insurgents and called on them to do the same, as a prelude to the resumption of peace talks.
One year after, where is Duterte's roadmap to "permanent and lasting peace" heading?
On the Bangsamoro
PROMISE: "The only way they said that we can have this
[is] iyong BBL ibigay na natin minus the things that you do not want, iyong mga constitutional issues tanggalin muna natin. Ibigay ko iyong area, nandiyan na iyan eh. So I ask you, pass it minus the constitutional issues that are contentious."

The Bangsamoro Transition Council (BTC) submitted the draft Bangsamoro Basic Law (BBL) to Malacanang on July 18, 2017, barely a week before his second SONA.
On CPP/NPA/NDF
PROMISE:
"To immediately stop violence on the ground, restore peace in the communities and provide an enabling environment conducive
to the resumption of the peace talks. I am now announcing a unilateral ceasefire with the CPP/NPA/NDF effective immediately, and call on our Filipinos in the National Democratic Front and its forces to respond accordingly."

The Philippine government and National Democratic Front reached the fourth round of formal talks on April 3-6, 2017 in Noordwijk aan Zee, in
the Netherlands. During this round the two parties signed an interim ceasefire
agreement, which was to remain in effect while guidelines of the permanent ceasefire agreement were being finalized.
The government and the NDF were scheduled to hold the fifth
round of talks on May 26-June 2, 2017. But the talks were cancelled by Presidential Adviser on Peace Process Secretary Jesus Dureza, citing the Communist Party of the Philippines'(CPP) directive to its armed forces to intensify attacks against the government following the declaration of Martial Law in Mindanao on May 23.
Informal back-channel talks were being planned but these were scrapped after a convoy of the Presidential Security Group in North Cotabato was ambushed on July 19.
Find out how Duterte fared in other sectors here.