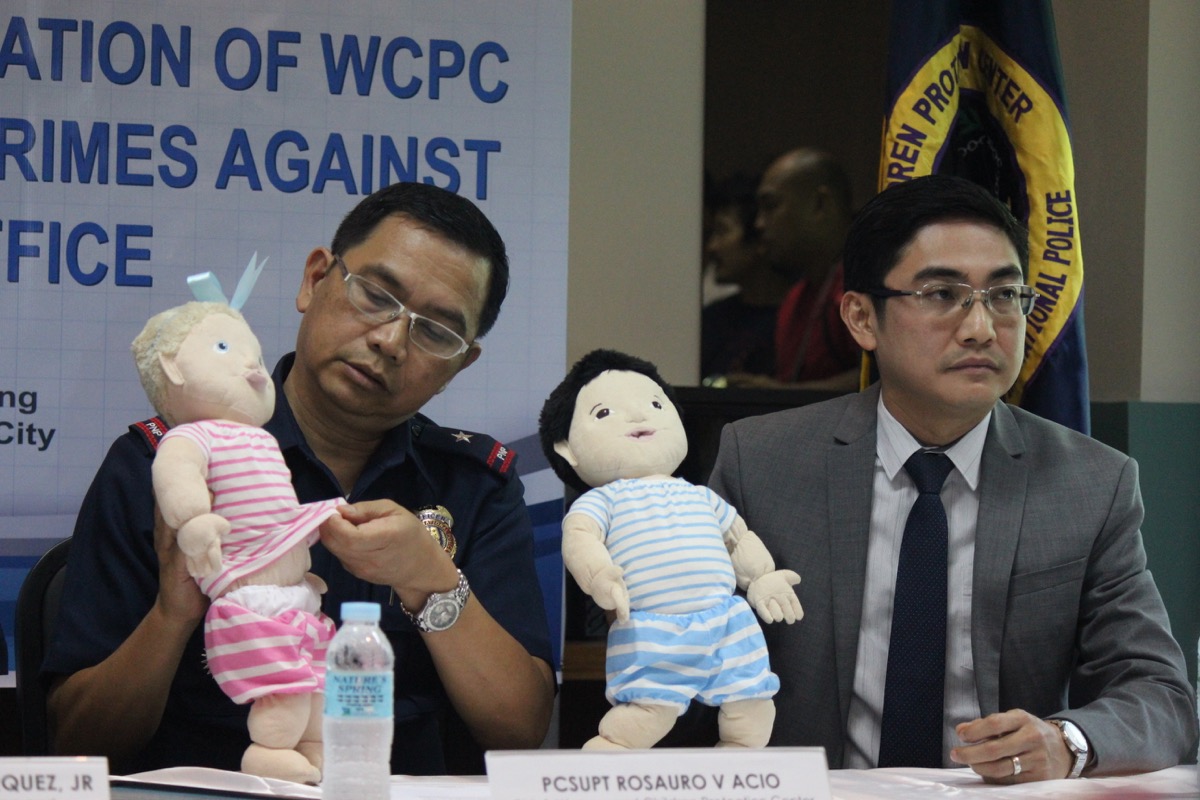 By NICOLE-ANNE LAGRIMAS AND PAUL JOHN DOMALAON
SILENCE was the name of the game when Jane* was forced into prostitution.
Threatened by her traffickers that they would "ruin her life," she could not even tell her mother what she was going through.  She was made to take illegal drugs while she was being abused.
"Sobrang nakakababoy ng pagkatao (It was utterly degrading)," she said. She was 13. A few years later, there was a child in her womb. Only then did she tell her mother about her plight.
Together, they filed a case against the traffickers – slow moving as it was at first, it eventually rolled into motion, she said.
Now, her silence is gone, replaced by a firm, clear voice as she spoke to government agency leaders, foreign diplomats and nongovernment organization workers during the World Day Against Trafficking event by the Inter-agency Council Against Trafficking (IACAT), Friday.
Citing the help of IACAT and nongovernment organization Visayan Forum, Jane briefly narrated her journey from being a victim of trafficking to being a survivor, to being an advocate against sexual exploitation.
Hearings are ongoing for the case she filed against her traffickers, she said, but she does not mind the distance she has to travel to attend each one.
"Even though it's hard and hearings are far, I will not back out. Together with the social workers from DSWD Region IV-B and of course, IACAT, I will fight for my case," she said in Flipino.
And with Jane is her daughter, who turned two that Friday, celebrating coincidentally with the government for recent international recognition of its efforts against trafficking in persons in the country.
The Philippines has recently been given Tier 1 ranking, the highest rank for government initiatives against human trafficking by the U.S. Department of State's Trafficking in Persons Report.
It is the first Southeast Asian country to be given this ranking, after spending five years in Tier 2 from 2011 to 2015. Back in 2009 and 2010, the country was in Tier 2 Watchlist level.
This recognition however "does not mean trafficking is not a problem," said U.S. Ambassador to the Philippines Philip Goldberg in the IACAT event, echoing previous statements made by local officials.
"It means that the government is actively taking steps to fully meet the minimum standards of operations against trafficking," he said, adding that this is something that needs to be maintained.
The ranking, more than being a be-all and end-all award, comes with a recommendation: "to develop and implement programs aimed at reducing online child sexual exploitation."
To achieve this, the PNP, the law enforcement arm of IACAT, launched last July 13 the Internet Crimes Against Children (ICAC) office under the Women and Children Protection Center (WCPC).
Now that there is a new office specifically handling online cases involving children, they are "no longer relying on facilities of the anti-cybercrime group," thus expediting their response to the "emerging trend [of online crimes against children]," WCPC Chief Rosauro Acio told VERA Files during the IACAT event.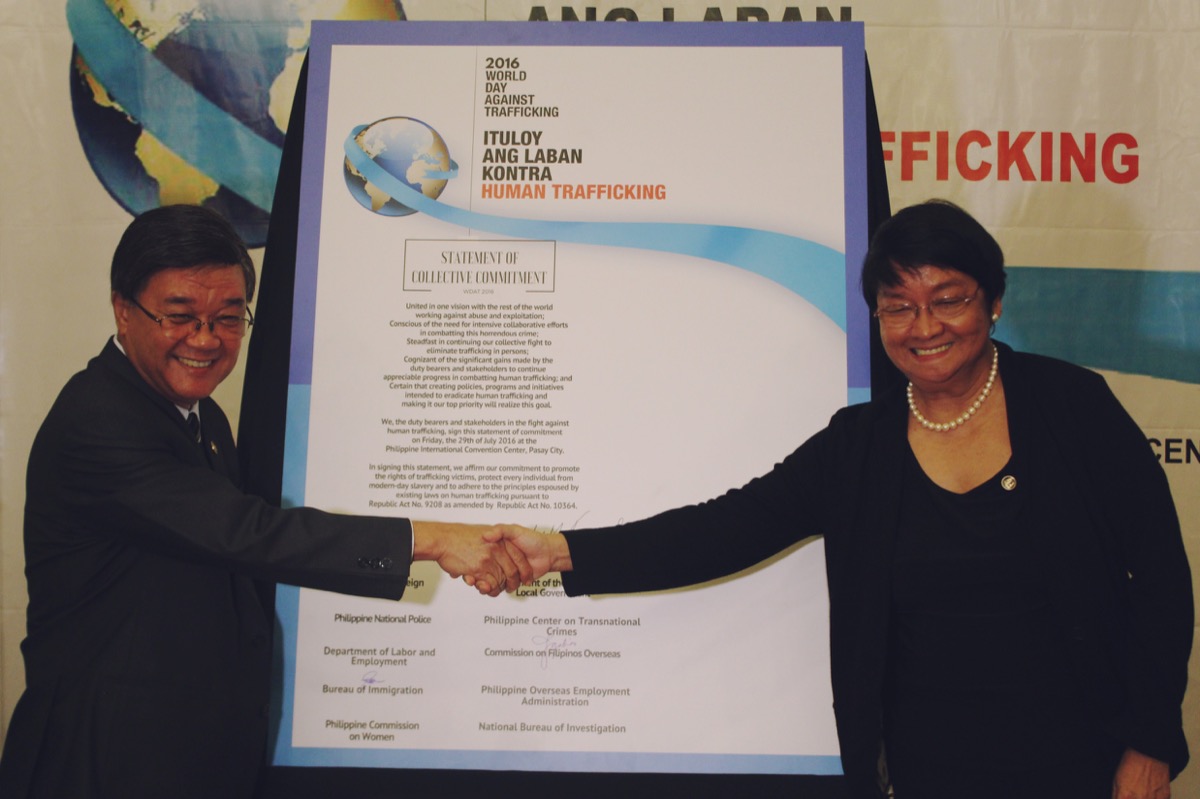 Two weeks since the office's inauguration, ICAC has handled three cases, mostly involving foreign pedophiles; and are processing new ones, Acio added.
ICAC officers monitor and respond to cases of online crimes against children by engaging suspects through accounts created by their assets, who are usually their foreign counterparts, said Acio.
The accounts are given to them by their facilitators, who also provide them access to the accounts of the pedophiles they have lured.
Since ICAC officers are more trained in combating traditional forms of sexual trafficking, such as those that happen in brothels that could be raided, Acio said they are focusing on training for online cases.
"We need to do full blast [in arresting and prosecuting and stopping traffickers]," Acio said, adding that this entails focusing on arrests, making sure victims are taken care of, and ensuring that the perpetrators are deterred from continuing their actions.
Online crimes against children on the rise
Online sexual exploitation of children seems to be rapidly becoming the new face of trafficking in the country, according to a recent report by the International Justice Mission.
The report states that while traditional forms of sexual trafficking such as those involving commercial sex establishments have dropped by as much 86 percent, the internet is being used more and more as a venue for sexual crimes.
According to the report, the victims are mostly children below 12 years old. And the perpetrators: the children's parents and close relatives.
This finding is supported by the Philippine representative to the UNICEF Lotta Sylwander, who told VERA Files in an interview last June, "We're not saying that it's the priest who abuses children, it's not the teacher, it's not the dirty old man in the community. [The child's home], the place where the child should be most protected and most safe from these abuses [is where the abuse usually happens]."
Data on online sexual trafficking of children remains scarce, but WCPC reported 151 child trafficking cases in 2015, while DSWD recorded 117 cases of sexually exploited children including prostitution, pedophilia, pornography and cyberpornography.
However, reports on cybercrime in the country remain "immensely underreported" for several reasons, including stigma against being a victim of sexual abuse and the shortcomings of the judicial system in the country when it comes to hearing cases of sexual, particularly online, abuse, said Sylwander.
Sylwander said the number is "quite high by global standards," and is constantly increasing.
In an article released by the United Nations' Office of the High Commissioner for Human Rights, the number of webpages containing child sexual abuse content increased by 147 percent from 2010 to 2014 globally.
In fact, last year, the National Center for Missing and Exploited Children was able to record 14,988 cyber tips from the U.S. linked to the Philippines alone, said Sylwander.
Furthermore, UNICEF said in a statement in June that 7,000 internet protocol (IP) serve as channels for cyber crimes in the country each month.
But Sylwander said 7,000 might still be an underestimation. "I would say it's probably somewhere around 50,000 to 60,000 if not more," she said, also pointing out that thousands of messages, pictures, videos and live streaming can go out from a single IP address.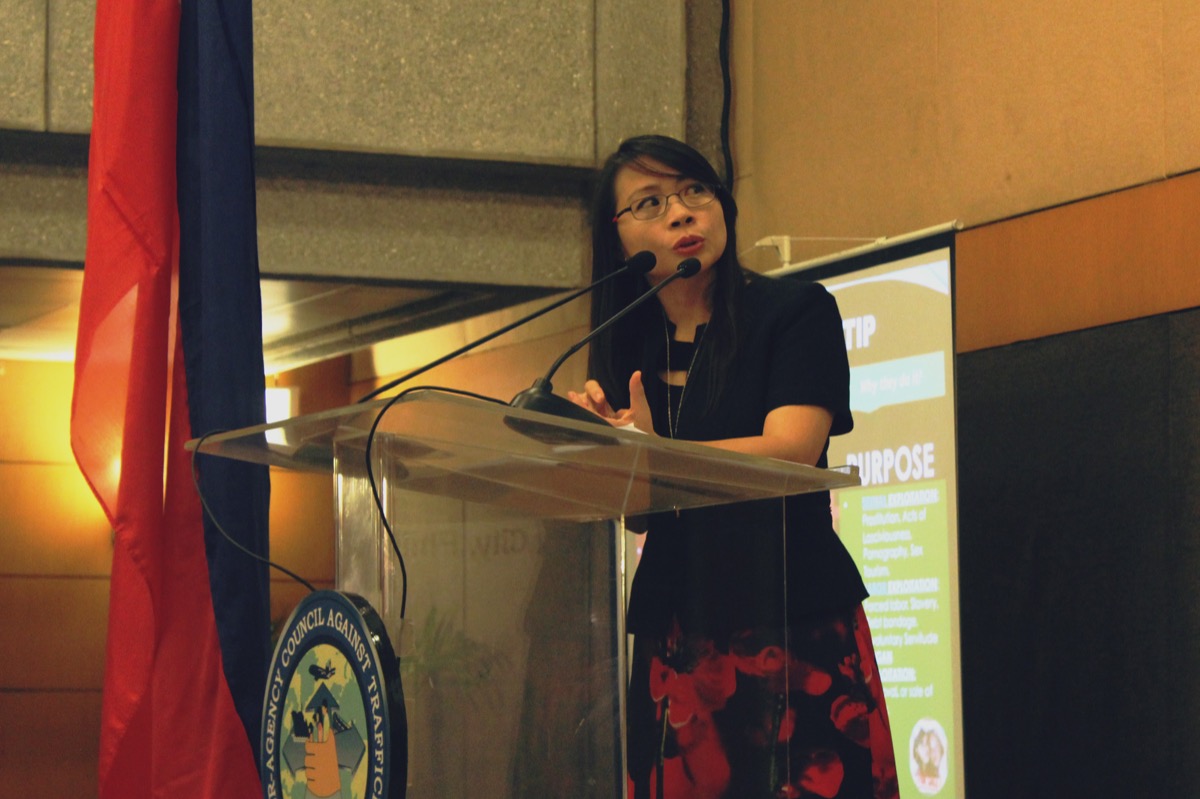 But for the Philippine government's perspective, the law, at the very least, is working, according to IACAT Executive Director Darlene Pajarito, who said during the IACAT event that the Anti-Persons Trafficking Act of 2003, after amendments, has been used to make 243 convictions, where 271 traffickers were dealt the blow of the gavel, as of July 28.
Among the cases, 95 percent fall under sex trafficking and 7 percent under labor trafficking. Some cases, she said, fall under both categories. And of all the cases, 93 percent are females, while 54 percent are minors.
Ninety percent of minors falling prey to trafficking are females, said Pajarito. The remaining 10 percent are males.
And Jane, 19 years old now, an advocate for the rights of human trafficking survivors, a third year high school student and a mother of one, is living proof that the government is on the survivors' side.
Speaking in front of local and foreign leaders, her voice firm and clear, she said, "Ngayon po ay malaya na ako sa aking mga traffickers, malaya na po ako sa droga, at malayang pumili ng kinabukasan kasama ang aking anak (Today I'm free from my traffickers, free from drugs, free to choose a future with my child)."#
*Not her real name
(The authors are University of the Philippines students writing for VERA Files as part of their internship.)