The proposed Vaporized Nicotine and Non-Nicotine Products Regulation Act removes the two-flavor limit and allows online selling and advertising of electronic cigarettes (e-cigarettes) and heated tobacco products (HTPs), prompting health advocates to say that these provisions would entice younger people to try these and get them hooked on what can become a lifetime addiction.
Three line agencies – health, education and finance – have repeatedly appealed to President Rodrigo Duterte to veto the pending legislation which, they say, weakens the regulatory policies in a two-year-old law that has yet to be fully implemented.
Most of the big associations of medical practitioners, former Health secretaries, health advocates and some youth groups are one with the three government agencies in opposing the bill, citing provisions that are "regressive" and contrary to the chief executive's strong position against smoking and vaping.
Duterte enacted in January 2020Republic Act (RA) 11467, or the amended "sin tax" law, and issued Executive Order (EO) 106 a month later "to protect Filipinos, especially the youth, from the harms associated with the use of and exposure to smoke and emissions from tobacco products, vapor products and HTPs."
RA 11467, which is set for full implementation by May this year, prohibits the manufacture, importation, sale, and distribution of e-cigarettes with flavors other than plain tobacco and plain menthol.
EO 106, on the other hand, disallows "incorporating e-liquids, solutions, and refills with flavors and additives that are proven or suspected to be appealing or enticing to persons below 21 years of age."
What the proposed law prohibits is packaging, labeling, presenting, or marketing these products with "flavor descriptors that are proven to unduly appeal particularly to minors." It says a flavor descriptor is presumed to unduly appeal to minors "if it includes a reference to a fruit, a candy brand, dessert, or to a cartoon character."
Dr. Rizalina Gonzalez, chair of the Tobacco Control Committee in the Philippine Pediatric Society (PPS), notes that current regulations restrict flavors to tobacco and menthol while the pending vape bill allows most flavors and only ambiguously restricts those with "flavor descriptors" that are "proven to unduly appeal" to youth.
Currently, more than 15,000 flavors are available and being sold in the market, according to Dr. Ulysses Dorotheo, executive director of the multi-sectoral Southeast Asia Tobacco Control Alliance (SEATCA). These flavors vary from fruity to milk and chocolate drinks, among others, and are marketed as "beginner-friendly" by some retailers.
Should RA 11467 be implemented fully by May, only plain tobacco and plain menthol flavors would be sold in the country.
(READ Vape bill exposes young 'vulnerable' consumers to health risks, endangers already weak enforcement)
But the pending legislation "will harm children and young people because it will give them easy access to these harmful products," Gonzalez said in a webinar hosted by nonprofit public interest group ImagineLaw. "It will also allow flavorings, even those that entice young non-smokers to try these products," she added.
According to a United Kingdom (U.K.)-based platform that sells vape items and e-liquids, flavors can be blended into 32 base ones to create new combinations of flavorings.
Majority of base flavors are fruity and can be merged with other flavors such as chocolate, honey, and cinnamon. "[T]he sky's the limit," it said.
In the Philippines, the development of flavors is a "far bigger industry than anybody would see," says Dr. Rolando Enrique "Eric" Domingo, former director general of the Food and Drug Administration (FDA), in an interview with VERA Files.
"From the development of flavors … from the development of the products to manufacturing, I'm sure they come up with a new flavor everyday."
The proposed measure also allows advertisements of novel smoking products such as e-cigarettes or vapes and HTPs at point-of-sale, through direct marketing, and on the internet.
In a memorandum to the president, dated Feb. 11, Health Secretary Francisco Duque III said the provision is contrary to the existing policy. EO 106 prohibits advertisements and promotions beyond the point-of-sale.
"Given that advertising and promotions entice the initiation and use especially among the youth and given that the top reason for vape use is online accessibility, the DOH and FDA strongly recommend to prohibit these provisions and to prohibit flavorings other than plain menthol and plan tobacco, consistent with RA No 11467, and to further provide comprehensive, more stringent regulation in advertising, promotion, sponsorship or vapor products," the health secretary said.
DOH, DepEd,DOF call to Veto… by VERA Files
Section 12(e) of the vape bill said, however, that the lifting of the restrictions on flavorings and online advertising and promotion "should not undermine quit-smoking messages and should not encourage non-tobacco or non-nicotine users to use" e-cigarettes and HTPs.
The danger of allowing the sales and advertisement of e-cigarettes online is that there is no enough way to regulate how old the buyers are, according to Gonzalez.
(READ Sidebar on age of accessibility)
"Kids are smarter than us. They can always photoshop their face and make it old. They can always annotate their birth certificates," says Gonzalez in an interview with VERA Files.
Dangers of vapes, flavors and e-liquids
Health experts and civil society organizations (CSOs), including government agencies such as the DOH and FDA, were one in saying that the proposed law is a step back on existing regulations on vapes and HTPs.
(READ Vape use could lead to alcohol and illegal drug use ー health experts)
The bill will entice non-smokers, particularly the youth, into a lifelong addiction because it eases restrictions on the sale of flavors and allows online advertisement, according to health experts interviewed by VERA Files.
"The flavors, that's why we don't want them, it's not because of the injury, it's because it entices children, it was developed for kids. Because no adult will smoke blueberry flavor or ice cream," says Domingo.
Gonzalez, who was invited as an expert in congressional hearings, recalls presenting studies on the effects of flavorings and addiction, but was flatly dismissed because it contradicts their position.
One lawmaker jokingly said: "What about us adults who like watermelon and bubblegum (flavors)?"
Lawyer Sophia San Luis, executive director of ImagineLaw, laments that the pending legislation only promises that vape products must not entice the youth, but lacks "guidance" on what is appealing to them.
"It just says here (in the vape bill) that 'as long as it is not appealing to the youth,' but there is no guidance on what is appealing to the youth," says San Luis.
While flavors do not pose risk to the health, it is still harmful because it entices non-smokers especially the youth and the children, says Domingo. "Flavors are harmful because it entices children, and it hooks the youth."
Although there is limited research suggesting that flavors themselves are dangerous, if combined with other chemicals and heated, vape juice can produce new molecules that are potentially dangerous, according to an October 2018 study published in Oxford University Press.
Certain compounds contained in electronic-juices (e-juices) have been discovered to cause cancer and other diseases, making vape products just as dangerous as traditional tobacco, says Dorotheo.
Both traditional tobacco products and e-cigarettes or vapes are dangerous to one's health, according to the World Health Organization. "The safest approach is not to use either," it advises.
Dr. Maricar Limpin, a pulmonologist and president of the Philippine College of Physicians (PCP), supports this and says industrial solvents found in e-juices are carcinogenic. She adds that chemicals found in e-juices also irritate the body.
"The problem with vape, there are many flavors. And the flavors mask the irritating effect," the PCP president said when she guested in a medical talk show, Salamat Dok.
The evidence that vapes are dangerous, especially to the youth, is the first reported case of E-cigarette or Vape-Associated Lung Injury (EVALI) in the Philippines in November 2019. The DOH said it involved a 16-year-old dual user–one who is using e-cigarettes and traditional tobacco at the same time.
Johns Hopkins cardiologist Michael Blaha said flavors are one of the components of e-juices, and "there are so many ingredients in e-liquids … no one is taking responsibility to account for them."
Dorotheo says e-juice has four main ingredients that are pre-mixed: nicotine, vegetable glycerin, propylene glycol, and flavorings.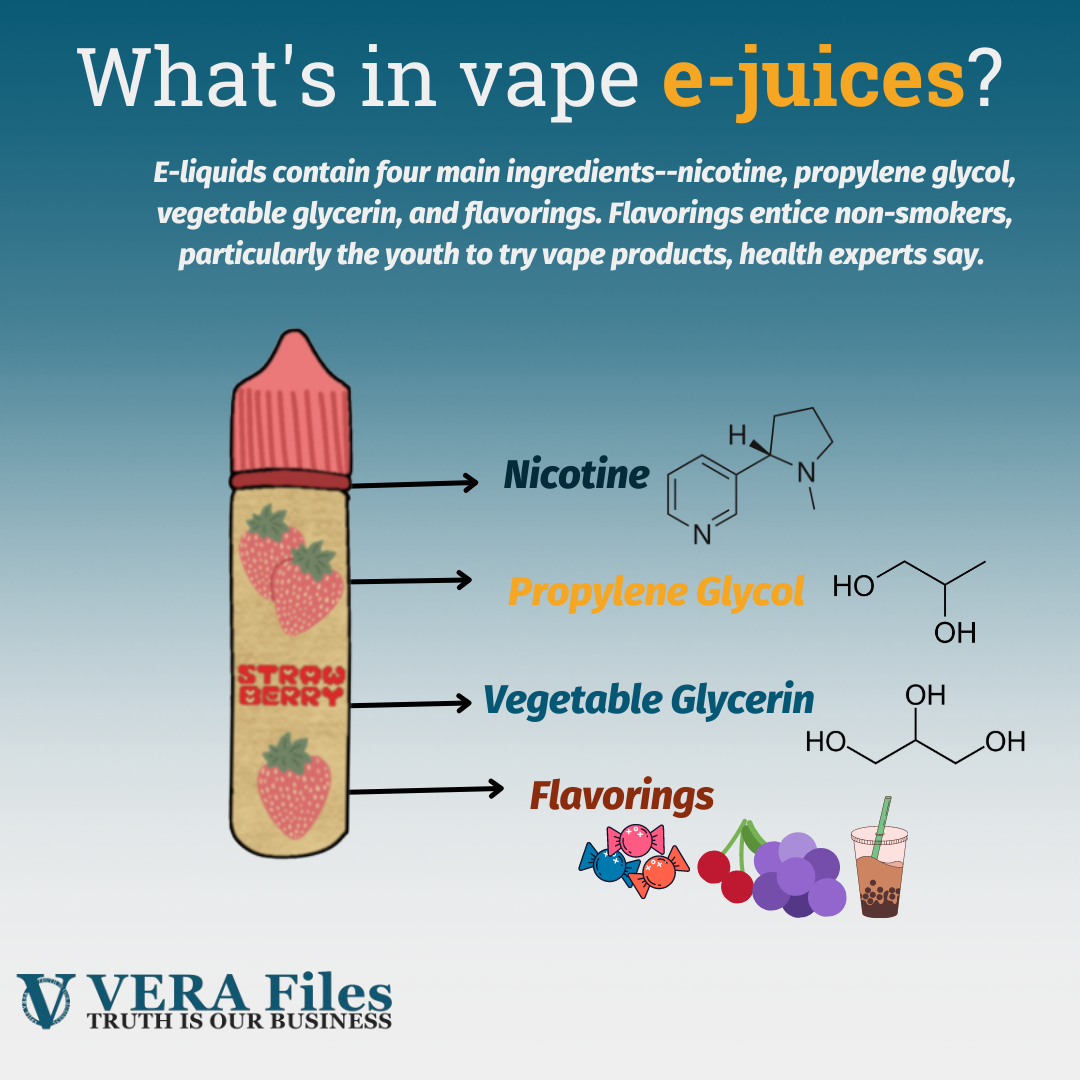 The most common vaporizing solvents used in e-cigarettes are propylene glycol and vegetable glycerin. These industrial solvents, while regarded as "generally safe" as food additives by the United States (U.S.) FDA, irritates the body, Limpin says.
A majority of e-cigarettes contain nicotine, but some e-liquids are nicotine-free, according to a 2019 explainer published by Philip Morris International. Nicotine is highly addictive and has the potential to damage adolescent brain development, which lasts until the early to mid-twenties, according to the U.S. Centers for Disease Control and Prevention (CDC).
(READ Sidebar on harm reduction)
In the Philippines, 62% of Filipinos support a ban on the sale of "vape flavors that appeal to children and youth," based on a Pulse Asia poll conducted in September 2021.
Twenty percent of those polled said they would vote against it, while 17% said they were undecided.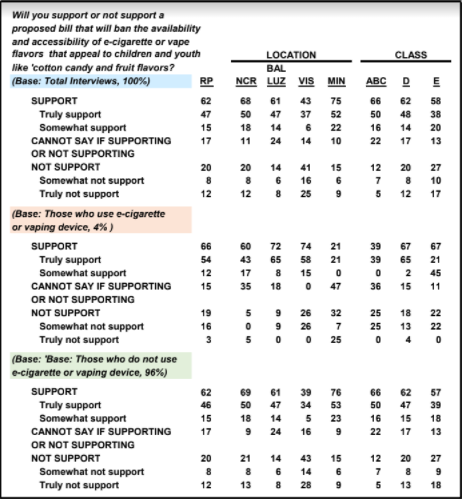 In a first global study in 2020 analyzing national policies restricting flavors in smoking products, authors from the Institute for Global Tobacco Control and Johns Hopkins University Bloomberg School of Public Health found that most countries, including the United States, Canada and 28 member states of the European Union, discourage the use of flavored tobacco products to protect the public's health.
Apart from flavorings and other chemicals found in e-juices, the other danger of vapes are the device's mechanisms, says Rodley Carza, head of the DOH Policy and Technology Division. He also says e-cigarettes could cause cardiovascular diseases and respiratory problems.
"[It] can also cause explosion injuries…There are other conditions that may be caused by these chemicals in the longer (term), but in general, it's gonna be the usual…CVD (cardiovascular diseases) and respiratory diseases, etc."
This story is part of the project Seeing Through the Smoke, which is supported by a grant from the International Union of Tuberculosis and Lung Disease (The Union) on behalf of STOP, a global tobacco industry watchdog.