A video comparing President Rodrigo Duterte and his predecessor Benigno "Noynoy" Aquino III on their efforts to clean the Pasig River disinforms netizens in several ways.
The misleading video, published on Oct. 14, 2021, by Facebook page Jovanni guillena (created on Nov. 2, 2020) and revived this February by netizens, was titled: "Noynoy vs. Du30 a big difference."
In the video segment about Aquino, a clip was shown of a man in a yellow shirt – supposedly the former president – falling into a creek during a cleanup operation.
Meanwhile, the segment discussing Duterte's "efforts" featured a group of river warriors cleaning the body of water, as well as a report on a new ferry boat to boost the river transport service.
We correct and give context to each of these claims, as requested by a subscriber of the VERA Files Viber misinformation tip line.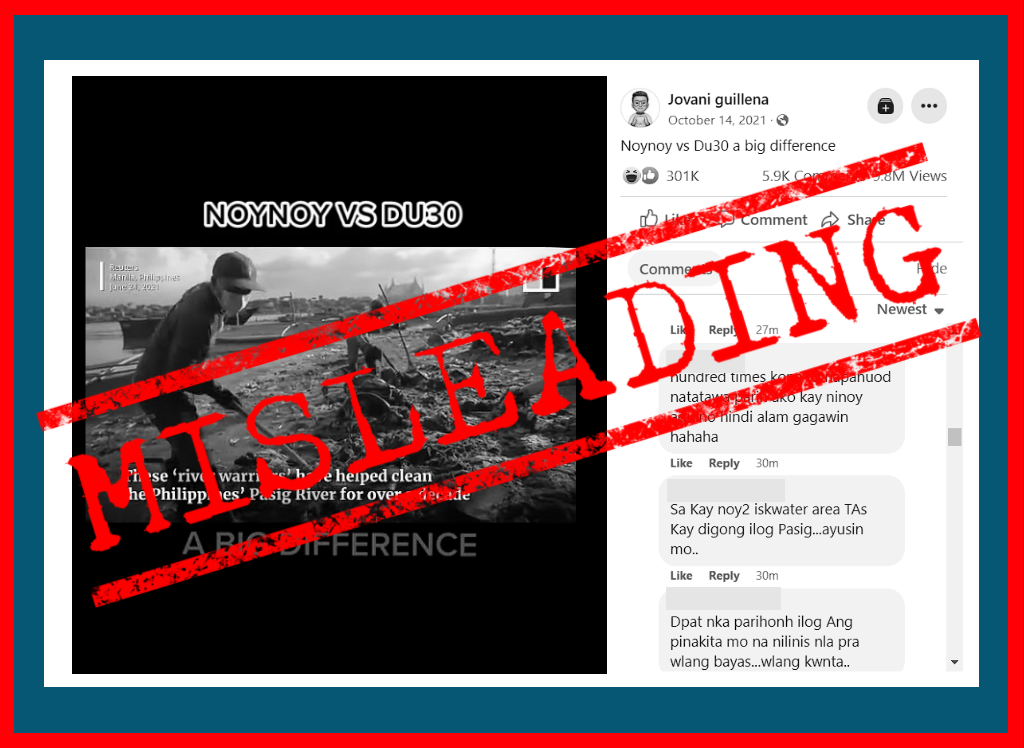 On Aquino falling off a creek
This is not true. The footage is not of Aquino in the Pasig River but former Panaji City, Southwestern India mayor Surendra Furtado falling into the St. Inez creek during a de-weeding drive.
A copy of the clip can be traced to a June 27, 2016 tweet by India-based media Asian News International. Furtado was wearing a yellow polo shirt, similar to those often worn by the late Aquino in multiple government events.
VERA Files Fact Check previously debunked this claim as false.
On the alleged Duterte-era river warriors
Using a segment from a two-and-a-half-minute June 26, 2021 video report by the South China Morning Post (SCMP), the creator made it appear that the cleanup of the Pasig River only started under the Duterte administration. It is misleading.
The clip itself bore text that read: "These 'river warriors' have helped clean the Philippines' Pasig River for over a decade." When that SCMP report came out, Duterte had been in office for only about five years.
The story, which came from Reuters, featured interviews with two individuals who have been "river warriors" for six years. River warriors are people who clear garbage from the waterway.
Kapit Bisig Para sa Ilog Pasig, a project launched by ABS-CBN and the now-defunct Pasig River Rehabilitation Commission on Feb. 24, 2009, has been cleaning up the Pasig River even before the Aquino administration.
On the new ferry service, cleaner Pasig River
To show the Pasig River was clean enough to resume the ferry service operation, due to the Duterte administration's efforts, footage from a two-and-a-half-minute UNTV report dated March 4, 2021, featuring a newly-donated ferry boat, was shown. It needs context.
The Pasig River Ferry System, operated by the Metro Manila Development Authority (MMDA), was inaugurated by ex-president Gloria Macapagal Arroyo on Feb. 14, 2007. Operations were handled by different ferry systems as early as the 1990s.
However, in January 2011, the Arroyo-era project was discontinued after a Commission on Audit report revealed it had lost P94 million due to low passenger volume.
The Aquino administration relaunched the ferry transport system on April 28, 2014. Under the Metro Manila Council's Resolution No. 14-5 local governments along the river were authorized to establish new terminals if needed. In December 2019, after the river rehabilitation, a second relaunch, this time under Duterte, took place.
Jovanni guillena's video got over 10 million views and could have reached 8.15 million people, according to social media monitoring tool CrowdTangle.
The fact-check request was submitted to the VERA Files Viber misinformation tip line just as the Duterte administration is tallying its achievements to wrap up its term.
Have you seen any dubious claims, photos, memes, or online posts that you want us to verify? Fill out this reader request form or send it to 'VERA, the truth bot' on Viber.
(Editor's Note: VERA Files has partnered with Facebook to fight the spread of disinformation. Find out more about this partnership and our methodology.)