Pro-Duterte Facebook (FB) page VOVph posted on May 9 a graphic with an untrue claim that retired Supreme Court Associate Justice Antonio Carpio changed his tune about defending the Philippines' sovereign rights in the West Philippine Sea (WPS).
To make Carpio's stance on the issue look inconsistent, VOVph quoted the former SC magistrate as supposedly saying in 2018: "The Philippines cannot invoke sovereign rights over WPS."
In the graphic, it was placed vis a vis his April 29 statement telling Filipinos to demand for a president who would defend Philippine sovereignty in the disputed waters.
Carpio never said the first quote. The FB page spuriously twisted his actual statement from a June 13, 2018 Tempo story.
Three years ago, Carpio said the Philippines could not invoke territorial rights over Panatag Shoal because the 2016 decision by the Permanent Court of Arbitration (PCA) did not settle the country's territorial dispute with China over lack of jurisdiction.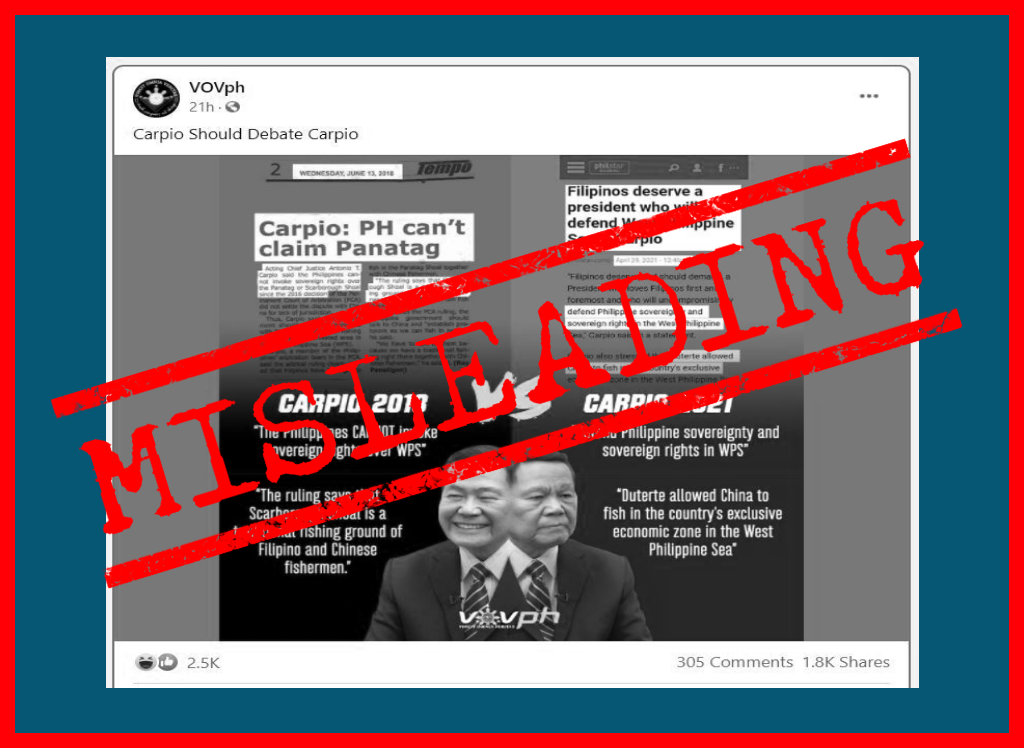 Panatag Shoal, internationally known as Scarborough Shoal, is a small ring of reefs and rocks located approximately 124 nautical miles west of Zambales.
It is only one of many features in the WPS, which covers maritime areas on the western side of the Philippines within its 200-nautical mile exclusive economic zone, as defined in Administrative Order No. 29 of 2012.
On July 12, 2016, the PCA ruled that both the Philippines and China have fishing rights over Panatag Shoal, but pointed out that the latter violated its duty to respect the traditional fishing rights of Filipino fishermen by halting access to the shoal.
Contrary to VOVph's misleading claim, Carpio, who is a key figure in the arbitration case against China, has consistently advocated for the Philippines' sovereignty in the WPS.
The former acting chief justice has emphasized the significance of defending the country's sovereign rights in the disputed waters in multiple lectures, talks and speeches. He has repeatedly provided suggestions on how to enforce the PCA's ruling without going to war with China.
VOVph's post emerged less than a day after Carpio refuted President Rodrigo Duterte's claims that China was "in control" of the WPS, and contradicted the president's statement calling the 2016 PCA ruling a "mere scrap of paper."
The misleading post has received over 2,700 reactions, 300 comments and 2,000 shares. According to social media monitoring tool CrowdTangle, it could have reached 6.8 million people with traffic to the post largely coming from other pro-Duterte FB pages such as MOCHA USON BLOC and MindaVote, and the public group Philippine History & Current Events.
VOVph, which was created in June 2016, has authored two other recent posts that have been debunked by VERA Files Fact Check.
(Editor's Note: VERA Files has partnered with Facebook to fight the spread of disinformation. Find out more about this partnership and our methodology.)