A Facebook page has claimed that Philippine mainstream media embellished the image of former President Benigno "Noynoy" Aquno III when they wrote about his death, but glossed over his administration's failures.
This is false. Local news outlets, in writing about the death and legacy of the former chief executive, also cited the criticisms and controversies that marked his presidency.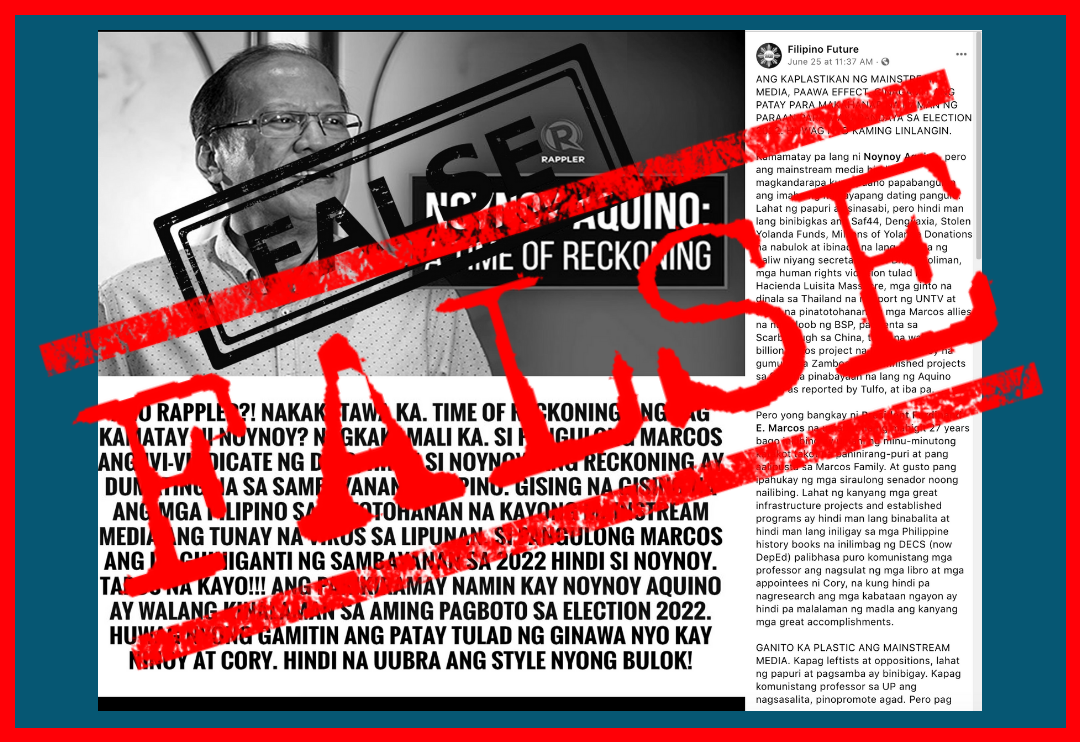 The page Filipino Future published a lengthy post on June 25 accusing the mainstream media of being "all praises" for Aquino, who passed away the day before. But it said they failed to mention the issues which haunted his term.
The issues included the SAF44 incident or the Mamasapano bloodbath, the Dengvaxia controversy, and the "inefficient" response to Super Typhoon Yolanda.
But major news organizations actually referred to these issues in their reports following Aquino's death.
GMA News Online even drew flak from social media users for its report, originally titled "From Yolanda to Mamasapano, Aquino admin had share of flaws," published on the day the 15th president died. The media organization eventually issued a statement about it.
Rappler, which was singled out in Filipino Future's post, also published articles that tackled the above-mentioned controversies. One of its reports included a mention of the 2004 massacre in the Cojuangco-owned Hacienda Luisita, which the FB page also erroneously claimed was not tackled by the media.
FB post rehashes old, false claims
Filipino Future likewise mentioned a supposed issue that Aquino and his allies "smuggled gold" to Thailand. This is a false claim debunked by VERA Files Fact Check and Rappler in 2019.
That the Aquino administration "sold" the Scarborough Shoal to China lacks proof. The 2012 standoff between the two countries was one of the reasons the Philippines filed a case against Beijing in the Permanent Court of Arbitration in The Hague.
The Court ruled in favor of the Philippines, saying China "interfered" with the traditional fishing rights of the Philippines in the area around the shoal. (See VERA FILES FACT CHECK: Three things Duterte got wrong on the PH-China maritime standoff)
VERA Files Fact Check has also looked into the "bridge without river" claim. The piece of infrastructure, built on ground level in 2013 during Aquino's term, was constructed to stabilize the soil underneath it, according to the Department of Public Works and Highways Southern Leyte.
Filipino Future's erroneous post already gained 1,800 reactions, 420 comments, and 756 shares from FB users. Social media monitoring tool CrowdTangle put the post's total engagements at 4,600, with Filipino Future page itself, created in February 2020, as a top generator, along with public groups BONGBONG MARCOS 2022 and FERDINAND "BONGBONG" R. MARCOS, JR. The post could have reached more than 1.1 million social media users.
(Editor's Note: VERA Files has partnered with Facebook to fight the spread of disinformation. Find out more about this partnership and our methodology.)