A newspaper advertisement laden with claims that the government is implementing a "no jab, no job" policy that people could falsely interpret as "grave coercion" was uploaded on Facebook. These claims are incorrect.
The local laws that the ad cited to justify these arguments contradict these assertions.
The questionable graphic, posted on Dec. 31, 2021, by the anti-vaccine group Concerned DX and CX of Philippines (created on May 29, 2021) and the personal FB account of lawyer-senatorial aspirant Aaron Soguilon, garnered a total of over 3,100 interactions. The posts appeared the same day the advertisement ran in the Philippine Daily Inquirer.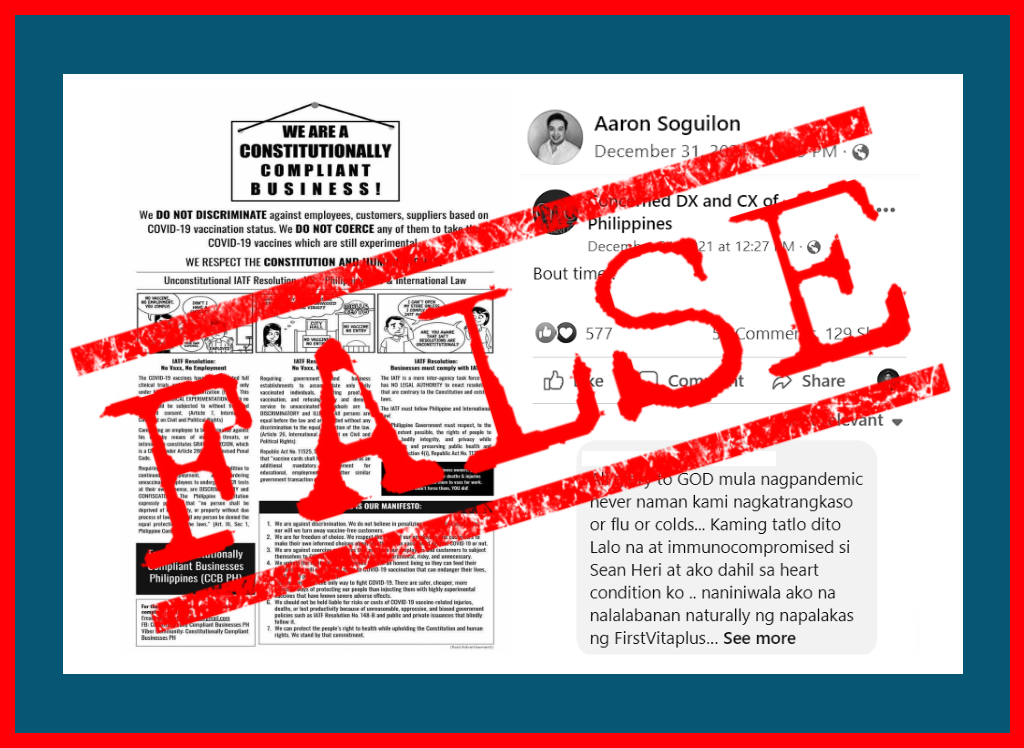 On the alleged "no jab, no job" policy

The FB graphic falsely claiming that the government is implementing a "no vaccination, no work" policy is incorrect.
Justice Secretary Menardo Guevarra clarified in October 2021 that members of the IATF agreed that employers have no right to fire nor withhold the pay of unvaccinated workers, as reported by ABS-CBN News, Philippine Daily Inquirer, and The Philippine Star.
The Department of Labor and Employment's Labor Advisory No. 3, dated March 12, 2021, said that "any employee who refuses or fails to be vaccinated shall not be discriminated against in terms of tenure, promotion, training, pay, and other benefits, among others, or terminated from employment."
The Inter-Agency Task Force for the Management of Emergency Infectious Diseases (IATF), in its Resolution No. 148-B dated Nov. 11, 2021, stated that public and private sector employers shall require eligible on-site employees to get vaccinated. Refusing vaccination will not result in termination, but these workers must undergo regular RT-PCR tests.
On grave coercion on "no vaccine, no employment rule"

The FB graphic claimed that the alleged policy against unvaccinated workers violated Article No. 286 of the Revised Penal Code. Not true.
In the cited article, grave coercion occurs when an authorized party uses violence to prevent a person from doing something not prohibited by law or compels him to do something against his will, regardless of it being right or wrong.
DOLE's Labor Advisory No. 3 and Resolution No. 148-B do not promote the "no vaccine, no employment" rule. Neither do these directives mention the use of violence to mandate or encourage vaccinations for employees.
On COVID-19 vaccines not completing clinical trials

The graphic further claimed that COVID-19 vaccines have not completed clinical trials, and are being administered only under emergency use authorization (EUA). This needs context.
From a safety perspective, the United States Food and Drug Administration explains that "efforts to speed up vaccine development to address the ongoing COVID-19 pandemic have not sacrificed scientific standards, the integrity of the vaccine review process, or safety." Further, they can only issue EUAs after the vaccine "has met the pre-specified success criteria for the study's primary efficacy endpoint."
While it's true that COVID-19 vaccines (Astrazeneca, Pfizer-BioNTech, Moderna, Gamaleya, Sinovac, Janssen, and others) are still undergoing phase 3 clinical trials, EUAs have been issued to them by the Philippines' Food and Drug Administration using the same standard as the USFDA.
Have you seen any dubious claims, photos, memes, or online posts that you want us to verify? Fill out this reader request form.

(Editor's Note: VERA Files has partnered with Facebook to fight the spread of disinformation. Find out more about this partnership and our methodology.)