A fake advisory being attributed to a hospital in the United States (U.S.) that claims drinking alcoholic beverages reduces one's risk of acquiring coronavirus disease (COVID-19), continues to make the rounds on Facebook (FB).
On March 11, Mixed Temptations Mobile Bar Davao, an FB page of a rentable mobile bar, and at least two netizens published a manipulated memo dated March 7, bearing the logo of Saint Luke's Hospital of Kansas City in the U.S. The fabricated letter claims "extensive research" by the hospital revealed that "consuming alcoholic beverages may help reduce the risk" of COVID-19 infection, and that vodka is "most recommended for drinking, cleaning and sanitizing."
The letter is fake.
Saint Luke's Hospital of Kansas told VERA Files Fact Check in an online response via FB Messenger: "This (circulating letter) is not authentic or valid." It also called the missive "fake news."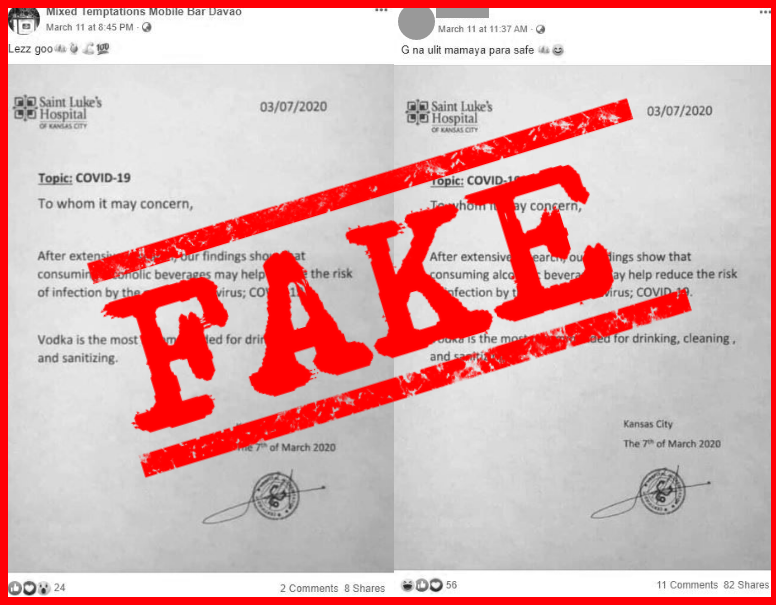 The Missouri-based hospital has also issued an advisory on its official FB page on March 12 that reports saying drinking alcohol can reduce the risk of COVID-19 are "not true," and reminded the public to practice proper hand washing techniques and respiratory hygiene.
No health institution — may it be the Department of Health (DOH), the U.S. Centers for Disease Prevention and Control, or the World Health Organization — has recommended consuming vodka nor any other alcoholic beverage as a preventive measure against COVID-19.
The fake letter appeared after rubbing alcohol, hand sanitizers, and other cleaning and sanitization supplies flew off the shelves because of hoarding and panic buying amid the rising cases of COVID-19 globally.
As of March 22, there are 380 recorded confirmed cases in the Philippines, according to the DOH.
Mixed Temptations Mobile Bar Davao was created on March 4, 2014. Its post could have reached over 5,600 people.
The netizen's versions of the fake post each received over 172 and 149 interactions on FB.
(Editor's Note: VERA Files has partnered with Facebook to fight the spread of disinformation. Find out more about this partnership and our methodology.)