A Nov. 30 post by India-based Facebook (FB) page Mr Scientific circulating among Filipinos claimed the vaccine candidate of biotechnology company Moderna, Inc. was found to be "100% effective against COVID-19."
This is false. Both the World Health Organization (WHO) and the United States' Centers for Disease Control and Prevention (CDC) have said "no vaccine is 100 percent effective" because each person's body reacts to vaccines differently.
A primary analysis Moderna released on Nov. 30 of the Phase 3 study of its coronavirus disease 2019 (COVID-19) vaccine candidate—called mRNA-1273—shows that their vaccine has an efficacy rate of 94.1%.
The late-stage trial involved 30,000 participants, where half got the placebo and half received the vaccine. Moderna said 185 people in the placebo group got COVID-19, while only 11 got the disease in the vaccine group.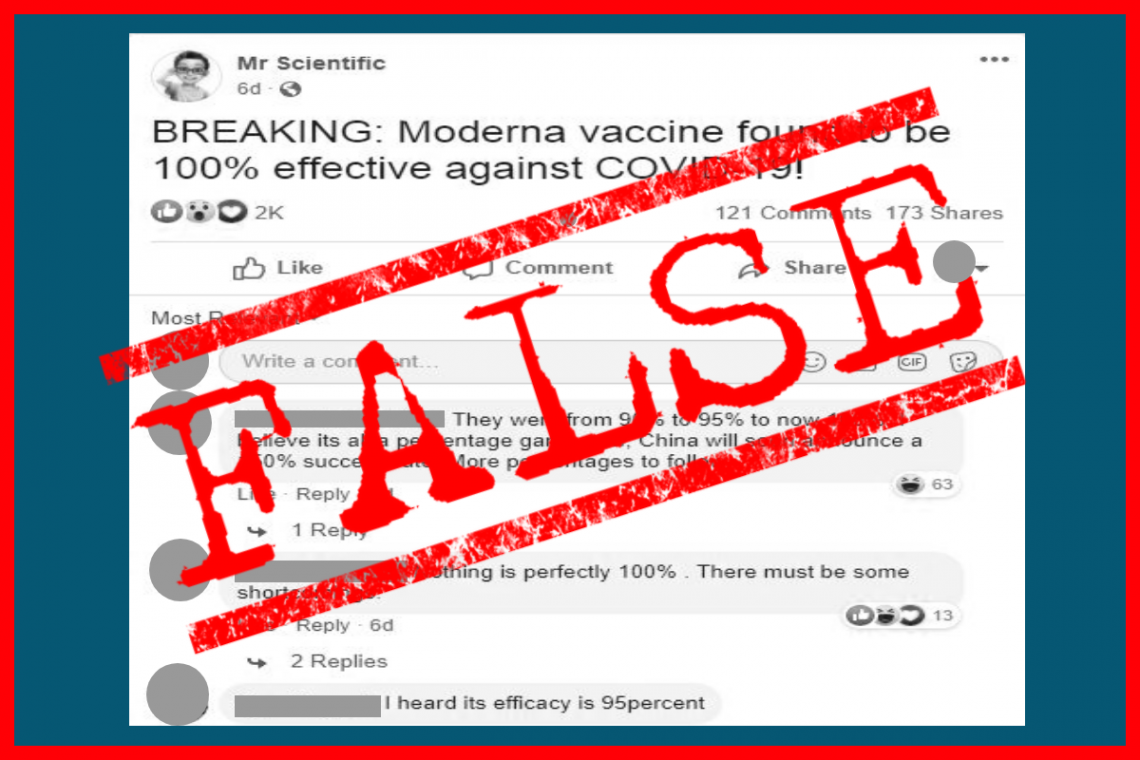 The company also reported a 100 percent efficacy rate against severe cases of COVID-19. They said that none of the 30 severe cases of the disease observed in the trial came from the vaccine group.
Mr Scientific's post also appears to have interchanged "efficacy" and "effectivity." Experts from nonprofit organization Meedan's COVID-19 Expert Database defines "effectiveness" as the amount of protection given by a vaccine in a certain population when it's used, for example, as part of normal practice. Meanwhile, "efficacy" refers to "how well the vaccine protects clinical trial participants from getting sick or getting very sick."
According to the WHO: "To make vaccines safer than the disease, the bacteria or virus is killed or weakened (attenuated). For reasons related to the individual, not all vaccinated persons develop immunity."
The erroneous post has received over 2,000 reactions, 121 comments and 173 shares on FB, as of posting. It emerged hours after Moderna published its press release on its vaccine's efficacy.
According to Mr Scientific's page transparency tab on FB, the account is managed by four people from India. Created in September 2016, it has changed its name six times. Its false post was shared by multiple Filipino FB accounts.
(Editor's Note: VERA Files has partnered with Facebook to fight the spread of disinformation. Find out more about this partnership and our methodology.)