A fake ayuda or cash aid announcement is baiting Filipino netizens on social media anew, this time claiming that senior citizens and persons with disabilities (PWDs) are now eligible for a P10,000 monthly stipend from the government. Not true.
YouTube channel Talakan TV made the sham announcement in a Sept. 8 video titled "P10K MONTHLY ALLOWANCE PARA SA MGA SENIOR CITIZENS AT PWD, APRUBADO NA (P10k monthly allowance for senior citizens and PWDs, approved)!"
Its thumbnail used an April 2020 photo of President Rodrigo Duterte, superimposed with a text similar to the video's title, adding the term "GOOD NEWS!" and replacing the phrase "aprubado na (approved)" with "pinirmahan na (signed)." The logo of the Department of Social Welfare and Development (DSWD) was also placed at the top right corner of the image.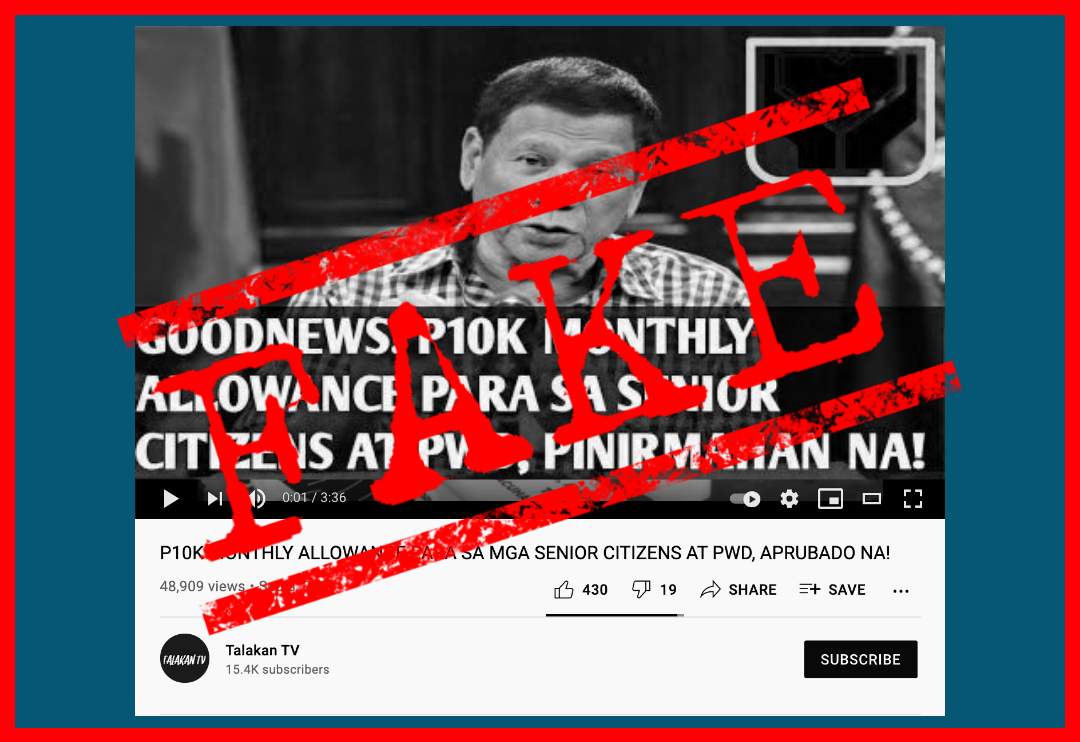 No law has been passed where the two vulnerable groups are to receive a monthly allowance of P10,000 from the state.
Only indigent senior citizens are entitled to a monthly stipend of P500, as mandated by Republic Act (RA) No. 9994 or the Expanded Senior Citizens Act of 2010.
Last April 19, through Administrative Order No. 39, Duterte authorized the distribution of financial assistance amounting to P20,000 to pensioners of the Employees Compensation Commission. This, however, is a one-time grant and not a monthly stipend.
Meanwhile, PWDs are eligible for certain benefits under RA 7277 or the Magna Carta for Disabled Persons (as amended by RA 10754), including a 20% discount in goods and services in hotels and lodgings, theaters and cinema houses, as well as medicine purchases from drugstores. But a monthly allowance is not one of the listed benefits.
To make the video look legitimate, Talakan TV played a slideshow of photos showing events of cash aid distribution. All of the images used were taken in 2020 and were lifted from the various sources. The traceable photos showed cash assistance distribution for low-income families in Sarangani province, Misamis Oriental, Pangasinan, Western Visayas, and Parañaque City.
For its audio, the YouTube channel spliced together different parts of an April 2020 DSWD press briefer, where DSWD Secretary Rolando Bautista talked about the government's social amelioration program amid the pandemic.
Bautista never mentioned the supposed P10,000 monthly stipend for senior citizens and PWDs during the briefing.
Talakan TV's fake ayuda video was published six days after the Department of Interior and Local Government announced that it was almost done in distributing the cash aid of up to P4,000 to low-income families in areas put under enhanced community quarantine last August.
The clip has been viewed over 49,000 times and has received 30,800 engagements from netizens. Traffic to the video from Facebook (FB) all came from 12 posts published by the impostor page DSWD AYUDA from Sept. 6 to 9 — which has been flagged as fake by VERA Files Fact Check. (See VERA FILES FACT CHECK: Post claiming moms, housewives to get P10k monthly from gov't is FAKE)
Talakan TV was created in May 2020.
(Editor's Note: VERA Files has partnered with Facebook to fight the spread of disinformation. Find out more about this partnership and our methodology.)
Have you seen any dubious claims, photos, memes, or online posts that you want us to verify? Send us a message here or here.