A website translated a 10-month old news article on a "bishop" arrested in Cavite while sniffing methampethamine, changed its headline and passed it off as a recent incident.
Trendingbalita.online published on Oct.31 a Filipino version of Philstar.com's Jan. 26 article on the arrest of Richard "Ricky" Alcantara during a police anti-illegal drugs operation in Bacoor, Cavite. The original article's title ('Bishop' arrested for shabu in Cavite) was completely altered to include the Catholic Bishops' Conference of the Philippines' (CBCP) name, falsely connecting the "bishop" to the Roman Catholic Church.
Misspelled words and character symbols were used in the false headline:
"Anyari CBCP? – Arest₳do ang isang 'Bishop' dahil sa sh₳bu sa Cavite (What happened, CBCP? A 'bishop' was arrested in Cavite for crystal meth)!"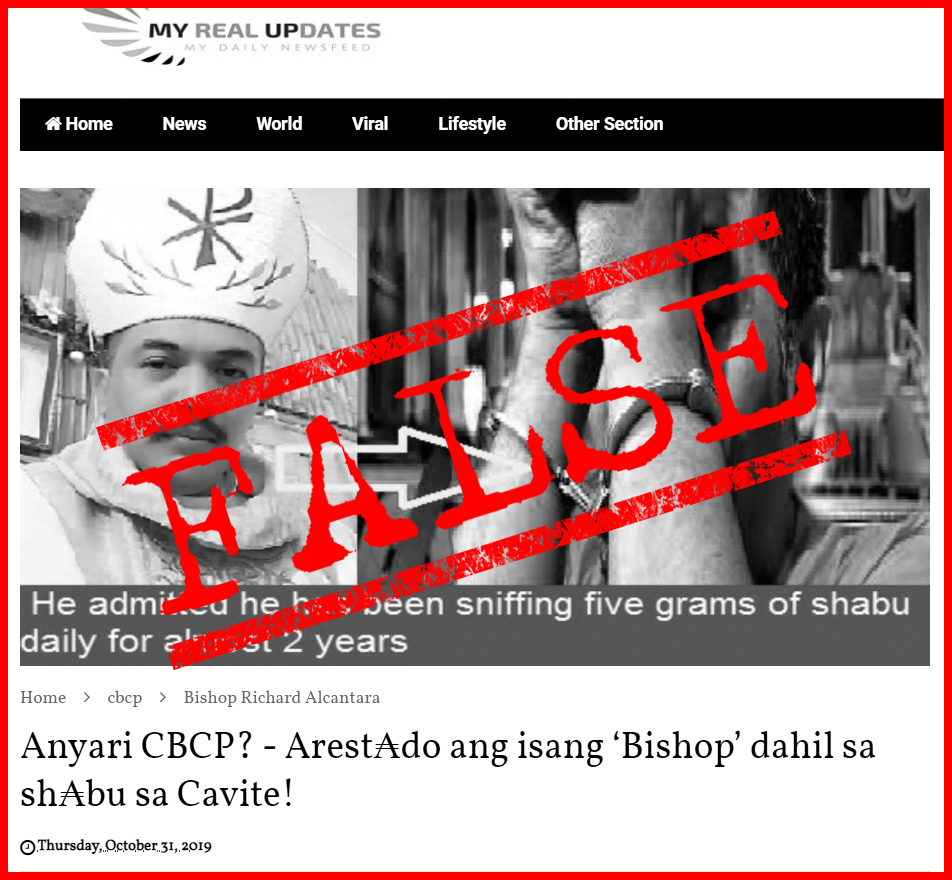 The photos used in the article were pirated from news organizations as well — a Manila Bulletin Online video uploaded on Jan. 24 and a Philstar.com story uploaded on Jan. 26.
Trendingbalita.online's write-up is false.
Alcantara has been identified as a member of "The Sacred Order of Saint Michael the Archangel – Order of Exorcists." According to its website, it is "not under the Vatican," known as the seat of the Roman Catholic faith.
"It is an autonomous and independent branch of the Catholic faith which derives from the ancient Old Roman Catholic Church of the 12th Century," the organization's history claims.
Alcantara appears in the group's website as part of the "Order of Exorcists Team- Philippines."
The CBCP also issued a statement after reports of Alcantara's arrest came out, clarifying the "bishop" is not a member of the organization.
Trendingbalita.online's false story may have reached 1.9 million followers, garnering over 12,000 total interactions, and has been reposted 36 times with traffic largely coming from BongBong Marcos United, Tulfo Brothers Worldwide, and MARCOS LOYALIST.
(Editor's Note: VERA Files has partnered with Facebook to fight the spread of disinformation. Find out more about this partnership and our methodology.)