A Facebook (FB) page uploaded multiple images of what is supposedly an unsanitary Coca-Cola plant in the Philippines to warn the public against consuming the beverage. Not true. 
On Sept. 18, the FB page posted seven images of the alleged factory with the caption: "Kaya pala nagmamahalan ang Coke mismo (That's why the price of Coke Mismo is increasing)!!"
The first image is a screenshot of another FB post with text that read: "Ito ung mismo coke. At sa mahilig uminom nito bahala nakayo humusga nakita korin yan sa wall ko. At pinost korin goodbless sa inyo sana ditayo maka inum ng marumi (This is Coke Mismo. For those who like to drink this, let yourselves be the judge. I only saw this on my timeline and posted it. God bless all of you, hope we don't drink something dirty)."
Six other images were also published, supposedly featuring dozens of labeled and unlabeled Coca-Cola bottles placed haphazardly on a grimy cement floor inside a dimly-lit room.
The photos are of an illegal factory in another country that used the soft drink brand name.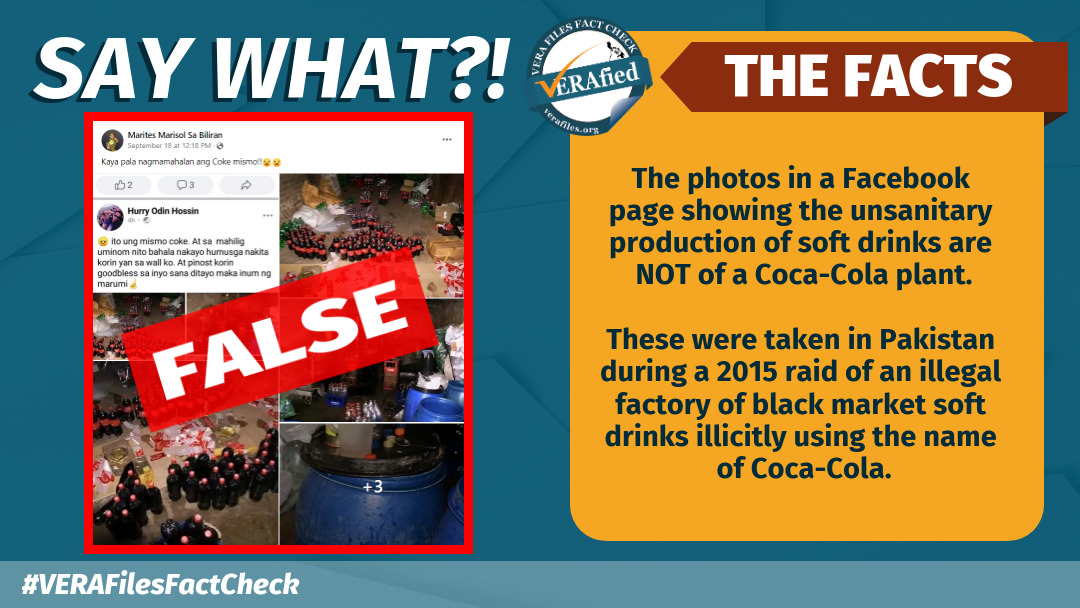 A reverse image search shows the photos were published in a September 2015 FB post by the local government of Gujranwala in Pakistan. The post described a raid conducted in a village in Pakistan where authorities seized black market soft drinks containing hazardous chemicals and arrested four people.
Several news organizations have debunked other posts containing the same images with similar untrue contexts.
Days before the FB post appeared, Coca-Cola Beverages Philippines Inc. announced the suspension of the operation of its bottling plants in Bohol and Iloilo amid the sugar crisis in the country.
An FB netizen published the post, garnering over 14,000 shares and 4 million recent views, according to FB.
Have you seen any dubious claims, photos, memes, or online posts that you want us to verify? Fill out this reader request form.
(Editor's Note: VERA Files has partnered with Facebook to fight the spread of disinformation. Find out more about this partnership and our methodology.)