Two viral photos showing typhoon victims hugging lifeless bodies are wrongly being claimed to have been taken during Typhoon Ulysses, internationally known as Vamco. The circulating images are nearly nine years old and show the aftermath of a different typhoon.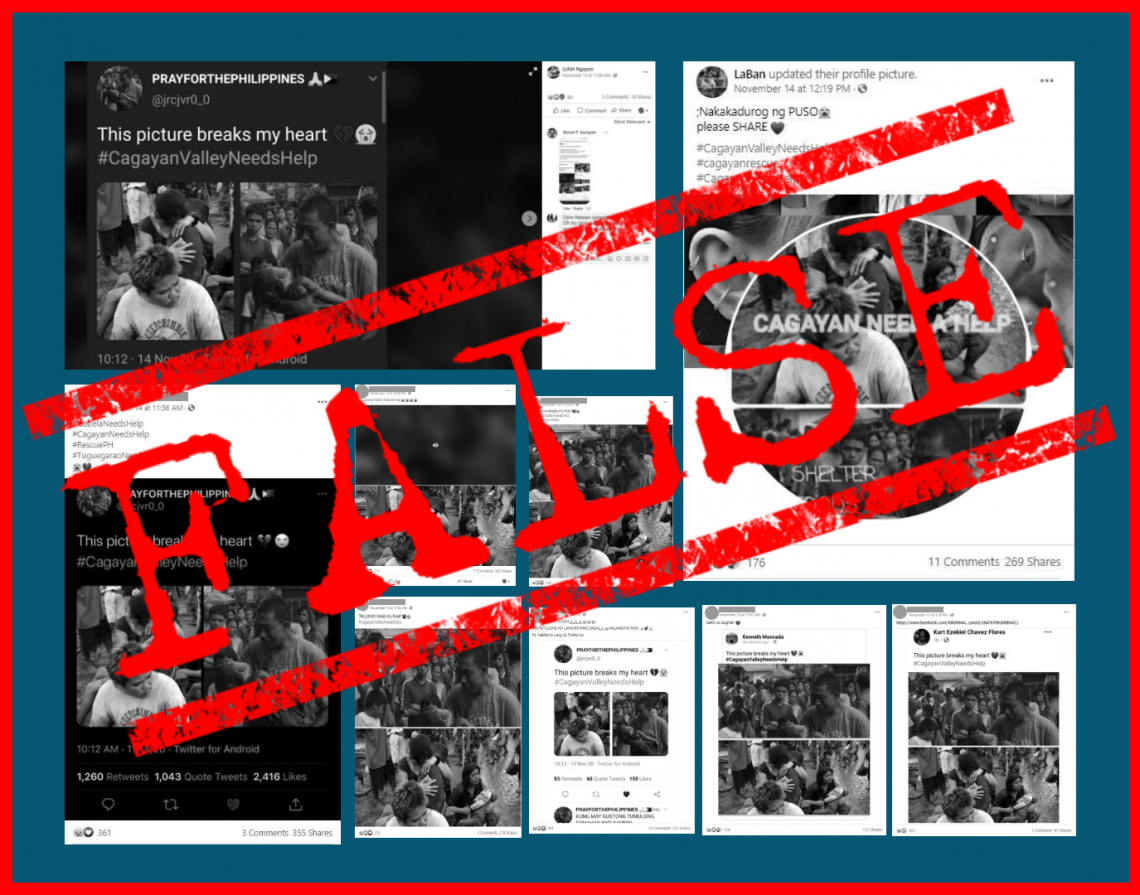 At least seven Facebook (FB) users and two FB pages—LUNA Ngayon and LaBan—uploaded the false posts on Nov. 14, captioned with the hashtags #IsabelaNeedsHelp and #CagayanNeedsHelp, referring to calls for aid in social media for the northern Luzon provinces that were inundated after the onslaught of Ulysses.
A reverse image search traced back both images to reports and online posts from 2011 about Tropical Storm Sendong, internationally known as Washi, dubbed as that year's deadliest storm globally which killed over a thousand people.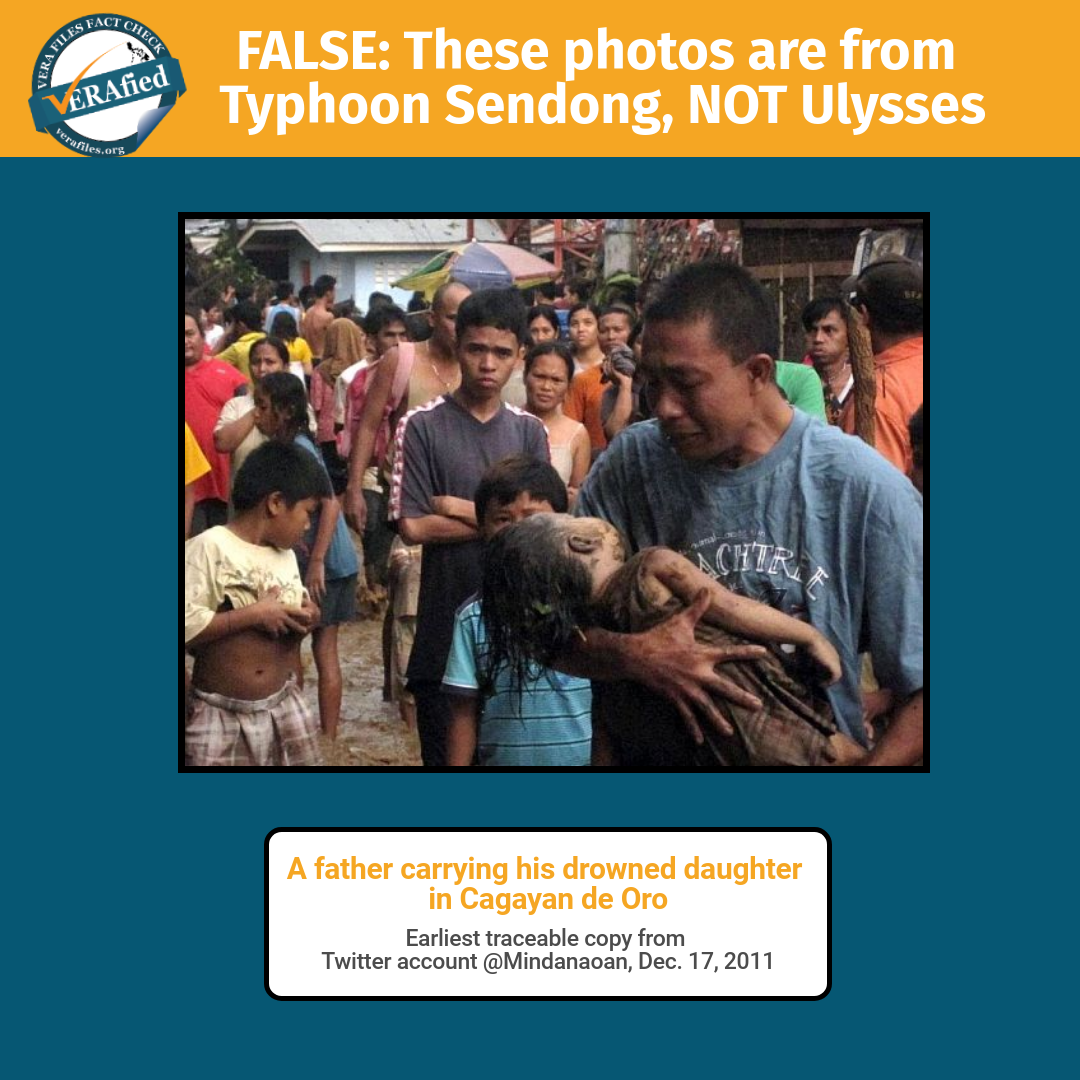 The earliest traceable copy of the image showing a weeping man carrying a child covered in mud was from a tweet on Dec. 17, 2011 by Twitter account @Mindanaoan. It was captioned:
"My heart broke into pieces when I saw this (Warning: graphic photo) – A father loses his child to Typhoon #Sendong."
A GMA News Online report about the tweet, which went viral for illustrating the gravity of the calamity, described the photo as having been taken in Consolacion town, Cagayan de Oro showing an unidentified father grieving the loss of his drowned daughter.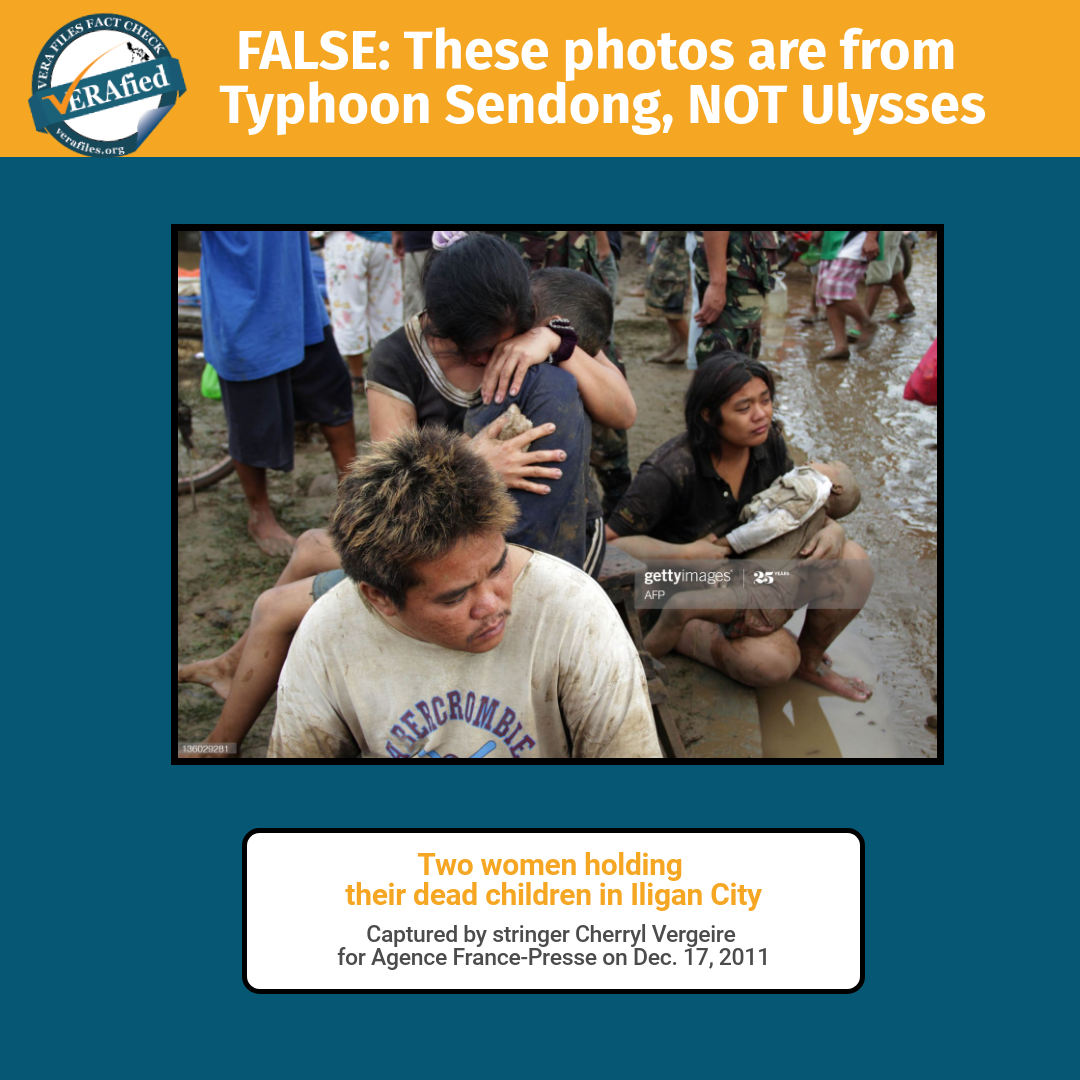 Meanwhile, the photo of two women holding their dead children was shot in Iligan City, Northern Mindanao by Agence France-Presse stringer Cherryl Vergeire on Dec. 17, 2011, also after the passage of Sendong. It has been featured in reports by foreign media like CBS News and CNN International.
The misrepresentation of the Sendong victims' photos originated from a Nov. 14 tweet by a private Twitter user. It has since been deleted but not before it was screengrabbed and re-uploaded on FB and Twitter by several accounts. The nine versions flagged by VERA Files Fact Check collectively have been shared over 4,000 times.
Ulysses made landfall on Nov. 11 and 12, causing flash floods all over Luzon and leaving at least 73 people dead.
This is not the first time VERA Files Fact Check debunked posts that falsely used old images to show the aftermath of recent typhoons (See: VERA FILES FACT CHECK: Photos of Typhoons Reming and Yolanda aftermath FALSELY used in more 'Rolly' posts; VERA FILES FACT CHECK: These photos are from Super Typhoon Yolanda, NOT Rolly).
FB page LaBan was created on Aug. 16, 2019, while LUNA Ngayon was created on April 12, 2019.
(Editor's Note: VERA Files has partnered with Facebook to fight the spread of disinformation. Find out more about this partnership and our methodology.)