From politics to religion, peace talks to war on drugs, former president Rodrigo Duterte was unfiltered in tackling various issues during his six-year term. His pronouncements using unorthodox language, often fiery and off-color, were a major source of misinformation and disinformation that targeted his critics or propped up his image.
Based on the database of VERA Files Fact Check, around 34.30% or 200 of at least 583 articles on state officials and public personalities published from July 1, 2016 to June 30, 2022 focused on debunking inaccurate statements by Duterte.
Duterte's assumption in 2016 to the presidency of a country dubbed as "patient zero" of the modern disinformation era coincided with the start of the fact-checking initiative of VERA Files. In most of his six-year term, Duterte benefited not just from inaccurate claims but also from social media disinformation spread mostly by his supporters. (See Duterte, allies reap the most benefits from disinformation)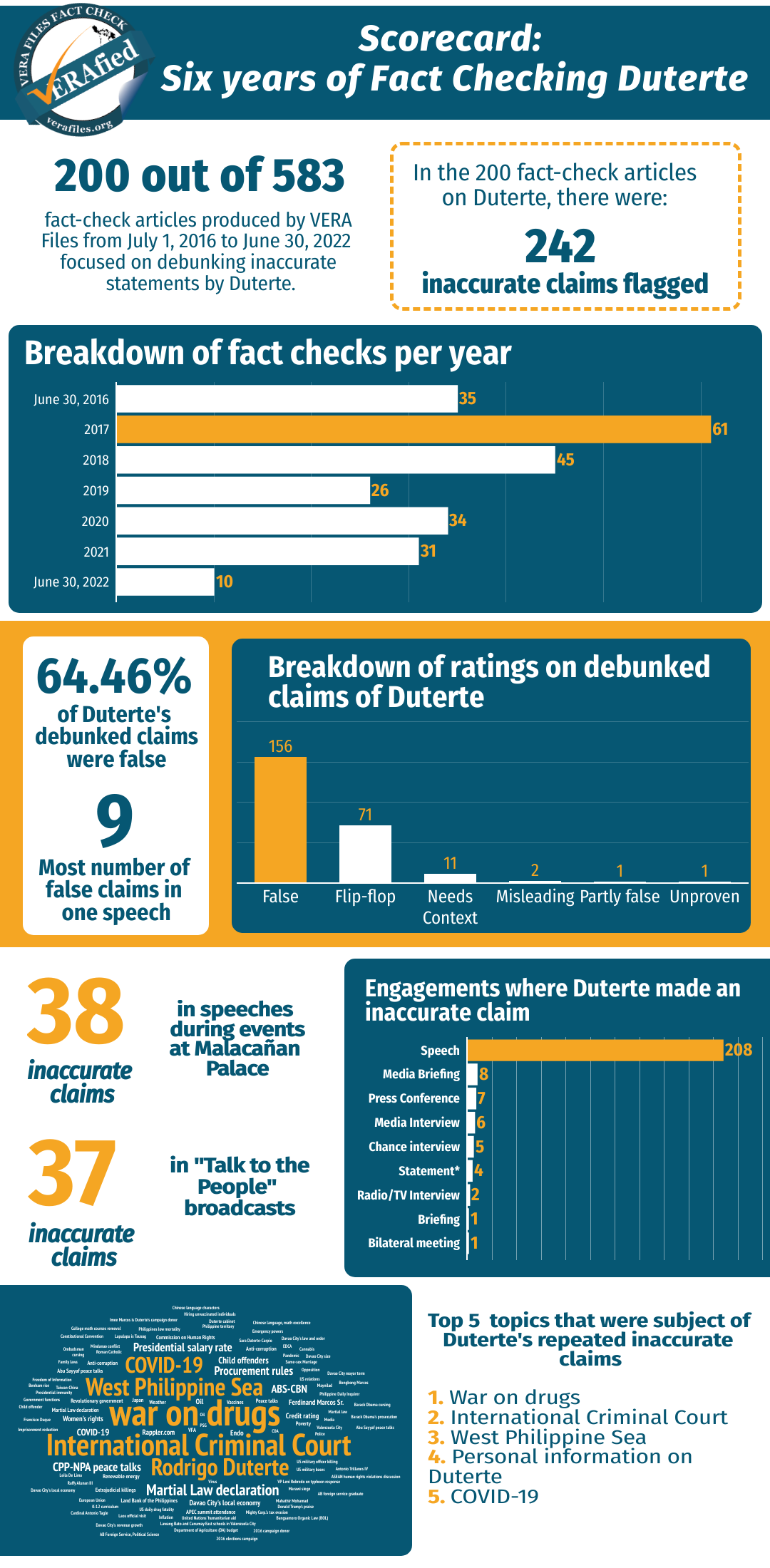 Indeed, the country's former top public official was VERA Files' most fact-checked personality since 2016. He was named the "most fact-checked figure" in 2018 and the top purveyor of disinformation on COVID-19 among government officials in 2020.
(See VERA FILES FACT CHECK YEARENDER: Duterte is our most fact-checked figure in 2018; here are patterns that emerged from his false claims and VERA FILES FACT CHECK YEARENDER: The Duterte administration's share of COVID misinformation)
Here's a breakdown of the fact-check articles on Duterte's inaccurate statements before local and international audiences throughout his presidency:
1. More than half of Duterte's statements were false
More than half, or 156 of 242 statements and remarks by Duterte that were debunked by VERA Files were false claims. Seventy-one of his other pronouncements were flip-flops on various government policies and key socio-political issues such as the peace talks with rebels, his ever-changing count of drug addicts in the country, and even his educational attainment.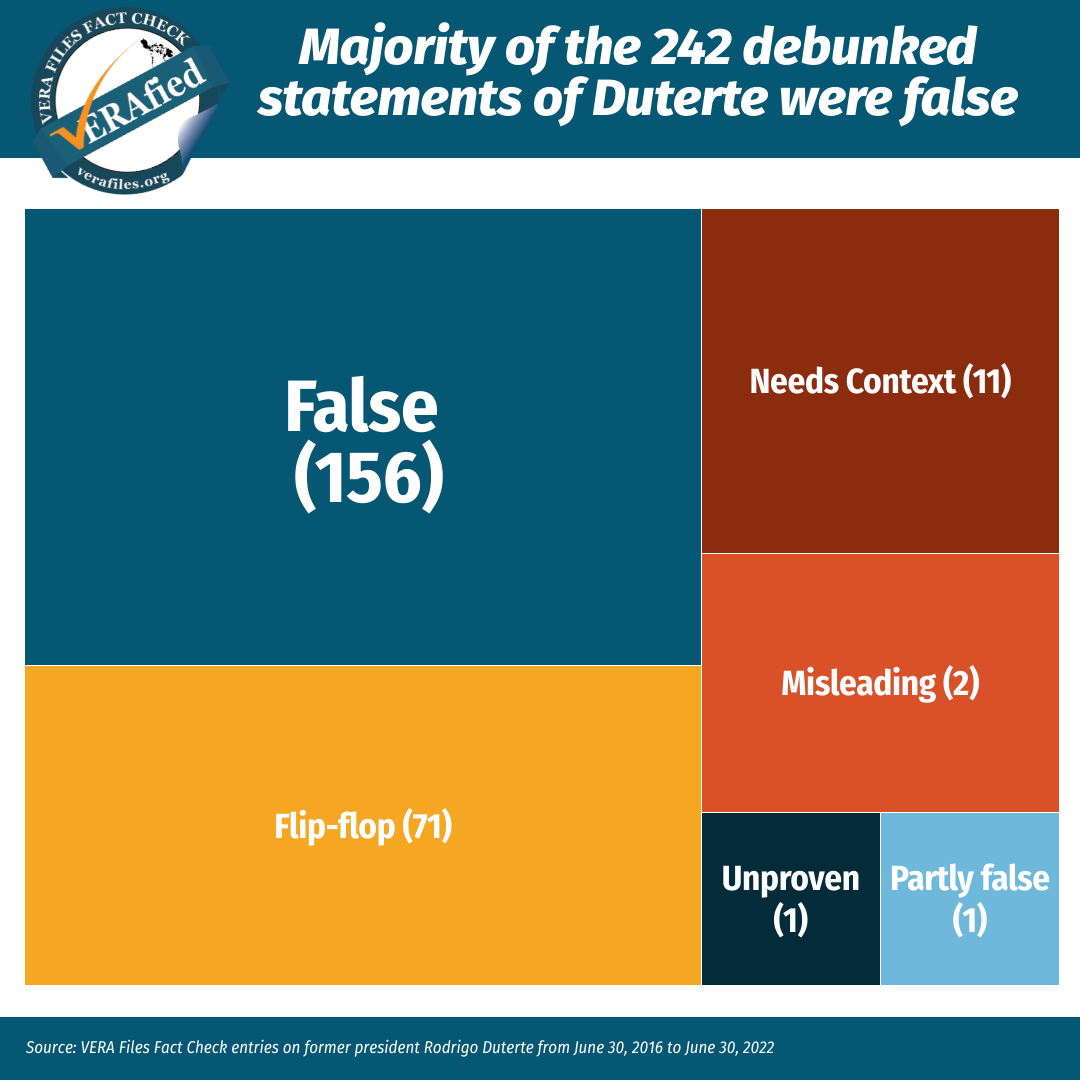 On his first day as president, Duterte inaccurately said in his inaugural address that the "faith" and "trust" of the people in government were eroding. However, surveys by the Social Weather Stations from 1986 to 2016 showed that the administration of his predecessor, Benigno Aquino III, scored higher satisfaction ratings than any other post-EDSA People Power 2 president. (See Is that so? Erosion of faith and trust in government)
In 2017, Duterte made the highest number of false claims during his term, with 44 of 61 of his statements debunked. On 17 occasions, he flipped-flopped or backtracked on certain issues such as his family's wealth. (See VERA FILES FACT CHECK: Duterte flip-flops on family's wealth and VERA FILES FACT CHECK: In his own words: Duterte sometimes poor, sometimes rich)
Although eradicating illegal drugs in the country was his campaign promise, Duterte failed to deliver consistent information on the menace, particularly on the number of  addicts and police officers killed in the course of implementing the campaign.
In his first State of the Nation Address, Duterte claimed there were at least 3.17 million drug addicts in the country. Three years later he clarified that this figure covered only Metro Manila.  He said the nationwide total was 7 to 8 million drug addicts. (See VERA FILES FACT CHECK: 3 years into drug war, Duterte again revises drug addict count and VERA FILES FACT CHECK: Without citing hard evidence, Duterte keeps revising the number of Filipino drug addicts)
Throughout his term, Duterte flip-flopped or changed stances 71 times on various key issues dogging his administration such as the West Philippine Sea (WPS) dispute, the anti-corruption campaign, and the peace talks with rebel groups like the Communist Party of the Philippines-New People's Army and Abu Sayyaf.
For example, he shifted at least five times on whether to assert the 2016 arbitral victory of the Philippines against China on the WPS issue. In a May 5, 2021 speech, he echoed Beijing's position that the arbitral award was merely a "piece of paper," only to assert its importance four months later in an address before the United Nations General Assembly. (See VERA FILES FACT CHECK: Once more, Duterte changes tune on importance of PCA award)
Duterte challenged former associate justice Antonio Carpio, an advocate for the assertion of the country's maritime entitlement in the WPS, to a debate on the issue, but backed out two days later. (See VERA FILES FACT CHECK: Duterte dares Carpio to debate on WPS dispute, then backs out; Palace calls it a 'demotion')
2. Duterte repeats wrong claims to insist on his policies 
Duterte pushed his policies and stances on key socio-political issues in 242 flagged statements in which he repeatedly insisted on inaccurate claims on topics such as the number of drug addicts in the country, the death toll among police officers in the drug war, and the International Criminal Court (ICC). He also kept repeating wrong statements about his salary as president, the WPS issue and martial law.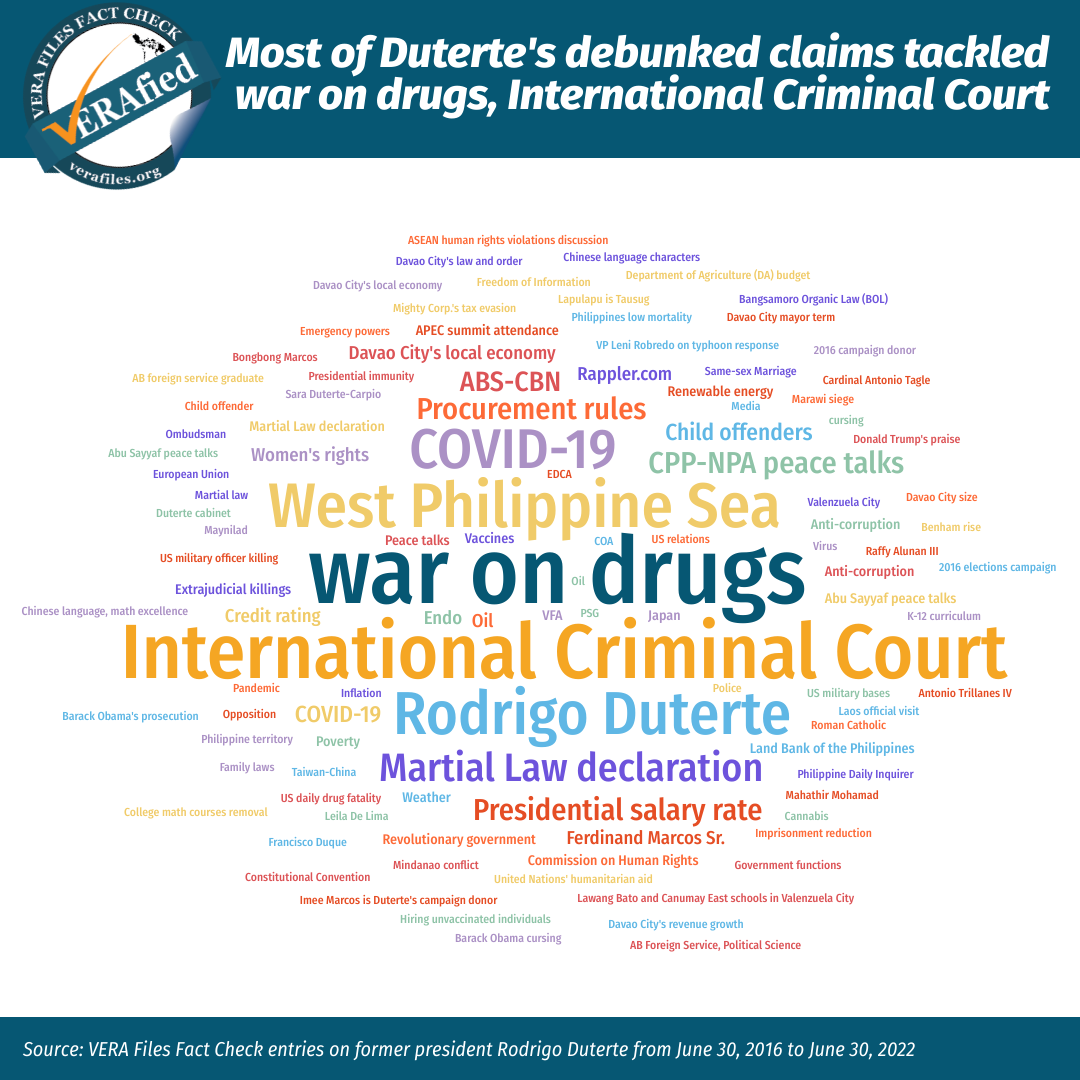 In 2017, an analysis by VERA Files Fact Check showed that Duterte made four of the top five most repeated lies that year. He falsely said at least 22 times that only the poor use shabu or amphetamine. About eight times he misled the public with his claim that cannabis is the leading cause of lung cancer, and the same number of times that more cops were killed in his drug war. Seven times he falsely claimed that Davao City had unprecedented growth when he was the mayor.
From September 2016 to June 2022, Duterte made 14 false statements about the ICC's jurisdiction over the Philippines and the racial color of its judges. He also falsely claimed that the European Union created the ICC, disregarding that the Philippines was among the member states of the United Nations that helped establish the court.
Duterte also repeatedly understated his salary. Since 2017, VERA Files Fact Check flagged him at least six times on this. (See VERA FILES FACT CHECK: Duterte understates his salary for the nth time)
Further, the president made wrong statements to criticize his perceived critics, such as former ICC prosecutor Fatou Bensouda, former senator Leila De Lima, and members of the political opposition.
In various speeches from 2017 to 2022, Duterte made five statements insisting that former senator Francis "Kiko" Pangilinan was responsible for the prevalence of child offenders owing to Republic Act No. 9344 or the Juvenile Justice and Welfare Act of 2006 which the latter authored.
In January 2022, Duterte urged Filipinos not to vote for Pangilinan, who ran for vice president in the May elections but lost to his daughter, Sara. (See VERA FILES FACT CHECK: Duterte repeats wrong claim that youth offenders go scot-free)
3. Most false claims were made in public speeches  
Most of Duterte's false claims were made in his public speaking engagements, where he often went off-script. In a 2018 speech for the 1st Subaraw Festival in Puerto Princesa, VERA FILES Fact Check flagged nine of his remarks. (VERA FILES FACT CHECK: In one speech, Duterte unloads 9 false claims)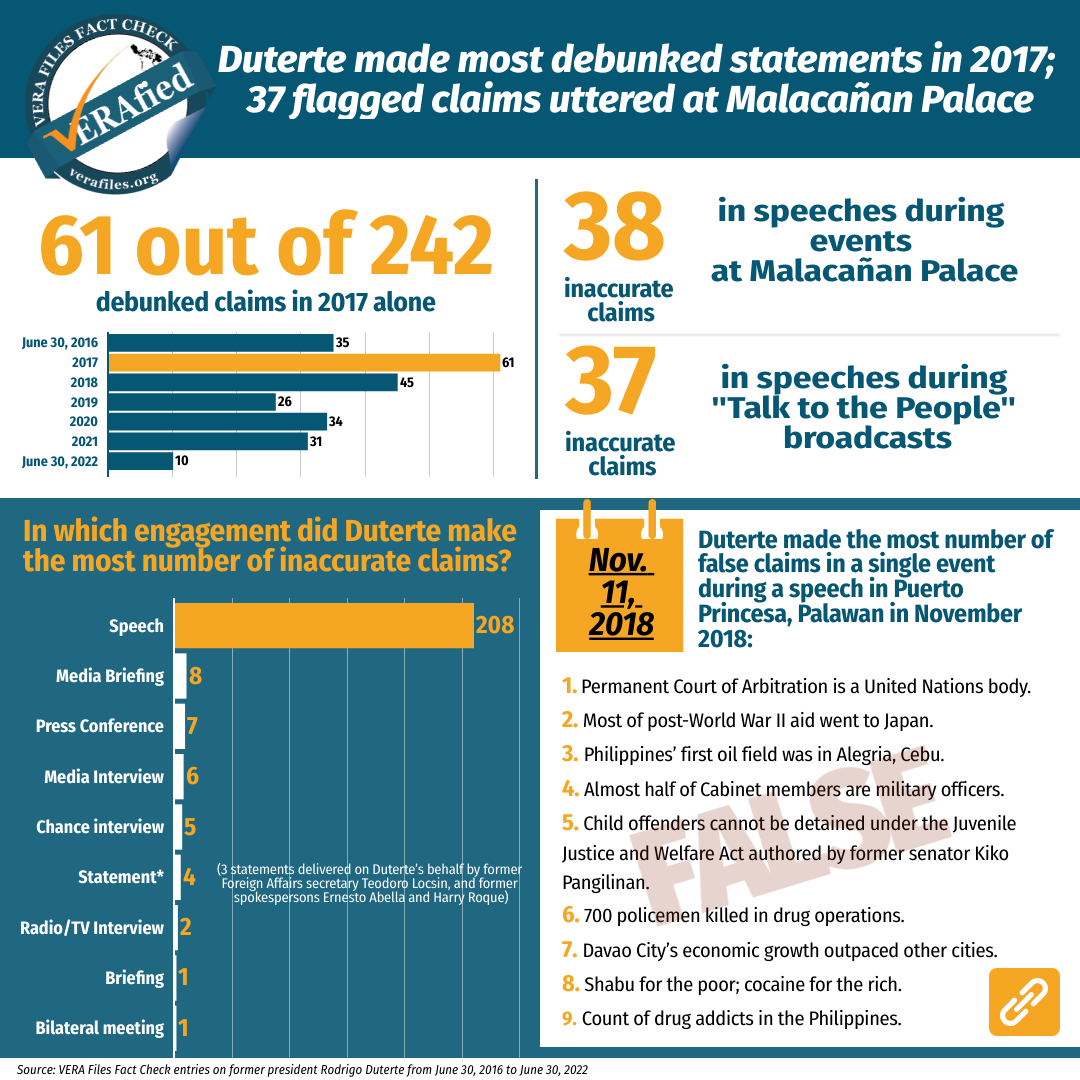 The former president often backtracked on his order to kill drug users and revise drug war statistics. (Read VERA FILES FACT CHECK: Duterte says he never ordered the police to kill anyone, backpedals less than a minute later, VERA FILES FACT CHECK: In one speech, Duterte unloads 9 false claims, VERA FILES FACT CHECK: 3 years into drug war, Duterte again revises drug addict count)
When the COVID-19 pandemic hit the country in early 2020, Duterte's inaccurate claims found a new venue in his weekly "Talk to the People" televised Cabinet meetings. Although Duterte said these livestreamed meetings were meant as a "very important communication line" between the state and the people, it was through this program that Duterte became the top source of misinformation on COVID-19. (Read VERA FILES FACT CHECK YEARENDER: The Duterte administration's share of COVID misinformation)
In August 2020, Duterte claimed that gasoline could be an alternative disinfectant. While his spokesperson Harry Roque tried to downplay the remark as a joke, the former president said in a later address that he was serious. (Read VERA FILES FACT CHECK: Duterte negates spox; repeats wrong, unsafe claim on using gasoline as disinfectant)
Have you seen any dubious claims, photos, memes, or online posts that you want us to verify? Fill out this reader request form.
Sources
VERA Files Fact Check entries on former president Rodrigo Duterte from June 30, 2016 to June 30, 2022
Hong Kong University's Asia Global Institute, Trolls for Sale in the World's Social Media Capital, Accessed Dec. 8, 2022
(Guided by the code of principles of the International Fact-Checking Network at Poynter, VERA Files tracks the false claims, flip-flops, misleading statements of public officials and figures, and debunks them with factual evidence. Find out more about this initiative and our methodology.)