Lawyer Mico Clavano, spokesman of the Department of Justice (DOJ), claimed that the International Criminal Court (ICC) should no longer investigate in the Philippines because the country has ceased to be a state party to the Rome Statute that established the Netherlands-based tribunal.
He added that the government's refusal to allow the ICC to investigate the drug-related killings during a specific period under the previous administration is an "issue of sovereignty." This needs context.
Similar claims on ICC's jurisdiction from Justice Secretary Jesus Crispin "Boying" Remulla have been previously fact checked by VERA Files.
(Read  VERA FILES FACT CHECK: Justice Secretary's comment on ICC jurisdiction needs context, VERA FILES FACT CHECK: For the second time, Justice secretary's claim on ICC jurisdiction over PH needs context and VERA FILES FACT CHECK: Remulla skips context on Philippines' membership in the ICC again)
STATEMENT
During the Saturday News Forum held at Dapo Restaurant and Bar in Quezon City on Jan. 28, Clavano said:
"There's no question that we do not submit to the jurisdiction dahil hindi na po tayo miyembro ng ICC (because we're no longer a member of ICC)."

Source: Camilo Belleza Millendez, SATURDAY NEWS FORUM AT DAPO RESTO, QUEZON CITY – JAN. 28, 2023, watch from 11:15 to 11:20
When asked about the DOJ's reaction to statements of human rights advocates who are questioning the government's position on the matter, Clavano said:
"I think they're missing the point in determining kung ano talagang isyu dito (the real issue here). And the issue is sovereignty. The issue is protecting our independence as a country. We've gone so far, 'no, in obtaining our independence way back and protecting that and making ourselves a civilized country. That's the real point here. We want to protect our processes. We want to protect our government. We want to protect our countrymen."

Source: watch from 12:33 to 13:02
FACT
According to Article 127, paragraph 2 of the Rome Statute, a country that has withdrawn is not cleared of its obligations for incidents that happened during its membership. It is part of the Philippines' exercise of its sovereignty when it acceded to the Rome Statute in November 2011, hence binding the country to the treaty provisions from that date until its withdrawal on Mar. 16, 2019.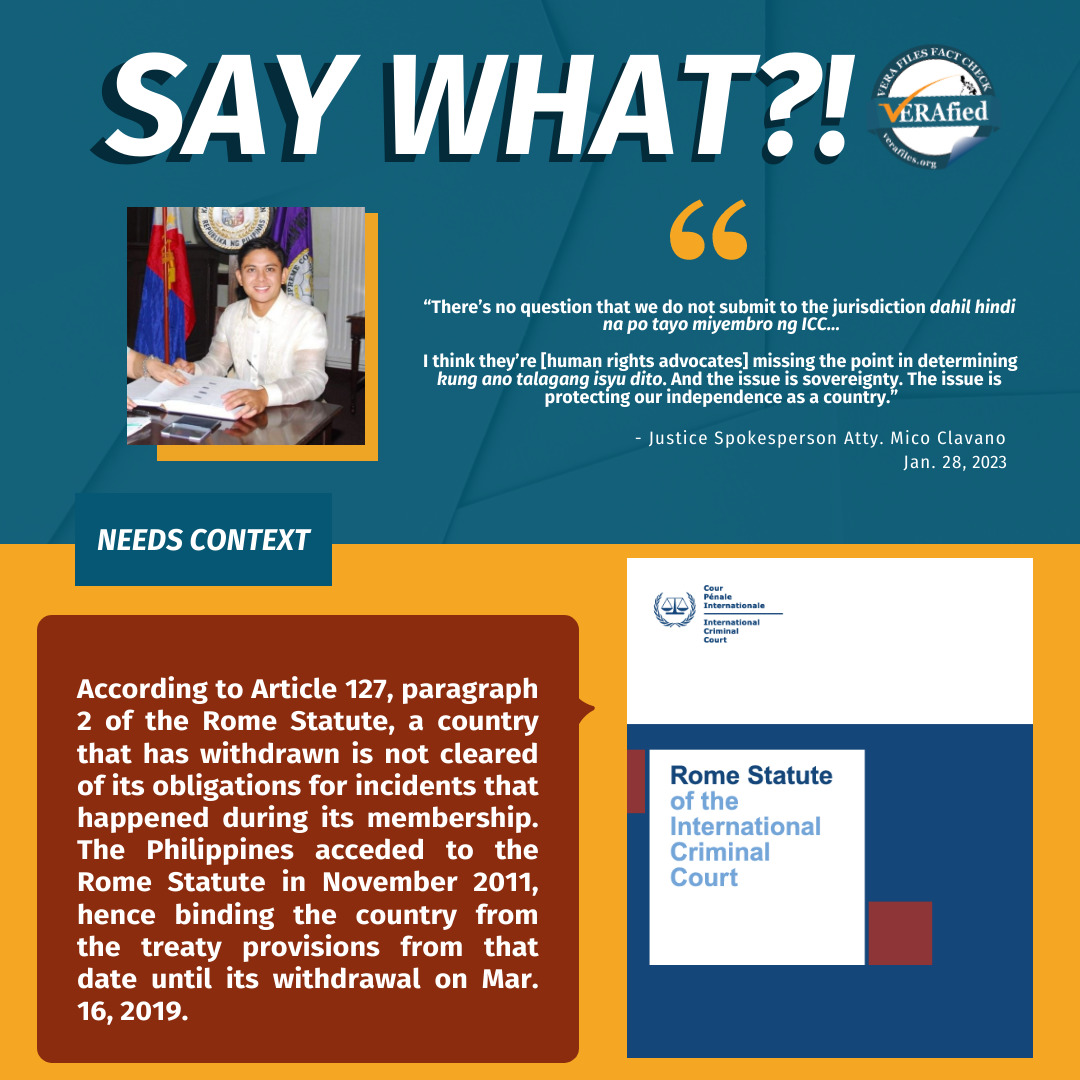 In September 2021, the ICC Pre-Trial Chamber authorized the launch of an investigation into alleged crimes against humanity that occurred in the Duterte administration's war on drugs. However, this was temporarily suspended in November 2021, after the Philippine government asked the ICC to defer to local procedures.
In June 2022, ICC Prosecutor Karim Khan requested the ICC Pre-Trial Chamber I to allow a resumption of the probe due to the alleged failure of the government to conduct an adequate investigation. Last Jan. 26, the chamber granted this request.
Have you seen any dubious claims, photos, memes, or online posts that you want us to verify? Fill out this reader request form.
Sources
Camilo Belleza Millendez, SATURDAY NEWS FORUM AT DAPO RESTO, QUEZON CITY – JAN. 28, 2023, Jan. 28, 2023
Philippine News Agency, DOJ tells ICC: We'll settle drug issues on our own, Jan. 28, 2023
ABS-CBN News Twitter account, Ayon kay DOJ Spokesman Atty. Mico Clavano, Jan. 28, 2023
One News, DOJ: ICC Probers Welcome In The Philippines, But…, Jan. 29, 2023
CNN Philippines, DOJ: UN special rapporteur to examine PH drug war probe in February, Jan. 30, 2023
International Criminal Court official website, ​​Rome Statute of the International Criminal Court, Accessed Jan. 31, 2023
International Criminal Court official website, Decision on the Prosecutor's request for authorisation of an investigation pursuant to Article 15(3) of the Statute, Sept. 15, 2021
International Criminal Court official website, Notification of the Republic of the Philippines' deferral request under article 18(2) (Annex A Public), Nov. 18, 2021
International Criminal Court official website, Prosecution's request to resume the investigation into the situation in the Philippines pursuant to article 18(2), June 24, 2022
International Criminal Court official website, ICC Pre-Trial Chamber I authorises Prosecutor to resume investigation in the Philippines, Jan. 30, 2023
(Guided by the code of principles of the International Fact-Checking Network at Poynter, VERA Files tracks the false claims, flip-flops, misleading statements of public officials and figures, and debunks them with factual evidence. Find out more about this initiative and our methodology.)