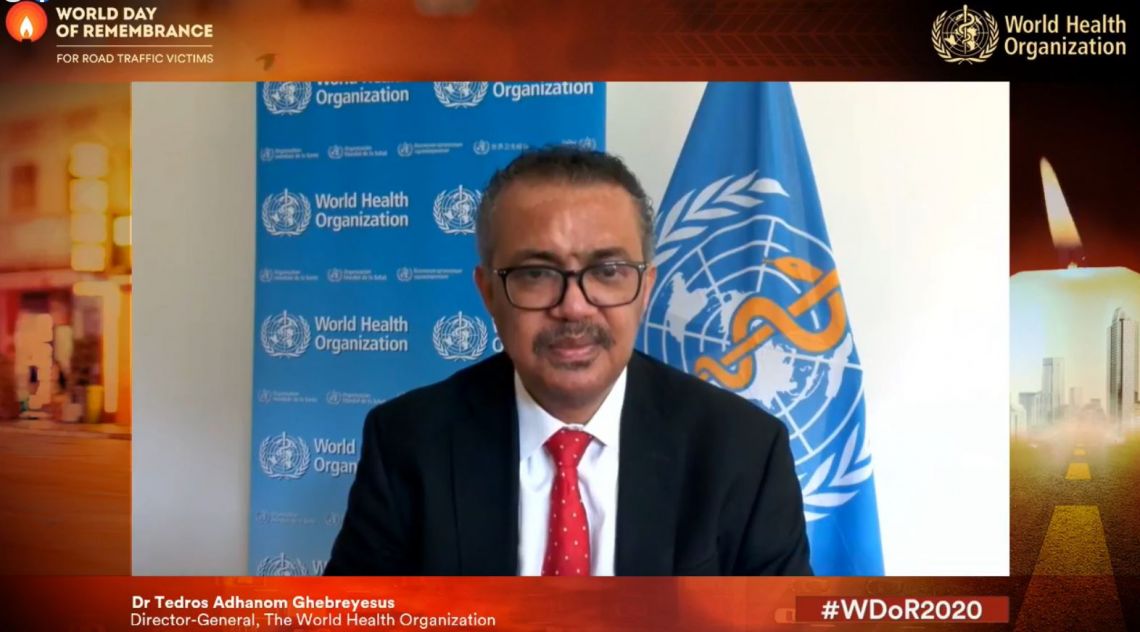 A screen grab of World Health Organization (WHO) Director-General Tedros Adhanom Ghebreyesus during a webinar on November 13 for World Day of Remembrance for Road Traffic Victims (WDoR)
A total of 1.35 million people die in road crashes around the world annually, and World Health Organization (WHO) Director-General Tedros Adhanom Ghebreyesus describes this as "the equivalent of a COVID-19 pandemic every single year,"
"Millions more are seriously injured and face the prospect of the long-lasting consequence of the physical and psychological trauma that they have endured," he said. "These are not just numbers. They are mothers, fathers, sisters, brothers, daughters and sons," the WHO chief said during a webinar to mark World Day of Remembrance for Road Traffic Victims (WDoR).
The latest report from the Johns Hopkins University Coronavirus Research Center, meanwhile, shows that over 1.3 million people have succumbed to the coronavirus as of November 14.
WDoR is observed every third Sunday of November and this is the 25th year it is being commemorated internationally.
This year's theme is "Remember, support and act."
"We're calling everyone to remember, support and act. Remember the lives lost and the life-changing injuries that occurred on the world's roads each year. Support those who suffered long-lasting consequences from the physical and psychological trauma they have endured, as well as their bereaved families. And act to prevent," said Ghebreyesus.
No need for a vaccine
Like COVID-19, road traffic deaths "reminded us to revalue human life where one preventable death is too many," said Jean Todt, the United Nations Secretary General's Special Envoy for Road Safety.
Global Ambassador for London-based non-profit organization Child Health Initiative Zeleka Mandela said the difference between the coronavirus and road traffic injuries as a health issue is that the latter does not need a vaccine.
"We have the solutions right in front of us…Safer roads for walking and cycling can help us in our COVID-19 response in our efforts to promote clean socially distanced transportation. This is a solution that's better for us, for our environment, for our health and our children," she said.
Maolin Macatangay, communications officer for the local advocacy organization YOURS: Youth for Road Safety, spoke about her friend who was a road crash victim.
"My best friend suffered from a road crash some years back," she said at the webinar.
"He was hit by a motorcycle on his way home from school and his head hit the pavement. He had a very severe concussion. Thankfully, he was taken to the emergency unit in time where the doctors fixed him up. But I am aware it could have easily gone the other way," she added.
Youth most vulnerable victims of road crashes
Macatangay called on members of the "youth, world leaders and global decision makers to put road safety higher in their agendas."
"We, the youth, believe it is time that we are not seen as the victims and the perpetrators of these deaths, but as leaders who can help further the global road safety efforts. We call for a safe system that protects our lives and our dreams," she said.
Globally, road traffic incidents are considered the leading cause of death for children and young adults aged five to 29 years, according to the WHO 2018 Global Status Report on Road Safety (SEE Road crashes now top global killer of kids and young adults).
In the Philippines, around 600 children aged 14 and below die every year from road crashes, according to government statistics. And despite a lockdown due to the pandemic, road crashes in the country are still prevalent (SEE Road crashes abound despite fewer vehicles on the road amid the COVID-19 lockdown).
"Let us work together so that (a reduction in) the number of road-related deaths and injuries is met by the end of 2030," Macatangay said, citing the 50by30 target set by the UN General Assembly.
50by30: A new target for a new decade
The 50by30 campaign calls for a 50 pct reduction in road traffic deaths and injuries by 2030. The target mainly aims to save around 675,000 lives a year and improve global road injury prevention.
Ghebreyesus said the second Decade of Action for Road Safety, which will be launched next year, is an "opportunity to work across sectors and across borders to make roads safer for all" to ensure a 50 pct cut in road crash fatalities.
"The best way to honor the memory of those who have died on the world's roads is for governments and partners to fulfill their commitments to making our roads safer," he said.