A YouTube channel is peddling the false claim that an international court berated retired Supreme Court Associate Justice Antonio Carpio for stating "wrong information about the West Philippine Sea."
No such event happened.
The two-year-old channel BALITANG-INA made the untrue claim in a video it published Aug. 8 titled, "CARPIO NASERMUNAN NG INTERNATIONAL COURT DAHIL SA MALING INFO PATUNGKOL SA WEST PHILIPPINE SEA (Carpio scolded by International Court over wrong information about the West Philippine Sea)?!"The video's thumbnail also featured an Inquirer.net file photo of Carpio juxtaposed with an image of International Criminal Court (ICC) Prosecutor Karim Khan. It was edited to make it look like Khan was telling Carpio, "YOU ARE STUPID!", while the text, "CARPIO NASERMUNAN (Carpio scolded)" was placed over it.
A reader asked VERA Files Fact Check to look into the video's claim.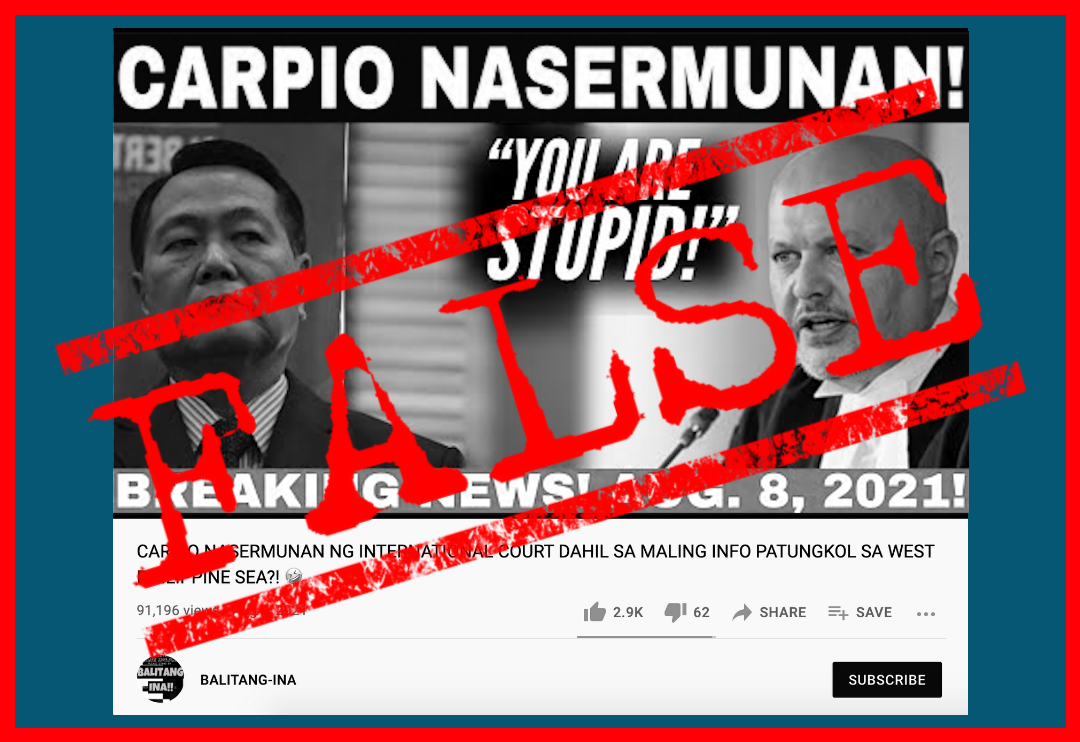 Khan, who was sworn in as the new ICC prosecutor only last June 16, has said no such thing to Carpio. There are no records from the ICC that support this, and neither has any local nor international media reported on it.
As its content, the false video, which ran for nearly 10 minutes, lifted a portion of a 92-minute, Aug. 7 episode of Point of Order, a television program of Reps. Rodante Marcoleta and Mike Defensor on the Sonshine Media Network International (SMNI) News Channel.
The nipped portion showed Marcoleta saying the International Court of Justice (ICJ) gave Carpio a "lecture" after he filed a "crime against humanity" complaint — formally called a communication — against Chinese President Xi Jinping in 2019.
This is wrong on two counts. First, Carpio was not party to a communication from the Philippines that was junked by an international court in 2019 in relation to Xi and other Chinese officials. Second, the communication was filed with the ICC, not ICJ.
Former Ombudsman Conchita Carpio-Morales and former Foreign Affairs Secretary Albert del Rosario were the ones who filed a communication at the ICC in March 2019 on behalf of Filipino fisherfolk over what they described as the "atrocious actions of Chinese officials" in areas within Philippine territory."
The channel BALITANG-INA published its erroneous video 11 days after Carpio belied President Rodrigo Duterte's remark during his July 26 State of the Nation Address that the 2016 landmark ruling of the Permanent Court of Arbitration does not bind China because it was "never a part of that arbitration."
Carpio said the Tribunal gave China "all the opportunity" to air its side but it refused to partake in the proceedings. China's unwillingness to participate cannot be a reason for the hearings to be discontinued, per the arbitration rule of the United Nations Convention on the Law of the Sea, to which China is a party.
The false video has been viewed over 121,000 times by netizens. Social media monitoring tool CrowdTangle shows there are at least 19 public Facebook posts carrying the YouTube video's link, with traffic coming largely from groups RODANTE D. MARCOLETA Movement for Good Government, PRESIDENT RODRIGO DUTERTE INTERNATIONAL MOVEMENT, and SOLID DDS News Report.
BALITANG-INA was created on May 31, 2019.
(Editor's Note: VERA Files has partnered with Facebook to fight the spread of disinformation. Find out more about this partnership and our methodology.)