A fake quote card of Presidential Legal Counsel Salvador "Sal" Panelo telling the opposition to respect Davao City Mayor Sara Duterte as she is like "God in Davao" has been circulating on Facebook since April 1.
"Si Sara, mayora 'yan, hindi yan kung sino lang. Diyos 'yan sa Davao. Hindi naman ninyo pera ang ginamit sa mga tarpaulin kaya wala kayong pakialam d'yan (Sara is a mayor, not just anybody. She's God in Davao. It's not your money that paid for her campaign tarpaulins, so back off)," Panelo was quoted as saying in the graphic.
This quote is fake. Panelo has not made such reference to the presidential daughter in any statement or speech in reaction to "netizens' tirades on her early campaigning" as alleged in the quote card uploaded by several FB users.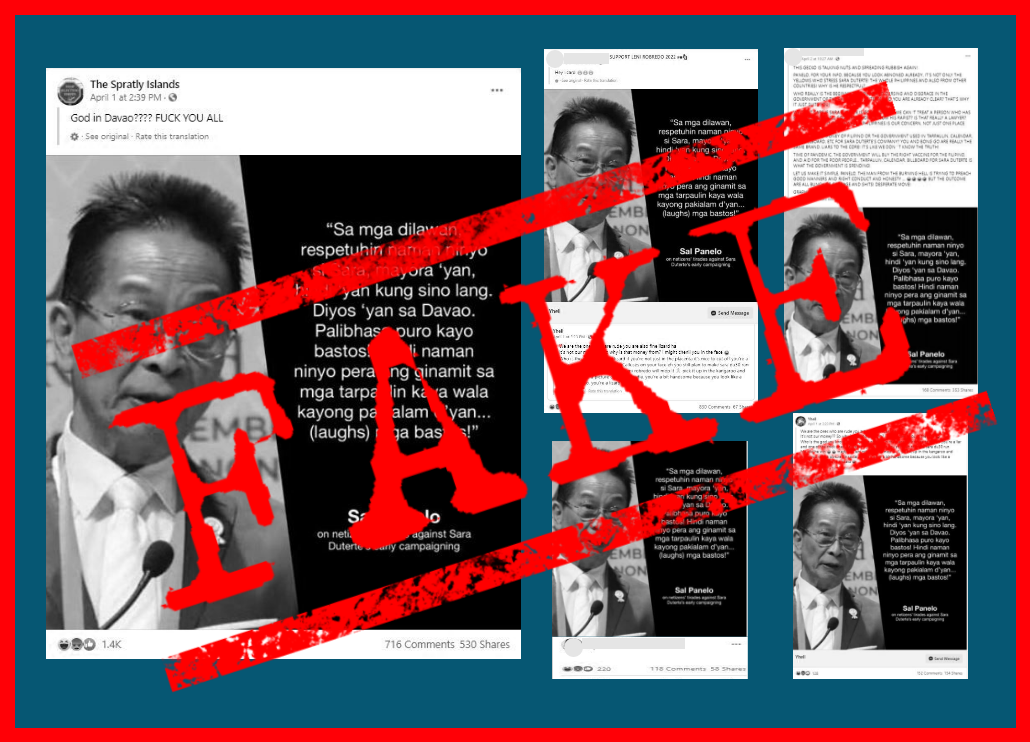 One post obtained nearly 1,500 reactions and 530 shares. FB group SUPPORT LENI ROBREDO 2022 and pages The Spratly Islands and Yhell are among those that shared the fake quote.
Earlier, a video that showed tarpaulins bearing the face of the Davao City mayor with the text of "Run, Inday, Run" circulated on social media, prompting questions on the legality of the campaign materials for the 2022 presidential race.
Commission on Elections (Comelec) Spokesperson James Jimenez pointed out that "technically there is no violation (of election laws) because in order for premature campaigning to be committed, there should be an official candidate. And no official candidate exists right now." Commissioner Rowena Guanzon also tweeted on Feb. 17 that the tarpaulins are not "violations because it is not election period."
The fake quote card continued to circulate as Sara Duterte flew to Singapore earlier this week. "I have a travel authority to Singapore from the DILG (Department of the Interior and Local Government). The reason is personal health management," she said in a statement, as reported by media outlets.
This drew mixed opinions from netizens as she went on leave from April 6 to 10, while the country continues to battle the surge of novel coronavirus (COVID-19) cases, which hit more than 853,200, with deaths of over 14,700 as of April 10.
(Editor's Note: VERA Files has partnered with Facebook to fight the spread of disinformation. Find out more about this partnership and our methodology.)