There is no truth to the claim in a June 16 video by YouTube channel Showbiz Fanaticz that Fatou Bensouda, former prosecutor of the International Criminal Court (ICC), will be sent to prison for a "false accusation" against President Rodrigo Duterte.
The untrue post surfaced less than 28 hours after Bensouda announced that she has sought judicial authorization to investigate alleged human rights abuses in the Duterte administration's war on drugs. (See Gov't officials, police conspired to carry out Duterte's war on drugs — ICC prosecutor)
The 12-minute video bore the false headline, "JUST IN: Dahil sa Maling BINTANG kay Pres. Duterte ICC Prosecutor Bensouda, KUMPIRMADONG MAKUKULONG (Because of a false accusation against Pres. Duterte, ICC Prosecutor Bensouda, confirmed to be imprisoned)!"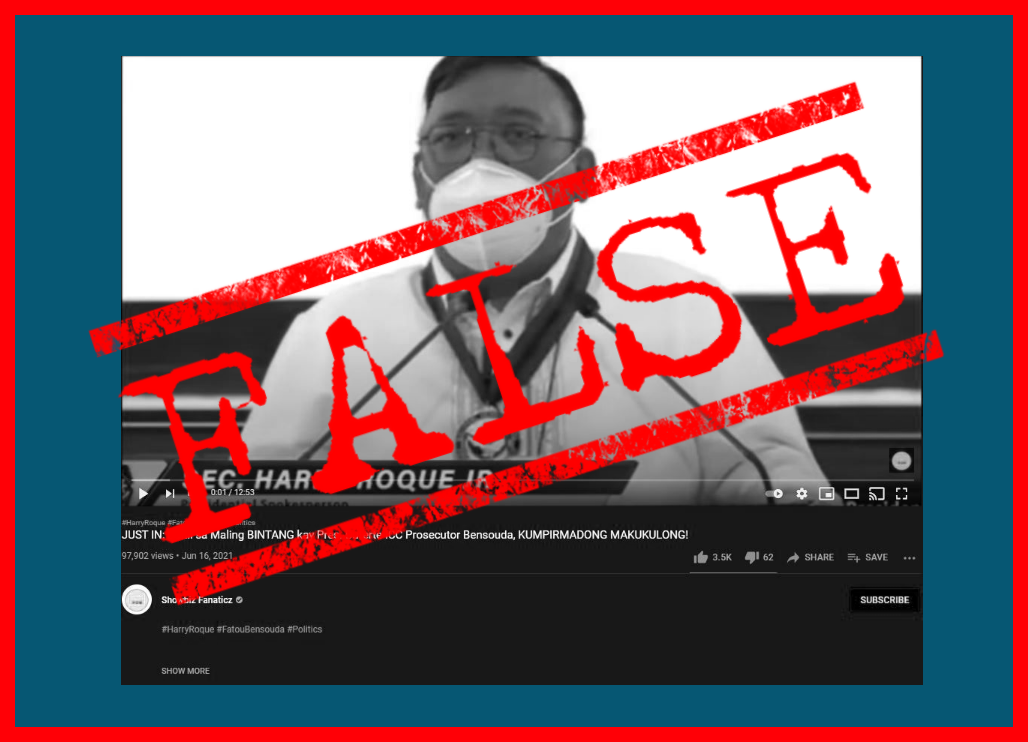 The video claims the threat of her jailing was made by presidential spokesperson Harry Roque, whose reaction to Bensouda's statement was shown in the video. But he never said Bensouda will be jailed.
During a June 15 press briefing, Roque said the examination called by Bensouda was "politicking" and denied allegations of crimes against humanity. He added that Duterte "will not cooperate" with any investigation because the Philippines is no longer a member of the ICC. (See: Duterte won't cooperate in ICC probe of drug war)
On June 14, Bensouda said in a statement that she has sought an investigation after finding reasonable basis to believe that murder was committed in the context of Duterte's drug war between July 1, 2016 and March 16, 2019.
Human rights advocates have been calling for a probe into alleged extrajudicial killings committed in the president's anti-illegal drug campaign since he took office in 2016. (See Duterte's drug war worsens from war vs. poor to war vs. human rights — rights group and Lawyers seek accountability from police in drug war killings)
Showbiz Fanaticz, created on Nov. 9, 2017, has a history of posting false videos packaged as news reports which VERA Files Fact Check has debunked. (See VERA FILES FACT CHECK: Duterte, Calida DID NOT announce Bongbong Marcos VP win and VERA FILES FACT CHECK: Filipino diplomat DID NOT call Carpio et al 'China's lapdog')
The false video was viewed over 134,000 times.
(Editor's Note: VERA Files has partnered with Facebook to fight the spread of disinformation. Find out more about this partnership and our methodology.)