Communications Undersecretary Lorraine Marie Badoy was quoted in a fake social media post where she supposedly red-tagged those who are patronizing community pantries that have sprouted in many places around the country as a gesture of sharing in the middle of a health crisis.
The concocted quote card reads: "Mga komunista lang ang natutuwa sa community pantry (Only communists are pleased with the community pantries)." It started making the rounds on social media on April 19, or days after food stalls started popping up spontaneously following the initiative of a resident in Quezon City.
Badoy, who also serves as a spokesperson of the National Task Force to End Local Communist Armed Conflict (NTF-ELCAC), denied in an April 20 Facebook (FB) post that she made such a pronouncement, calling the made-up quote a "piece of fake news."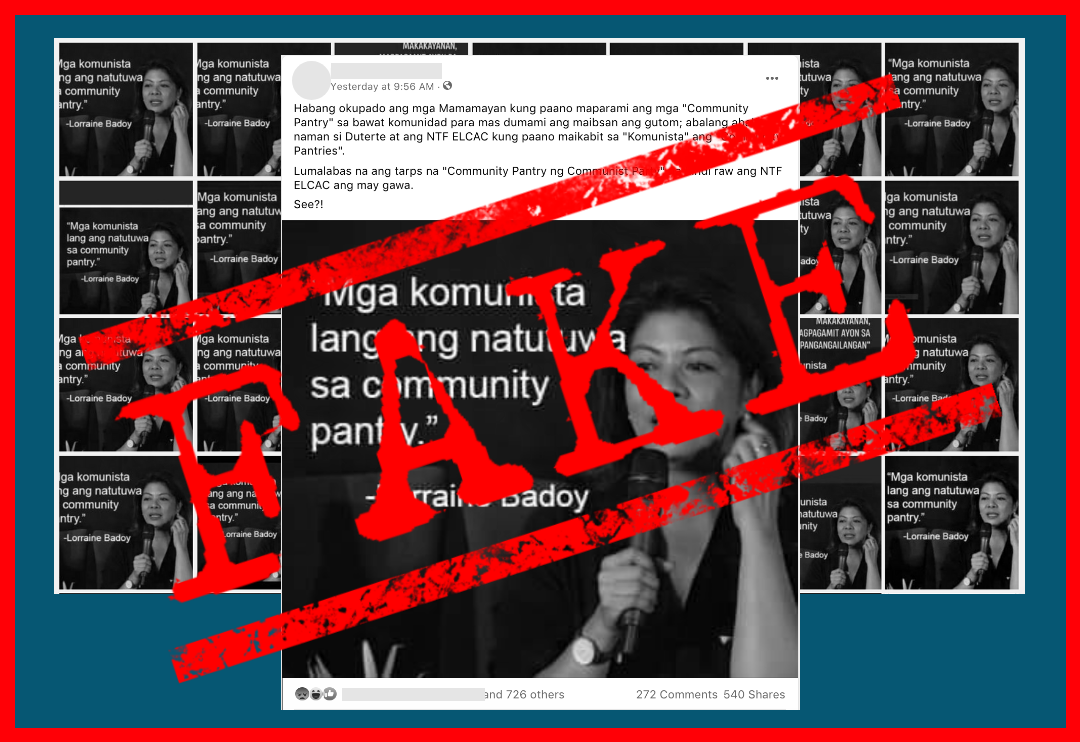 In an earlier post that same day, she said the NTF-ELCAC is pleased with the emergence of food sharing initiatives for Filipinos in need which, she said, is not something new. But in the same post, she called on the Communist Party of the Philippines-New People's Army-National Democratic Front (CPP-NPA-NDF) to "stop fooling" Filipinos by "packaging communist propaganda as service to the people," in addition to propagating the supposed lie "that the government has been idle and inutile."
Earlier, the NTF-ELCAC reshared FB posts claiming that the communist movement is using community pantries to forward its own political agenda. This has no basis.
In an interview with Super Radyo dzBB, NTF-ELCAC spokesperson Lieutenant General Antonio Parlade Jr. confirmed that they are doing background checks on organizers of community pantries. But Philippine National Police Chief Debold Sinas has denied they are profiling or red-tagging organizers of these pantries.
On April 20, Ana Patricia Non — the person who established the Maginhawa Community Pantry which served as the inspiration for similar efforts that followed — announced in a FB post that the communal pantry will temporarily halt its operations "for the safety of its volunteers" who are facing rampant red-tagging online. But after an assurance by Quezon City mayor Joy Belmonte that the city is a safe place, Non resumed her pantry the next day.
Social media tool CrowdTangle found a total of 59 posts by FB pages and public groups carrying Badoy's fabricated quote. They have collectively received over 5,500 engagements from netizens.
A cursory search on FB, on the other hand, showed that at least 74 posts carried the manipulated photo. Among those published by private netizens, the one with the highest engagements — which also bore the oldest traceable copy of the fake quote card — already got more than 700 reactions, 200 comments, and 500 shares.
(Editor's Note: VERA Files has partnered with Facebook to fight the spread of disinformation. Find out more about this partnership and our methodology.)