Former broadcaster Jay Sonza and blogger RJ Nieto, both known for their pro-administration stance, amplified a false claim that Senate Minority Leader Franklin Drilon snoozed in the middle of a television interview.
Sonza and Nieto both have a history of purveying misleading information on social media.
STATEMENT
On Feb. 27, Drilon guested on CNN Philippines' The Source and talked about the franchise renewal of media giant ABS-CBN. About 12 minutes into the 28-minute-long interview — as host Pinky Webb was transitioning to a different topic — Drilon was seen with his head bowed down for about five seconds. Prior to, and after that moment, Drilon spoke animatedly with Webb.
Shortly after the interview, netizens were quick to point out that Drilon "dozed off" during the interview.
On March 1, Sonza shared on Facebook (FB) a 16-second clip lifted from the interview that showed the moment Drilon had his head down, with the caption:
"bastos na bisita. diyoskoday pinky Webb tinulugan ang beauty mo ineng ng resource person mong senador. (sic)"

(Rude visitor. My God, Pinky Webb, your senator-resource person slept on your beauty.)

Source: Sonza, J., "Rude visitor," March 1, 2020
The day after, Nieto, who manages the pro-Duterte blog Thinking Pinoy, uploaded a video of himself watching Drilon's viral clip directly from CNN Philippines' official Youtube channel.
In his video, entitled "FACT CHECK: DID SENATOR DRILON FALL ASLEEP IN A CNN PHILIPPINES INTERVIEW?," the blogger "confirmed" that the senator, indeed, "dozed off for five, ten seconds":
"Nakatulog siya momentarily, mga a span of five, ten seconds. Ngayon, medyo nakakahiya nga 'yon. Pero feeling ko, ano 'yan, may sakit si Drilon. Baka, ano, narcoleptic, ewan ko. Medyo hindi normal 'yon eh, kasi, immediately before atsaka immediately after nung pagtulog niya, dilat na dilat naman siya. Pero kahit na, nakakahiya pa rin."

(He fell asleep momentarily, for a span of five, ten seconds. Now, that's indeed kind of embarrassing. But I feel like, Drilon is sick. Maybe narcoleptic, I don't know. What happened is not normal, because immediately before and after he dozed off, his eyes were wide open. Nevertheless, that is still embarrassing.)

Source: Thinking Pinoy, "FACT CHECK: DID SENATOR DRILON FALL ASLEEP IN A CNN PHILIPPINES INTERVIEW?" March 2, 2020
FACT
Drilon did not fall asleep at any time during the interview.
VERA Files obtained from CNN Philippines a screen grab of the clip without the character generator (chargen) — the graphics placed on the bottom portion of videos — that shows Drilon not sleeping, but looking at the documents on the table in front of him.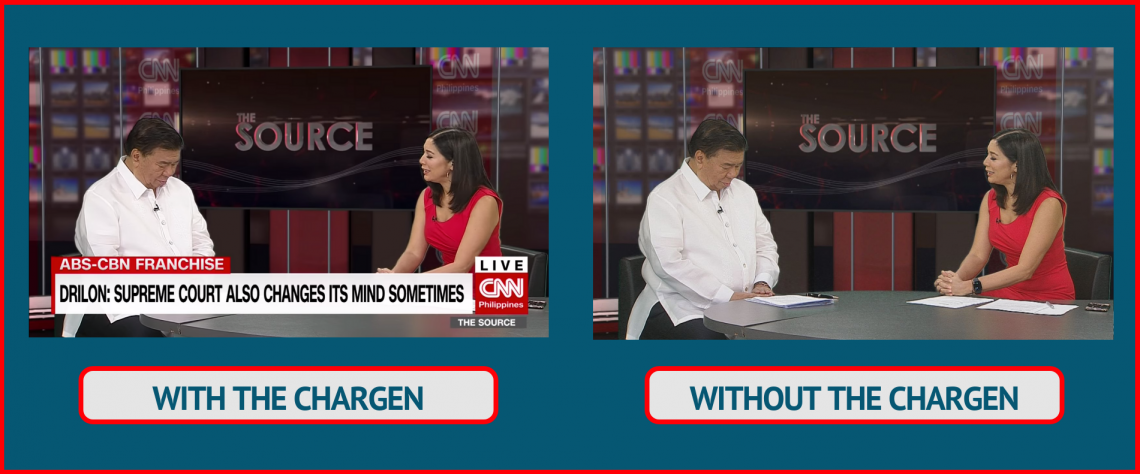 Photo from CNN Philippines
This is consistent with Webb's statement on Twitter, where she said:
"Here's what happened. As I was laying the premise for my question, I saw Sen Drilon look down at the documents he had on the table. I did not see him fall asleep."

Source: @iampinkywebb, "Here's what happened," March 2, 2020
Sonza's and Nieto's FB posts — which have already gotten around 5,000 and 13,100 interactions from netizens, respectively — were just two of the many posts that carried the false claim about Drilon's clip. One netizen's reupload of the video, for instance, had been shared at least 7,800 times. Two other posts, made by FB pages La Solidaridad and Abante Pilipinas, each got some 13,000 and 9,400 interactions.
Three websites also carried an article on the issue, namely, pinoytrendingnews.net, getrealpundit.com, and kamiangmedianidu30.group. All of them incorrectly claimed that the senator really dozed off while being interviewed. The three websites' reports could have collectively reached around 1.6 million netizens, and have already received an accumulated total of about 30,200 interactions, according to social media monitoring tool CrowdTangle.
This was not the first time Drilon was accused of sleeping while in the middle of an activity. Agence France-Presse, an international news organization which also does fact checking, previously flagged two pieces of disinformation targeting Drilon, falsely accusing the senator of sleeping in the middle of a basketball game in 2018, and while attending a congressional hearing in 2019.
Sources
CNN Philippines, The Source: Franklin Drilon, Feb. 27, 2020
Jay Sonza official Facebook account, Rude visitor, March 1, 2020
Thinking Pinoy Facebook Page, FACT CHECK: DID SENATOR DRILON FALL ASLEEP IN A CNN PHILIPPINES INTERVIEW?, March 2, 2020
Pinky Webb Official Twitter Account, "Here's what happened," March 2, 2020
Agence France-Presse, No, this Philippine senator did not fall asleep at a major basketball game, Dec. 13, 2018
Agence France-Presse, This photo of a Philippine opposition senator sleeping during a congressional hearing was based on satirical content, Aug. 23, 2019
(Guided by the code of principles of the
International Fact-Checking Network at Poynter, VERA Files tracks the
false claims, flip-flops, misleading statements of public officials and
figures, and debunks them with factual evidence. Find out more about this initiative and our methodology.)