A phishing scheme using the name of Filipino entertainer Willie Revillame circulated on Facebook (FB), tricking netizens into sending their personal information for a non-existent giveaway. 
The scam post claimed that the ex-game show host would give away P30,000 as ayuda (cash assistance) to help people establish businesses. It instructed netizens to send their contact information to an FB account and an FB page of a person based in Bangladesh.
To avoid detection by Google and FB, text of the fraudulent claim used letters interspersed with special symbols. Part of the post read: 
"tYPE MO Xoxo àt kàpàg réd yûñg lûmàbàs màlílístà kà sà kànílàñg Màpàpàdàlhàñ (Type Xoxo [an abbreviation for hugs & kisses] and if it turns red, you'll be included as one of our recipients)."
In the comments section of the bogus post, netizens are encouraged to share the fake post 30-35 times to ensure their selection for the giveaway.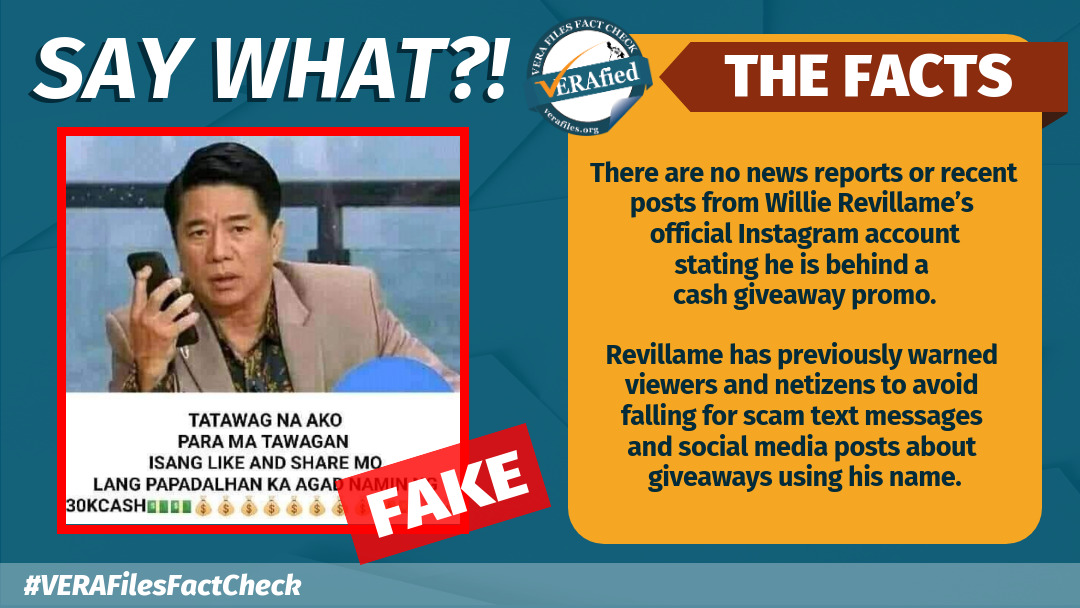 VERA Files Fact Check has debunked other fake schemes with similar modus operandi. 
Neither news reports nor recent posts from Revillame's official Instagram account state that the former game show master — known for giving away jackets, money, houses and lots in his former TV programs — organized a recent cash giveaway.
Revillame has repeatedly warned viewers and netizens in 2018, 2019, 2020, and 2021 to avoid falling for scam text messages and social media posts about giveaways using his name.
FB page Willie Revillame uploaded the bogus post on June 23, garnering over 2,400 interactions. Some netizens who thought the scam was real wrote their full name, address and contact numbers, while others begged for Revillame's attention and assistance.
Have you seen any dubious claims, photos, memes, or online posts that you want us to verify? Fill out this reader request form.
(Editor's Note: VERA Files has partnered with Facebook to fight the spread of disinformation. Find out more about this partnership and our methodology.)