A satirical post about presidential aspirant Ferdinand "Bongbong" Marcos Jr. telling a supporter to "shut up" after greeting him with a "hi" drew many reactions from those who believed it was true.
Facebook (FB) page Cebu Dairy News, which labels itself as "Cebu's leading satirical page," posted on Dec. 8 an image of the caravan of Marcos and running mate Davao City Mayor Sara Duterte-Carpio in Nueva Ecija with the text: "BBM SUPPORTER LEFT DEVASTATED AFTER BEING SHOUTED AT BY MARCOS FOR SAYING 'HI'"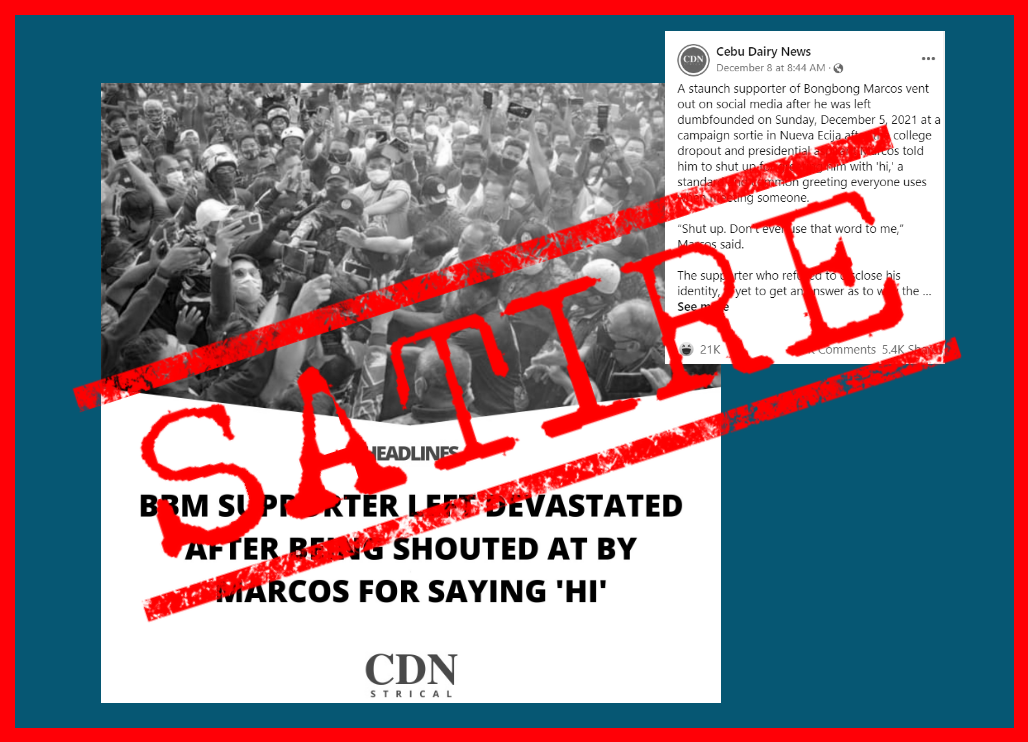 Several netizens believed the satirical page was a legitimate news organization and accused it of "biased" reporting. Others ridiculed Marcos for his "poor comprehension" and were convinced he is admitting "guilt" after he mistook the word 'hi' for 'high', the post said.
President Rodrigo Duterte, in a Nov. 18 off-script rant in Oriental Mindoro, alleged that an electoral aspirant from a wealthy family was a cocaine user. He did not name the person nor provide evidence over his allegation.
Lawyer Victor Rodriguez, Marcos' spokesperson, said in a Nov. 19 DZRH interview that Marcos did "not feel alluded to" by Duterte's blind item, adding that they only have the "highest respect" for the president.
The post emerged after the Dec. 5 Nueva Ecija rally of Marcos and Duterte-Carpio which attracted a huge crowd, alarming the Commission on Elections and Department of Health over the "overcrowded" political gatherings amid the emergence of the Omicron COVID-19 variant.
Satirical posts by Cebu Dairy News (created on July 28, 2021) are being taken by netizens as true. A few of these have been flagged by VERA Files Fact Check (See VERA FILES FACT CHECK: Post on P500 banknote to commemorate Marcos is a SATIRE and VERA FILES FACT CHECK: Netizens believe SATIRE about tollway bridge in Cebu).
The FB post has garnered more than 26,000 reactions, 2,000 comments and 6,400 shares and were reshared by at least 9 FB groups according to social media monitoring tool CrowdTangle.
Have you seen any dubious claims, photos, memes, or online posts that you want us to verify? Fill out this reader request form.

(Editor's Note: VERA Files has partnered with Facebook to fight the spread of disinformation. Find out more about this partnership and our methodology.)